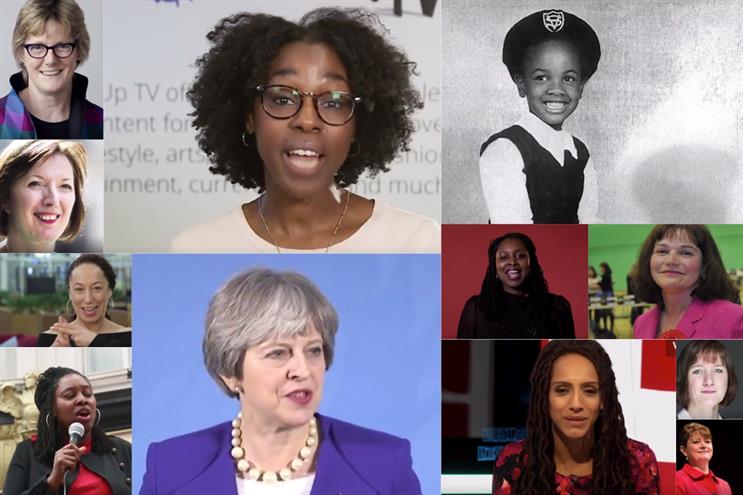 While the audience for International Women's Day is global, we start with a focus on how the date is being increasingly used as an opportunity to push for change in power relations within the marketing industry.
Havas Group has launched Femmes Forward, an initiative focused on advancing more women into executive roles.

Omnicom is holding its fourth annual Omniwomen UK leadership summit, at which chief diversity officer Tiffany Warren pledged to support victims of harassment and a complaints hotline number was handed out to all attendess.

Mindshare, the WPP media agency, has partnered with WomenPresent, a start-up whose mission is to better connect women speakers with conference planners.

Wavemaker, also a WPP media agency, has launched an internal programme called Women@Wavemaker, that will focus on supporting and empowering female employees.

Careers networking business The Dots is running a female takeover for the month of March. It has selected 200 trailblazing women by inviting influential businesswomen each to nominate 10 visionaries who they believe are redefining the creative professional landscape.

The Young Creative Council has launched a public database of female creative talent called Badass.Gal.

Creative Equals, the non-profit organisation that champions diversity in the creative industries, has reimagined brand logos through the lens of gender equality.

Online video specialist Unruly has started scoring ads to see whether they are sexist or not, following the Advertising Standards Authority's move to police commercials that might reinforce harmful gender stereotypes.

Fabiana Xavier and Lucy Titterington, creatives at Saatchi & Saatchi London, are 'nominating' as many female creatives in a leading role in London as possible on Twitter. The initiative is from international women's creative network SheSays, of which Xavier is London president.
---
Moving on to the world beyond the industry, plenty of organisations, from politicians to household name brands, want to engage on the subject of women.
The Prime Minister, Theresa May, has issued a short film celebrating how many key positions in public life are currently occupied by women.
On International Women's Day, I am proud to serve as Britain's second female Prime Minister alongside so many other women in vital public positions #IWD2018 pic.twitter.com/jfmZ2fo1xV

— UK Prime Minister (@10DowningStreet) March 8, 2018
---
The Labour Party has come out with two messages. One is a new policy announcement by Dawn Butler, the shadow secretary for women and equalities, outlining how Labour "will force employers to close their gender pay gaps".
On International Women's Day, I'm proud to be announcing Labour's policy to ensure employers close their gender pay gaps.

It's time to end the scandal of unequal pay and close the gender pay gap once and for all. #IWD2018 pic.twitter.com/Nya9OCqFAI

— (((Dawn Butler MP))) (@DawnButlerBrent) March 8, 2018
The other is a celebratory short film, called "Phenomenal Women", featuring prominent Labour figures such as Diane Abbott, Angela Rayner and Cat Smith.
Why be ordinary when you can be phenomenal?#InternationalWomensDay #IWD18 pic.twitter.com/uuux0WydDz

— The Labour Party (@UKLabour) March 8, 2018
---
Vodafone is running a new 60-second ad in many of its markets to mark it committing to join around 20 other companies in UN Women's UNstereotype Alliance, a global coalition with the common goal to eliminate gender bias and harmful gender stereotypes in advertising. "Raising Voices", created by Santo London, shows children asking questions such as "Why do you think of a pilot as a man and a flight attendant as a woman?"
---
Sky has released a short film, featuring its presenting and production talent, intended to speed up the journey towards gender equality. It echoes the official #pressforprogress theme chosen for this year's International Women's Day. https://www.internationalwomensday.com/Theme
It's going to take over 200 years to achieve gender equality. That's why this we are encouraging people to #PressForProgress to make global gender parity a reality #IWD2018 pic.twitter.com/vblCybe6PX

— Sky News (@SkyNews) March 8, 2018
---
Barcelona FC is pushing out this short film featuring the viewpoints of its female players. Addressed to "the dreamers, believers and allies", it claims "Barca fights for equality between women and men".
Barça fights for equality between men and women.

Proud of @FCBfemeni ?? ??!

Happy International Women's Day ?????#BarçaFemeni #IWD2018 #InternationalWomensDay #STANLEY pic.twitter.com/ahfqGMeQ8o

— FC Barcelona (@FCBarcelona) March 8, 2018
---
Women's magazine Marie Claire is launching a campaign called "Not My Job" with this 60-second video, produced by ITN. It calls on readers to share their experiences of discrimination, bullying and sexual harassment at work, and sign a petition in association with The Fawcett Society, to fight for long-term legislative change to safeguard women's rights.
---
Finally, a number of agencies are lending their support in various ways:
FCB Inferno is running a number of IWD-focused events today with support from Unibet. The events showcase a new form of poker called Queen Rules – where the Queen card outranks the King card. The campaign is designed to get the conversation about gender equality on the table.

Geometry is encouraging staff to bring in sanitary products that it will donate to women in poverty and homelessness through its local food bank in Paddington.