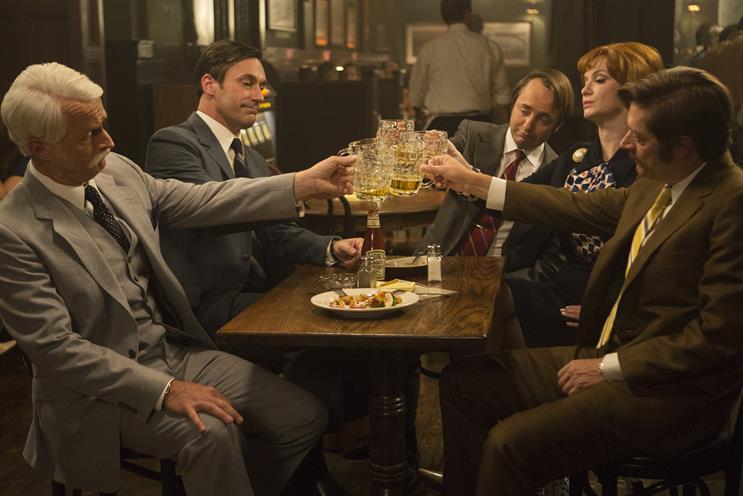 The Ipsos Mori Veracity Index makes stark reading – polling 1,000 UK adults on the level of trust they place in people of different professions, it reveals the contempt that large majorities hold for many of the jobs that keep the economy and society ticking along.
The bottom of the list is like a Suicide Squad of career options. Starting with charity chief executives, the first profession that less than half (48%) of respondents generally trusted, it moves down past trade union ofiicials (45%), bankers (41%), estate agents (30%), journalists (26%… shudder), government ministers (22%) and politicians of all types (19%).
But there's a new entry on this year's list – meaning, for once, politicians have had to relinquish their crown of turds. For the first time, Ipsos Mori has included advertising executives and they have finished at the very bottom of the pile, with a mere 16% of participants saying they generally trust them.
So, why are they so loathed? What can be done? And is it even anything to worry about? We ask some ad executives for their opinion.
Sarah Golding
Chief executive, The & Partnership; president, IPA
"The customer is not a moron. She's your wife." This famous adage from David Ogilvy rings just as true today as it did 60 years ago. As advertisers, we have a contract with our consumers: one which should be founded on respect and trust. We mustn't patronise, we mustn't hoodwink, we mustn't lie. If we want to gain our audience's trust, we must earn it – by doing all we can to be transparent and respectful, and adhering to the tenets of regulation.
The findings echo a trend witnessed by the Advertising Association over recent years – that trust in advertising is declining versus competitor industries. But if it is, I can't help feeling we are being damned more by association than anything else. Today, adland finds itself caught in crossfire on a daily basis, as headlines rebound around issues including brand safety, exploitation of data, unregulated, hyper-targeted political advertising online and fake news.
This is why at the IPA we are fighting so hard to tackle these issues – lobbying the tech giants on their inadequate brand safety policies; pressing the platforms to reassess how they use and monetise customer data; and, notably this year, calling for a crackdown on the hyper-targeted political advertising which is threatening democracy.
A long-term loss of trust would have significant consequences for our industry, so we must continue to lobby for a safer, fairer media landscape; one which brings consumer safety, privacy and respect to the heart of its values, as well as offering an environment brands can thrive in.
And there's another way we can fight to win back trust. To revert to David Ogilvy's truism – we all know consumers enjoy good content. We must make more of this – continuing to invest our efforts, talent and resources in making work people want to engage with. The more loved the work we make, the closer we will come to regaining our audience's trust.
Mat Goff
Joint chief executive, Adam & Eve/DDB
Advertising executives are a competitive bunch, so I doubt anyone will be happy that we find ourselves in last place in this survey. Especially so when the professions above us include the financial crisis-inducing bankers, the hacking scandal-hit journalists and even the current crop of Brexit-bungling politicians.
While we might not be comfortable propping up the table, I don't think coming last here is a cause for too much concern. Telling the truth is not necessarily a key yardstick of what we do. It's not really what people expect from advertising. Rather, it's our job is to find insights and tell stories that create trust for others, so we should be more concerned by the trust the public place in the brands we serve.
It's interesting to see that bankers, the professional sector with the most advertising spend behind them in this survey, are the big movers of recent years, up three points this year and 12 points since 2011. What is genuinely alarming, mind you, is for the public perception of us to be so far behind that of estate agents. Overhauling this deficit is something for us all to aim for next year.
Jon Sharpe
Europe chief executive, VMLY&R
In the midst of the turmoil of Brexit, you have to acknowledge that it is a remarkable achievement to secure this anchoring position behind politicians, government ministers and even the pollsters. I suppose you could argue that the survey's question was rigged against us somewhat. People expect advertising executives to sell you a truth – not tell you the truth.
But I think this is symptomatic of a wider problem our industry faces. Advertising has become the "A word" to many; a taboo term, standing for all that is dated and out of touch about the marketing and communications business.
We shouldn't despair, though – even the worst reputations can be fixed. A decade ago, the crash left the credibility of bankers in tatters, but this year's index reveals trust in bankers rising 10 points over the past five years, from 31% in 2013 to 41% now.
For us as an industry to get off the foot of this table by next year, we need to rebrand advertising. Let's ditch the stereotypes of Mad Men and distance ourselves from scandals like Cambridge Analytica. Instead, we should be promoting a new type of advertising executive who harnesses creativity, technology and culture to build connected brands that live in people's lives and create value for clients.
I'd like to call on the industry to reclaim the A word and give it a new glory. Advertising is not just TV and print and programmatic – it is every opportunity to inspire, engage and drive connections. Advertising is KFC's "Chicken vs turkey" and it's the Subservient Chicken and it is #NuggsForCarter, the most retweeted tweet ever, from a campaign we ran for Wendy's in the US. When advertising is known for entertainment, not deception, the A word will be reclaimed.