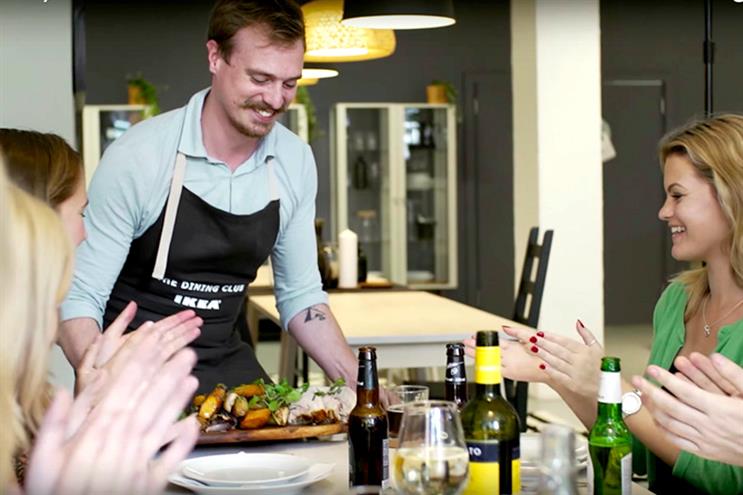 After many years in adland and having recently taken a new role in the events, experiential and content world, it's still my preferred Thursday ritual to digest Campaign and reflect on the current advertising industry tropes and challenges.
In recent post-Brexit months, it has been interesting to gauge the temperature of the ad industry alongside the latest instalments of the IPA Bellwether Report. While demonstrating an encouraging but marginal upward revision in adspend, 1.9%, the third-quarter survey also revealed a 9.9% lift in predicted spend for event marketing (following +13.4% in Q2).
Engagement is defined by creating a series of unforgettable moments, both small and big
This indicates that marketers are prepared to invest more in experiences for deeper and richer levels of audience (consumer or employee) engagement that simply can't be achieved in other channels.
This recently reported uplift in event marketing spend came shortly after VCCP founder Charles Vallance's challenge to agencies to stop "story-telling" and start "story-doing". In his words: "The most important question for 21st-century communication isn't 'What is our brand saying?', it's 'What is our brand doing?'" (Campaign, 19 August).
The Vallance essay was compelling and surprising in equal measure.
Compelling because I buy the experiential Kool-Aid. Since my days as an aspiring planner, I have worshipped at the altar of Joseph Pine and James Gilmore's The Experience Economy (1999), which highlighted the disproportionate value of stakeholder experiences. After working on Tesco at Lowe, I've adhered to the Terry Leahy mantra: "Watch what they do, not what they say." The best marketing projects I've worked on involved brand actions, in categories as diverse as alcohol, paint and banking.
Surprising because in order to "story-do" and the stated need for a "redefinition of our jobs and… skillsets", it seems that adland is aiming to be more like the events industry. After all, events companies such as WRG are the pre-eminent "story-doing" agencies, with a long history of bringing brand propositions to life through physical experiences.
So what can adland learn from those working in the events and experiential space?
First, our philosophy is "individual back" to brand, not "brand out" to the individual. Experiential agencies are intuitive and rigorous user-centric planning cultures, where every aspect of final delivery is designed in a user-oriented way. Our teams (not just planners) constantly review user-experience arcs and adhere to the mantra "walk it for me" in order to walk in the shoes of the different types of attendees. It's invigorating to be in an agency environment where the participant is discussed in such detail, sometimes down to a personal level.
Second, creativity in experiential and events is applied to a series of small moments. Of course, there will be high-impact films, epic content, excellent design, deployment of technology. But, ultimately, engagement is defined by creating a series of unforgettable moments, both small and big. "The senses don't ask for permission," WRG executive creative director Mark Gass says – so soundscapes, texture, taste can all play a role. Attention to detail in those moments is what defines success and often where Byron Sharp's memory structures are created.
In event marketing, technology has to be integrated, not bolted on. It means building capability and partnering a range of different, best-in-class suppliers and wholly trusting them with your ideas. Advanced technology not only facilitates our ability to put on a live or virtual event for thousands of people, it is also often integral to the experiences themselves. Geo-location, iBeacons, virtual platforms, Oculus and instructional design are deployed across categories as diverse as automotive and healthcare. Technical aptitude is mandatory, not optional.
Experiences are about delivery and creativity in equal measure. For one moment in time and with a significant budget behind it, a client's credibility and public face can be in the hands of an events agency. The level of trust can be extraordinary – there is no re-edit, switch of media spend, re-skinning that can be deployed to make up for a badly handled conference or event. That's why our "hybrid" event producers are best in class – "hybrid" because they oversee multifaceted productions including film, digital content and logistics, but also because they create and guide content with clients. Delivery, delivery, delivery is critical to success.
Finally, and perhaps most importantly, no one person has the silver bullet. In order to create a seamless and brilliant meeting or experience, team members are dependent on someone else to play their role. Of course, there are outstanding client leads, planners, developers, environment architects – but it is impossible to land a truly brilliant experience without everyone's trust and collaboration. The event and team are always the heroes.
I concur that experiential is the creatively engaging communications category to be in. But to avoid an empty "story-doing" trope, adland will need to think and behave more like my new colleagues in the events industry.
Russ Lidstone is the chief executive of WRG, The Moment and Just Communicate