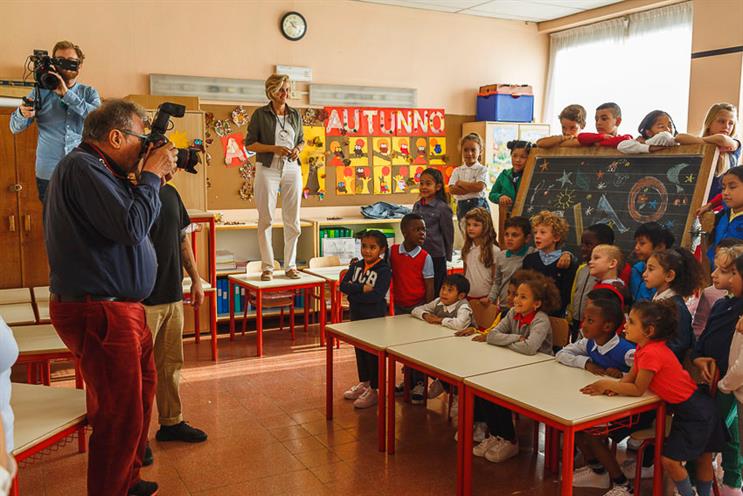 From a nun kissing a priest to an AIDS victim on his deathbed, Oliviero Toscani's bold photographs for Benetton made advertising history during the 1980s and '90s. Now 17 years after shooting his last campaign for the brand – one that sparked outrage and boycott threats – he is back with two new ads tackling what he calls "the problem of humanity today".
The theme of Benetton's latest campaign is societal integration, and the images – of diverse schoolchildren smiling in a classroom – take a softer tone from Toscani's previous photographs that stirred controversy.
Despite this gentler imagery, the outspoken photographer still intends to provoke his audience, and he believes other brands should follow suit.
"I don't force anybody to understand what I do. I'm doing what I think should be done, that's how it is," he says. "I'm not looking for consensus."
Integration is a timely subject in the age of Brexit, and Toscani is no stranger to the task of tackling divisive issues of the day. In the past he created provocative ads for Benetton on subjects spanning the AIDS crisis, religion, racism and human rights.
But his last attempt in 2000, a global ad campaign with an anti-death penalty theme that featured images of US convicts on death row, had real business consequences. Beyond the usual public criticism that the brand had become accustomed to, Benetton faced a lawsuit in Missouri, with other states calling for boycotts of its goods. Retail chain Sears Roebuck pulled a franchising contract with the Italian clothing company.
Yet Toscani maintains it is still appropriate for Benetton to speak out on social issues because it is "a believable brand".
"We didn't show what we are doing but what we are," he says.
Asked if all brands should play a role in addressing societal problems, he answers swiftly: "Of course".
"Brands are very important," Toscani says. "They've got a social impact and are using public space. You have to say something interesting."
To meet this responsibility, Toscani believes brands must ditch traditional methods of advertising and instead embrace an artistic spirit. He does not mince words on this topic either.
"The real task of art is to touch the human condition. That's why I find advertising stupid – totally stupid," he says. "Ad agencies are really making an effort not to be creative. They're all the same, they want to please everybody.
"If you want to have real success, you should listen to what the marketing research says and do the opposite."
The ad agency model is broken, Toscani says: "We know very well they're over. They're the first ones to know.
"Real artists don't do art direction. This is something [agencies] invented. How can you call yourself a creative director – not even God was a creative director."
Toscani might want to create art for Benetton, but the advertising also needs to sell clothes. The retailer's sales have slowed in the face of competition from rivals such as Zara and H&M. Despite restructuring in 2013, the company reported its fourth consecutive annual loss in 2016. Chief executive Marco Airoldi left earlier this year and has yet to be replaced.
Toscani will also create a new product campaign for Benetton launching in February 2018. "We have to bring magic back to the shops," he says.
Much like the campaigns that made the brand famous as a provocateur, he vows to do things "in a different way" to restore its fortunes.
"Let people criticise, okay. You can't satisfy everybody," he says. "I love critics. You learn from critics."
And as for his time away from the company, he sounds vindicated when he reflects on its decision to work with agencies in his absence.
"Benetton went back to the traditional way of advertising and that failed," he says. "You have to provoke interest. There are very few brands of which you remember their pictures from 30 years ago. But you remember Benetton's."