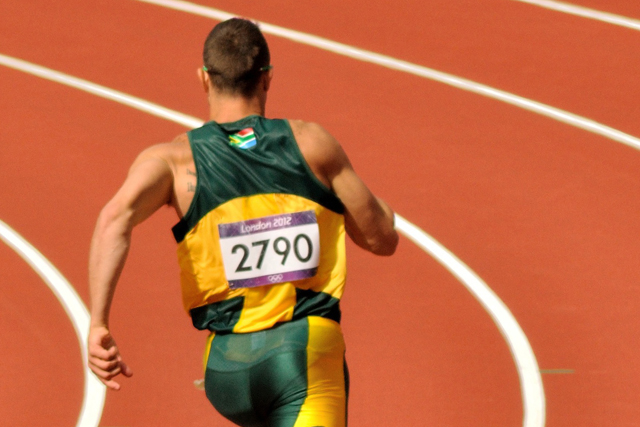 For me, it was easily the standout achievement of London 2012; Oscar Pistorius, who grew up with no lower legs is now recognised as one of the fastest 400m sprinters in the world. He secured his place in Olympic history by becoming the first double amputee to compete at the Games.
It was a phenomenal achievement, one that not only reflects huge physical strength, but also a phenomenal feat of mental endurance. For athletic officials ruled in 2008 that athletes like Pistorius using high-tech prosthetics had an advantage over able-bodied runners, so they were barred from mainstream competition - a decision that was (thankfully) overturned on appeal.
It is clear Pistorius' fellow athletes share none of the misplaced concern of those officials. In one of the most moving moments of the Games, Kirani James of Grenada, the reigning world 400m champion, swapped his number with Pistorius after the race. He said: 'I really respect and admire the guy, I just see him as another athlete and another competitor.'
The risk is that brands, like those officials, fail to understand the unique proposition of the Paralympic Games, in which Pistorius will also be running. Some media agency figures have already declared the appetite from sponsors is 'lukewarm' and there is 'not huge confidence' that people will watch on TV. These comments reveal them not only to be completely out of touch with consumer sentiment but unwilling to challenge the status quo.
This is set to be the most successful Paralympic Games to date: a record 2.1m tickets have already been sold. For consumers continuing to grapple with the emotional fallout of the recession and seeking out more meaningful and rewarding role models, the Paralympics will deliver them in droves.
As goalball player Georgina Bullen recently told the Evening Standard: 'Not only are you competing in a sport, but you have to overcome your disability in order to compete in that sport. We're redefining what's humanly possible.' Now there is a sentiment smart brands can really get behind.
THE UPSHOT
New heroes
As consumers' love affair with disposable celebrity and worshipping at the altar of fame for its own sake is waning, brands should be looking to align themselves with more meaningful role models. As Oscar Pistorius declared: 'You're not disabled by the disabilities you have, you are able by the abilities you have.' It's a sentiment that UK plc would be wise to embrace.
Embrace the new optimism
Countless brands have blamed a plethora of corporate sins and an inability to make meaningful decisions on the 'uncertain economic environment'. Take a look at the passion, performance and phenomenal feats of human endurance displayed at the Paralympics and have the confidence to get off the fence and do something that matters.
Humility is everything
While it's tempting to draw a line in the sand between spoilt, argumentative professional footballers and Britain's Olympic heroes, in reality, things are not so clear cut. From failed drug tests to colluding badminton players, the Olympics do not simply deliver cardboard cut-outs of heroism to brands. Nonetheless, consumers now expect more humility from sporting heroes than that displayed by many of football's most talented players. Brands would benefit from taking heed of this.
@nickykc
Follow @nickykc