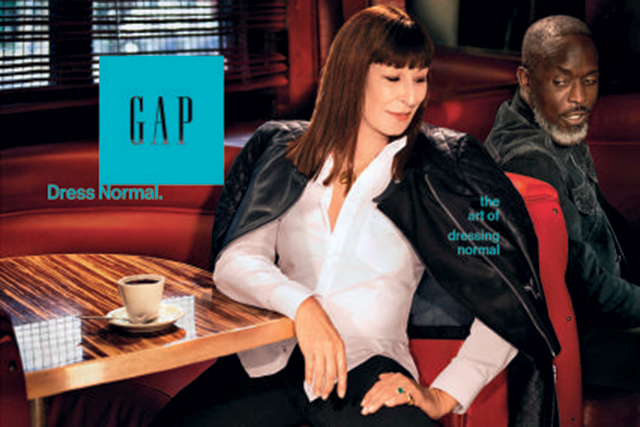 The most underwhelming fashion statement of all time is, perhaps, "Dress normal"; yet this is the somewhat unlikely new strapline for clothing brand Gap.
The line was recently unveiled in a campaign of short films, beautifully directed by David Fincher. But while the creative execution is faultless, the idea itself is fundamentally flawed.
The strategy behind the campaign is based on a solid insight; millennial consumers, battered by the fallout of the recession, are exhibiting increasingly conservative behaviours.
The bizarrely named New York trend consultancy K-Hole coined the term "Normcore" to describe some aspects of this shift. The essence of it is that young consumers, who have devoted so much time and energy to expressing themselves as individuals, have lost the joy that comes from a sense of belonging.
Black is the new black
In response to a world in constant flux, they are embracing the bland, the conservative and an almost anti-fashion aesthetic. The kind of blandness that is so succinctly encapsulated by Gap's distinctly unaspirational, yet knowing, strapline.
Gap is the very essence of conformist camouflage
However, the truth is that consumers don't actively look for blandness as a brand attribute, even when seeking out the safe and suburban - the brands that are little but wallpaper. Consumers want to feel like their purchases are meaningful; that their choices, however bland or mass-market, remain a celebration of their individuality, not a confirmation of their desire to fit in.
At times of upheaval, economic and emotional uncertainty, we all seek refuge in what we know and the comfort that comes with conformity. Earlier this week, in the midst of that difficult transition from maternity leave back into the office, I found myself in the unchallenging shopping terrain that is Gap.
Convinced that everything I wear since my return to work screams "portrait of a woman who has no business whatsoever being in an office", I was seeking out the reassurance that comes with an unthinking uniform of bland belonging.
Riding the Normwave
Gap is the very essence of conformist camouflage with its uncomplicated and unchallenging palettes of beige, browns and black. But greeted with windows instructing me to "dress normal" and rows upon rows of interchangeable black jeans, alongside the sign "black in the new colour", I turned on my heel and left. It was as if Gap had become a parody of itself.
Speaking at the launch of trend-forecasting service Stylus Fashion recently, Sir John Hegarty recounted a conversation he had with renowned fashion designer Paul Smith.
Many years ago, before the ascent of Gap, Smith made chinos. Hegarty bought a pair and wore them so much that he eventually needed a new pair. But when he went to get some more, he found Smith no longer made them.
Smith told him: "I stopped selling them. I didn't want be known as a maker of chinos." Hegarty concluded: "That takes courage - it takes courage to move on."
Gap may believe it is riding the "Normcore" wave, but there is no challenge and little joy to be found in its "dress normal" directive. Herein lies the paradox of the new conformity: at its heart lies a dormant desire not to be invisible, but to find the courage to celebrate our own individuality.