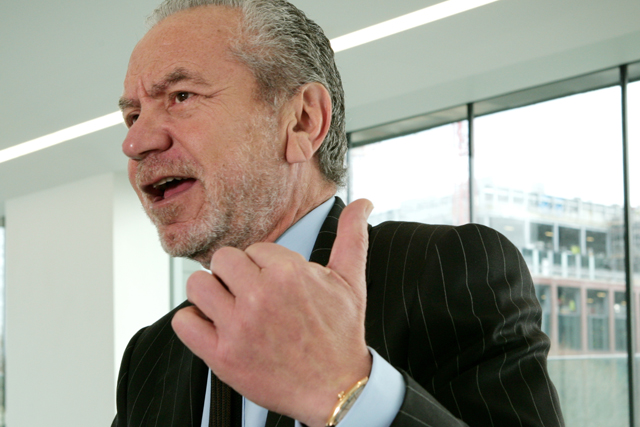 It is the kind of strapline that would make grown men (and women) weep: 'This Christmas, show your appreciation to your lady staff with Stylefile.'
Yet this was the headline adorning the site of former Apprentice winner Tom Pellereau's nail-file brand's site, before it was hastily edited following a barrage of criticism on Twitter.
Lord Sugar, however, showed no sign of backtracking, continuing the controversy by tweeting: 'It's Friday girls, ask the boss to think over the weekend about treating the staff for Xmas, showing appreciation.'
I wondered whether I had been somehow transported back to the sexism of the 50s. I may have now heard of Stylefile, but I can't be the only one who will go out of my way not to buy it.
Sugar continued his charm offensive by greeting a perfectly polite Twitter user, who had the gall to point out his sexism, with the succinct response 'Shut up idiot.'
I have nothing against nail files - in fact, I have successfully navigated my entire adult life without really forming a strong opinion on one - but this is quite simply one of the most jaw-droppingly terrible marketing strategies I have ever seen.
How could seemingly educated people get together and decide the best way to market nail files was to position them as a Christmas gift to your 'lady staff'?
Now, leaving aside the fact that if my (female) boss randomly presented me with a nail file for Christmas, I would think she was a few sandwiches short of a picnic, this is marketing from a bygone era. Or, on the flip side, it could be a desperate attempt at PR, through needless sexism.
We desperately need outspoken leaders in business, but Stylefile needed someone to point out just what a ridiculous non-strategy this approach is. There is a difference between straight talking and plain old nonsense.
THE UPSHOT
What brands should know about avoiding everyday sexism
Beware of the cliche
The cliche has been the pillar of advertising for decades, but brands must be wary of holding a mirror up to society that is divisive rather than inclusive. Even Margaret Thatcher believed that political parties win only when they reflect modern society.
Don't 'pull a Romney'
No brand would want to be in the shoes of failed US Presidential candidate Mitt Romney, who managed to alienate women. Barack Obama remains President, thanks to being the choice of the majority of female voters.
The Mumsnet effect
Asda has been heavily criticised for its latest ad showing a stereotypical frazzled mum at Christmas. The brand need only look at the slew of negative comments on Mumsnet for evidence that it missed the mark.
Am I being unreasonable?
It's the name of one of the most popular chat boards on Mumsnet and perhaps one of the most important questions marketers should ask themselves, as in 'Am I being unreasonable in marketing nail files as a gift for "lady staff"?'
Nicola Kemp is Marketing's head of features. Follow her on Twitter: @nickykc