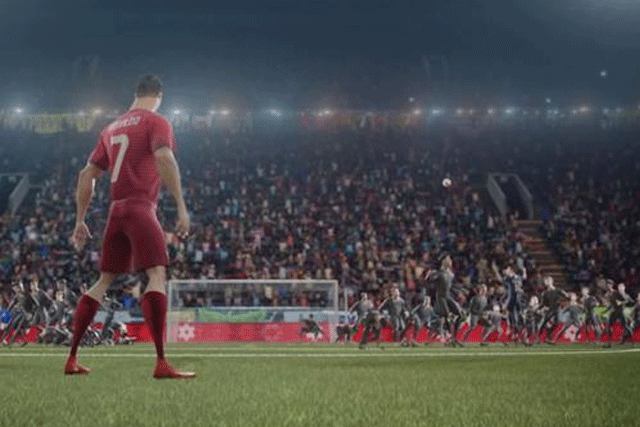 I am not walking around festooned with the English flag, or wearing the football shirt, don't even know who all the players are. I am just not interested.
I have, of course, seen all the extravagant ads – Adidas Dream, the slightly hypnotic Nike film, the over-the-top Dr Dre ad, the McDonald's ad with just about everyone trying football tricks and many more that I don't care to remember – they're all littered with celebrities.
Entertaining maybe, but these brands that have pumped millions of pounds into the making of these epic campaigns have done nothing for me. They have failed to turn me into a devoted fan or transform me into a football fanatic. Instead I am left feeling a wee bit forlorn.
To think that anyone not interested in the World Cup is invisible to brands is most astonishing. Of course, brands feel compelled to be a part of one of the biggest properties in the world, but to abandon the audience that does not participate in that one event is like saying that we don't want to talk to you, or engage with you or even worse, we don't care about you.
The fact that about half of people in England say they care little for the game (according to a recent YouGov survey), with 50% not the least bit interested and 31% only slightly interested; or that the least interested country in the World Cup is the United States, where 60% of Americans reported being uninterested, is a striking revelation for those brands who appear to have forgotten that we live in a fragmented world.
But for all those brands who continue to be tantalised by the beautiful game, convinced that we are one uniform football loving nation, there will be that one brave advertiser who will see the light and start talking to the majority of the consumers who continue to spend their money during the football season – but just not on football.
So, how should brands behave? Here's my advice on the three most important things to think about:
Know what the other half value – The noise around events like these means it's often the perfect time to cut through on a personal level with a conversation they do want to get involved in. And it doesn't have to be overpowering or overwhelming.

It needn't be football but there is something in the fan mentality that can be leveraged. Fans are an efficient and authentic distribution channel to exploit content and reach. Heineken Ideas Brewery - an open innovation platform, is a fine example of how brands can build connections with their fans.

And for the half who do care. Think about changing the focus from competing to be heard to finding a meaningful way of getting them engaged – and exploiting that engagement beyond the event. An elaborate ad campaign won't cut it, even with the fans. The true value and reach will be unlocked only when true innovative experiences are created.