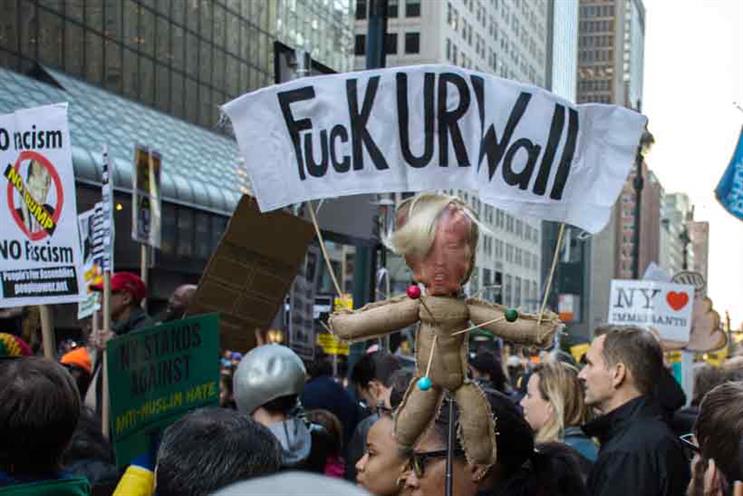 An ever-increasing band of advertising agencies have argued that brands need to become part of culture to better connect with consumers.
Yet, at a time when political culture has become so polarised, marketers are facing up to new, unchartered territories and reputational risks. The goal of remaining relevant and true to their brand values has never been more challenging. A shift that demands both a new level of risk and an emphasis on immediate communications; which encompassing both employees and consumers.
In an email to staff last week, Starbucks' chairman and chief executive Howard Schultz wrote of his "deep concern and heavy heart" following president Donald Trump's controversial immigration ban. He laid out a series of plans including hiring 10,000 refugees over five years and "building bridges, not walls, with Mexico" through continued investment in the region.
Schultz wrote: "We are living in an unprecedented time, one in which we are witness to the conscience of our country, and the promise of the American Dream, being called into question. These uncertain times call for different measures and communication tools than we have used in the past."
It was a stance which quickly saw #BoycottStarbucks trending on Twitter; although many consumers praised the brand for taking a stand.
Follower growth for Airbnb
Saul Betmead, chief strategy officer at Y&R Europe, says that those brands that make a stand ultimately benefit from that stance.
He explains: "Honesty is the foundation of any relationship. As is being true to who you are, standing up for what you think is right."
Betmead believes that if a culturally important theme emerges that a brand feels goes against the values it holds true, there is very good reason for wanting to wade in. "Telling the world what you think is not ok, is often the best way of defining who and what you are."
Brands as leaders
Taking a stand in this way is taking brands into unchartered territory. While Starbucks chose to publish what was essentially an internal communication with employees; Airbnb took to Twitter cutting through the noise with a clear message to its employees, community and consumers directly from its chief executive. A shift which prompted a significant uplift in followers according to data from Socialbakers (see chart, above).
Brian Chesky the chief executive of Airbnb, said the brand would be providing free housing for refugees and anyone not allowed in the US. Meanwhile Google co-founder Sergey Brin joined protesters at San Francisco International Airport and said: "I'm here because I'm a refugee".
This personal and authentic response to the immigration ban underlines the fact that brands and business leaders increasingly have to stand for something bigger than simply selling a product. Younger consumers believe brands should not simply "do less bad" but actively "do more good" a trend evident in the ever-increasing tranche of brands pledging significant sums of money to organisations including the American Civil Liberties Union.
Follower growth for Uber
Morality as marketing
Of course there are significant ethical implications for brands viewing morality as a marketing tool and marketers must tread carefully. Uber's slow response to the immigration ban, combined with an ill-advised tweet, which was seen to promote its services during a taxi strike at JFK airport, was a marketing disaster for the taxi brand (see data,)
Uber's slow response to the immigration ban, combined with an ill-advised tweet, which was seen to promote its services during a taxi strike at JFK airport, was a marketing disaster for the taxi brand (see data, above). Consumers embraced the #DeleteUber campaign; turning to social media to not only delete Uber in their droves; but accompanied their tweets with a screenshot the act of doing so. In contrast, according to data from Socialbakers, Lyft experienced a surge in followers (below).
Follower growth for Lyft
Despite these challenges, Matthew Charlton, chief executive at Brothers and Sisters, believes that brands should not be afraid to polarise opinions. He explains: "There is very little evidence that all of the gander and sentiment expressed socially ever translates into real jeopardy for brands." He points to the fact that BP saw very little declines in sales when it flooded the Gulf of Mexico. "There is very little risk in these brands getting involved in the social flow as it makes no difference to sales either up or down, it's just another bubble,"
Faux Empathy
While there is nothing worse for a brand than gently sliding into oblivion, Chris Pearce, chief executive at TMW Unlimited, warns that with emotions running so extraordinarily high at the moment they need to tread carefully. Yet beyond the outpourings of visceral hate flooding social channels, Pearce warns of the implications for marketers beyond this initial maelstrom – namely "the slightly more disturbing prospect of the "bandwagon effect" with perhaps less principled brands confusing clear purpose with "faux empathy". With this in mind, Pearce advises brands to think twice before using a moral stance as a marketing tactic – however well intentioned.
At times of uncertainty, consumers and employees are seeking reassurance in brands that share their world view. According to David Parry, chief operating officer of global brand and innovation consultancy Saffron, the trend of brands getting involved in politics is not likely to disappear. Parry explains: "As a brand you have to ask yourself: 'Is this a fight you really want to take part in? Are you simply adding noise to an already saturated crowd or are you truly adding value?'"
While it is imperative to stand up for what your company believes in, Parry believes it's also important to realise that, by adding noise, you might inadvertently be helping to deliver Trump's message: "Having a clear sense of purpose has never been more important for business; the role of marketing in delivering that message has never been more vital to ensure meaningful messages don't get lost in translation."