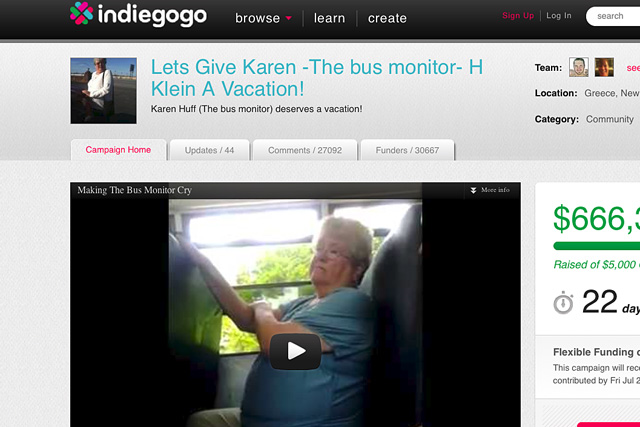 When a middle-school student posted a 10-minute video to his Facebook page showing the bullying of 68-year-old bus monitor Karen Klein, he cannot have predicted that millions would share her humiliation.
Klein tried to ignore the four boys from Athena Middle School cruelly calling her fat, poor and ugly, and worse; the video of the abuse has been viewed more than 6m times.
The widow, who had worked as a bus driver in Greece, New York, for 20 years, has been employed as a bus monitor for the past three.
Her job means she has to travel in the bus with students, making sure they behave themselves. For this she is paid about $15,500 a year.
It is unlikely that this was the first time she has been subjected to such threatening behaviour in what one can only imagine is a thankless job.
However, when a student posted the video online and it went viral, Klein's personal torment became a national cause celebre - an everyday tragedy that displays the power of the web in holding up a mirror to aspects of people's lives that traditionally have been hidden from view.
Social media is making these uncomfortable truths, these personal torments, increasingly difficult to ignore. Crucially, consumers who might once have been powerless or ignorant of the problems faced by others are now empowered to act.
This is why this is a story with a happy ending. Not only is the incident being investigated by the authorities, but when Max Sidorov stumbled across the video he felt compelled to launch an appeal to raise $5000, to pay for a holiday for Klein, via crowdfunding website Indiegogo.com. At the time of writing, donations have topped $650,000. Just as the hyper-connected world casts light on the worst excesses of human behaviour, it is also a conduit for the very best, and the hub of incalculable random acts of kindness.
THE UPSHOT
What brands need to know about random acts of kindness
Consumer campaigners
The social-media revolution has empowered consumers to act in response to any perceived injustice. The growth of crowdfunding and campaigning platforms have given new opportunities to connect.
Generosity
The fundraising for Karen Klein is just one of many examples on the web. In these austere times, brands could learn from this generosity. From Pret A Manger giving consumers coffee to Starbucks teaming up with Apple to offer shoppers songs and books, small acts of kindness can make a big impact.
Paying it forward
Recession or not, kindness pays dividends. Max Sidorov, who set up the appeal page for Klein, is now the beneficiary of his own page.
Beware the power of the crowd
The rising power of the crowd is not without its problems - police have stepped up patrols around the homes of the children accused of taunting Klein, after their purported identities were leaked online and one received death threats. In the delicate social-media eco-system, brands need to tread carefully and think about how their actions will be interpreted.
Nicola Clark is Marketing's head of features. Follow her on Twitter: @nickykc.