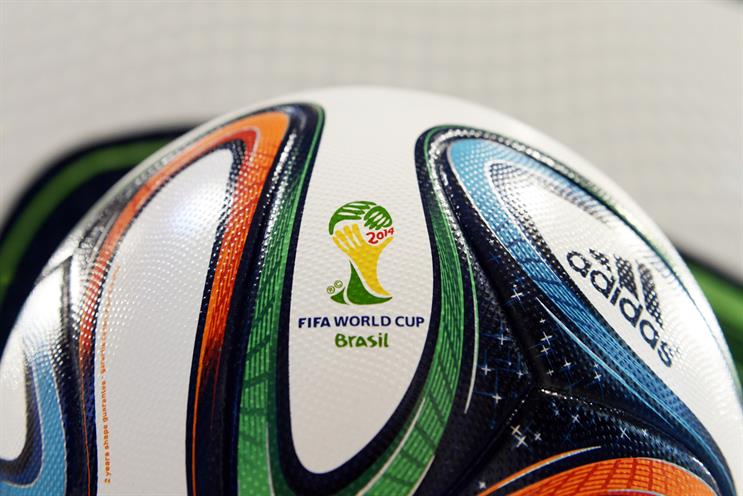 A carnival of Samba-infused, Brazilian-themed marketing has taken over the UK. With only days until the start of the World Cup in Brazil, brands have leaped on the bandwagon for all things South American. What remains unclear is whether this will bring them any commercial gain.
From Volvic's "Flava Brazilia!" coconut and pineapple-flavoured water to DoBrands mino's "Carnivale" range of pizzas, brands have embraced the exuberant spirit for which Latin America is famous. By celebrating all things Brazilian, and making few or no references to football, marketers hope to carefully bypass FIFA's strict ambush-marketing rules and capitalise on excitement around the tournament.
Coca-Cola, an official sponsor, has focused its marketing strongly on the influences of host nation Brazil and "iconic setting" of Rio de Janeiro, including through its official World Cup song The World is Ours by Aloe Blacc, and its TV ad showing Brazilian-style barefoot football and fans sharing a bottle of Coke on Copacabana Beach.
This has been in stark contrast to the relatively low profile of the England team itself, with only The Football Association's official backers, such as Vauxhall, Mars and Carlsberg, unfurling the St George's Cross. With expectations of the England team at an all-time low, there has been little sign of the rampant patriotism of previous years.
Remain loyal
Mars' latest campaign (below) is a good example. Following on from its 2012 ad, in which a fan volunteered to be goalkeeper against a spot-kick from Robin van Persie, and help England secure an elusive penalty shoot-out win, this year's spot shows a fan giving captain Steven Gerrard the idea of how to score an elaborate goal. It acknowledges that, although fans remain loyal and dedicated to the cause, the hero-worship of old is gone.
Lucy Cotterell, UK marketing director for Mars, Snickers and Twix, says the brand is looking to "reward fans for their support" with the chance to win one of 500,000 personalised, special-edition England shirts, as well as offering adults the chance to take part in their own kickabout with its "Just Play" programme.
While England's team sponsors will back the Three Lions as part of long-term plans to associate themselves with the national game, it is less evident whether opportunities exist for other UK brands – particularly retailers – to get behind manager Roy Hodgson and his squad.
"In the UK, it's fair to say that this is the least-hyped World Cup we've ever had," says Drew Barrand, associate director at sponsorship agency Pitch. "For the first time, there is a lack of hope from the fans that, even with the odds against them, England just might have a chance of winning the tournament. The problem brands and marketers have in terms of UK activation is that, when the public lacks hope, there is no aspiration value."
He believes that sensible brands will keep their powder dry in case of a disastrous campaign for England, but, at the same time, prepare for the possibility that the team upsets the odds, and the mood of the nation swings to one of celebration and optimism.
Host nation
If brands find it tough to predict the mood of the UK public, it is proving perhaps even more difficult to handle the host nation. For most football fans, Brazil is the home of legends such as Pelé, Zico and Ronaldo, and the perception of the country encomp­asses sun-drenched parties and through-the-night carnivals. The reality of Brazil today is, of course, far more complex.
Last year's Confederations Cup, FIFA's World Cup warm-up tournament, was marred by anti-government demonstrations (right), with protestors even clashing with police outside Rio's Maracanã stadium during the final between Brazil and Spain. President Dilma Rousseff did not attend the match for fear of the public's reaction. Eight workers have so far died during the construction of stadia for the tournament, while demonstrators decry the money spent on staging a World Cup instead of public services.
This has created a stormy setting for brands trying to activate campaigns on the ground in Brazil, claims Andy Sutherden, global head of sports marketing and sponsorship at H&K Strategies.
"There is complacency that the strength of the country brand will mitigate and overshadow any domestic issues," he says. "In reality these have as much potential to dominate the headlines as they did in the run-up to the Winter Olympics in Sochi."
Sutherden adds: "For Coca-Cola and its 'Open happiness' campaign, if people are dying on construction sites making the very stadia with which the brand is going to be associated, that is difficult."
For Coke, Visa and McDonald's, among others, the tournament also throws up the oddity of sponsoring both a World Cup and an Olympic Games in the same location a mere two years apart. With the Olympics coming to Rio in 2016, Sutherden believes brands are being offered the one-off opportunity of a "learning exercise" to refine their strategy.
Furthermore, those brands sponsoring only the Rio Olympics, such as Procter & Gamble and Nissan, will be able to watch in real-time which campaigns succeed in appealing to audiences in Brazil as well as overseas, and construct their marketing plans accordingly.
However, one Coca-Cola spokesman, when questioned on the subject by Marketing, joked that it confines its recycling to "cans and bottles" and not "marketing ideas". He added: "We are sensitive to how the World Cup plays out in Brazil from a public perspective and will adjust our marketing activities accordingly. But when it comes to creative and execution, two years is a long time in marketing. Our ideas and understanding of how best to engage the consumer are likely to have evolved again by 2016."
Seismic battle
One reason Coke will be required to "evolve" its approach will be the undoubted pressure from arch-rival Pepsi, which will set out to steal as much of the limelight as it can through its campaign featuring football stars such as Lionel Messi and Jack Wilshere. Observers anticipate a similarly seismic battle between official sponsor Adidas and Nike, the kit-maker for the Brazil team.
Nike's "Winner stays" film (below), starring a roll-call of brand ambassadors such as Cristiano Ronaldo and Wayne Rooney, has already racked up more than 65m views on YouTube. Adidas will be hoping for an equally strong performance with its "All in or nothing" campaign, including activity around the official World Cup ball Brazuca, which even has its own Twitter feed.
Former Umbro and Nike marketer Trevor Cairns recently wrote for Marketing that non-sponsors have "creative freedom" and are unconstrained by the "endless regulations and laborious approval processes" that diminish the effectiveness of official partner campaigns. He cited the example of Dutch brewer Bavaria, which in 2010 employed 36 women to attend a game at the last World Cup in orange dresses, subsequently enjoying global media exposure after FIFA threatened legal action.
However, Tom Ramsden, global brand marketing director, football, at Adidas, says he finds it a "slightly weird idea" that brands can exclusively "own" events, and insists he will not worry about what Nike gets up to. "The World Cup is a brilliant platform for us to say everything we believe is great about Adidas. It's not a very human approach to be defensive and try to own something,rather than to celebrate our stories," he adds.
More so than any previous major sporting event, this World Cup will test brands' ability to adapt to a changing situation quickly and react in real-time

.
Adidas' key weapon, contends Ramsden, will be in offering content that no other brand – sponsor or non-sponsor – can match. "Other marketers might say they have a chance to insert their brands into the conversation, but we are fundamentally part of the conversation, so we almost have a responsibility to deliver something genuinely insightful and entertaining," he argues.
"The volume of content is going to go through the roof. For us, it means we focus more on what we're doing and tell the stories no one else can tell about the match ball, about Leo Messi, about the Spain and Germany teams. Nobody else has a network like that."
More so than any previous major sporting event, this World Cup will test brands' ability to adapt to a changing situation quickly and react in real-time to stories no one can predict. England may surprise us all and claim the trophy (OK, perhaps not), while the public protests that marred the build-up in Brazil may dissipate into an unforgettable football fever.
Either way, agility comes first. Brands must be ready to cast aside long-developed plans, abandon inappropriate content and return with marketing in keeping with the mood of football fans worldwide. An Oreo "Super Bowl moment" awaits the brand that seizes this opportunity. Those that rigidly stick to their strategies may quickly find that the carnival atmosphere comes to an end.