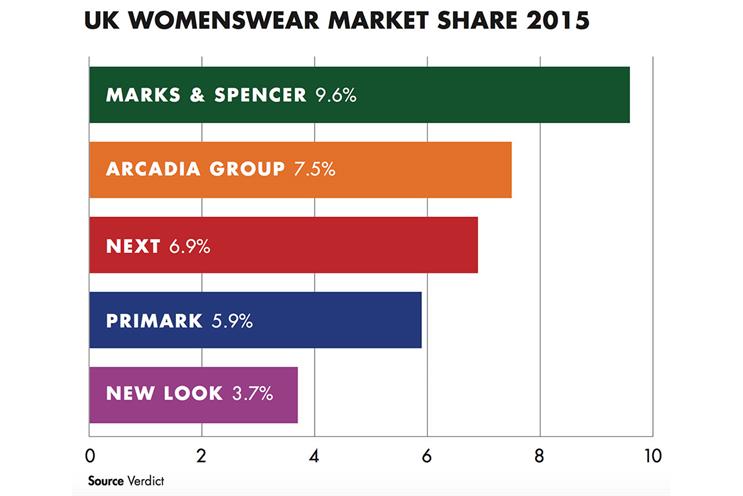 When WPP chief executive Sir Martin Sorrell heard that Patrick Bousquet-Chavanne had started speaking to agencies about Marks & Spencer's advertising account, he had a two-stage strategy. Sorrell initially tried to convince the M&S marketing supremo that his problem was not the advertising agency – WPP's Rainey Kelly Campbell Roalfe/Y&R – but the product.
In that, Sorrell is backed by almost every informed observer out there. Adam & Eve/DDB chief executive James Murphy, who ran the M&S business at RKCR/Y&R for five years, says: "Rainey Kelly doesn't deserve a review because it is one of the big factors in M&S's momentum with brilliant and effective work. M&S's problem is about societal shifts in womenswear and one way to approach this is to look at new areas of growth."
Phil Georgiadis, Blue 449's chairman, believes fashion is just one area of concern. He says M&S needs to ask itself what the brand represents, what it should be selling and how it should be selling it.
Nevertheless, when it became clear on Friday that Bousquet-Chavanne was set on a review, Sorrell managed to convince him that WPP could provide M&S with everything it needed to turn things around. It helps that most of the viable alternative agencies outside the WPP fold handle conflicting business. So RKCR/Y&R will pitch against J Walter Thompson, Ogilvy & Mather and Grey London, as well as CHI & Partners and VCCP (which are part-owned by WPP).
It isn't the first time in the past six months that M&S has tested the market. After soliciting help from WPP shops on 2015's Christmas campaign, the brand also asked Engine to come up with some ideas for the holiday season.
Now M&S is planning to hold chemistry meetings in early June before choosing four agencies to pitch in July or August. Bousquet-Chavanne is hoping to appoint the winner by September to take over in the new year. RKCR/Y&R's plans for this Christmas are already approved.
The review will also encompass digital and follows M&S splitting with AKQA in February. The WPP shops are likely to partner sister agencies to answer the brief – which has yet to be issued. Bousquet-Chavanne took on responsibility for M&S.com earlier this month. He wants the appointed agency to help him integrate the full customer experience across on- and offline. But M&S needs to fix its fashion problem before its ad agency can have a real chance of making a difference.
Chart created with amCharts | Source: Nielsen
How M&S can fight back
By Sandra Halliday
Start with the stores
Eric Musgrave, fashion industry consultant and former editor of Drapers, wants M&S to cut back on the store estate and de-clutter shops. "Make the product offer simpler but make it easier to find," he says. "The stores are better than they were but still hard to navigate and there are too many.
"If you decided to start M&S tomorrow, you wouldn't open all those huge stores. Capex spending on them must be huge. Shoppers today are moving away from superstores and towards smaller ones.
"Peter Ruis, CEO of Jigsaw, recently told me they're opening smaller, more intimate stores as that's where consumers are going."
Tech for our times
Rachel Arthur, fashion tech consultant and founder of the Fashion and Mash website thinks technology is key.
"M&S was known for its seamless integration of tech into everyday fashion," she says. "Lingerie that lifts, easily washable knits and shirts you can wash and wear aren't sexy versions of wearable tech but are what consumers want and need. M&S has lost its way as an innovator and should refocus on it. I could see them doing amazing things with technical fabrics in the current 'athleisure' trend. I would also expect M&S to offer more forward thinking around its website.
"I want to see more of the kind of advanced thinking we've seen in the ads applied to the product and to the digital offer."
Simpler, smaller, smarter
Consultant trend director Ruth Chapple specialises in brand turnarounds and believes good, simple design is key.
According to Chapple, "Collections should be all about good design. That means more lines like the Kestin Hare menswear collaboration and fewer Alexa Chungs.
"They also need to get the basics right and stop chasing trends, to think about perennial pieces and make sure customers know they're there. A T-shirt bar would be perfect."
Lauretta Roberts agrees it's about getting the trend vs basics balance right. She says, "The AW16/17 preview was confident with nods to current trends but in a non-scary way."
"They were rightly creating more transitional product to give clothes a longer shelf-life but do they make enough of the right product? They must learn to really back their winners."
Capture the customer
M&S must decide who its customers are, says Eric Musgrave. "They need to concentrate on three-to-five core customer groups, not 15 or 20. They must keep their older customers by giving them good quality while reaching newer shoppers too.
"That doesn't mean people in their 20s. My 24-year-old daughter bought one of the Alexa Chung pieces but that wouldn't make her shop there any other time. But that shouldn't be a problem. There is a huge market of people in their 30s, 40s and 50s who want quality a good price, items they can buy and keep. But they're going elsewhere, to Jigsaw, Ted Baker and LK Bennett."
Price power
M&S should not be afraid to have higher prices than its rivals. According to Chapple, this means getting the relationship right between price and quality. "They have huge buying power so should be able to make the perfect Breton top or cashmere sweater at just the right price with a variety cuts for their different customers."
Musgrave also believes quality and good design should be the differentiator, not price. "They've wrongly gone down the route of lowering quality to increase margins and they're scared of putting up prices," he says. "When I was younger, M&S was an aspirational brand, one you would save up for. Good quality at a good price is very appealing."