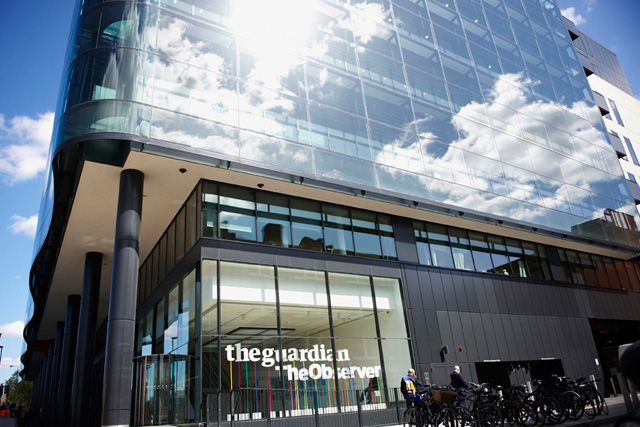 For the first time, the publisher has revealed January's sale of its 50.1% stake in Trader Media Group resulted in £619 million in cash and has now received regulatory approval.
Once dividends and sale-proceeds are included, GMG will have secured total shareholder returns exceeding £1.4bn from its investment in Trader Media since 2007.
It's hard to underestimate what an outstanding result this is for the publisher. During the height of the recession, GMG's future was openly discussed as an ongoing concern. Tensions mounted following the surprise exit of the group's chief executive, Carolyn McCall, in March 2010 – ending 24 years at the publisher.
Many city analysts, emboldened by the benefit of hindsight, had started to claim The Guardian had made a major strategic error by not offloading all of Trader Media Group for around £1bn when it had the chance.
Trader Media, home to Auto Trader, can lay claim to being one of the most successful businesses in the last decade to manage a timely transition from print into digital. Once a weekly magazine driven by classified automotive print ads, it published its last print editon in the summer of 2013, replaced by Autotrader.co.uk - "the number one digital marketplace in the UK for buying and selling new and used vehicles". Today, the site has more than 400,000 used vehicles for sale daily.
In a statement today, Andrew Miller, chief executive officer of GMG, said: "Completion of this transaction comes at an ideal time for GMG as we adapt to a rapidly-changing marketplace.

"The sale proceeds will transform our balance sheet, enabling GMG to deliver world-class journalism from a position of financial strength. We are extremely grateful to Apax for their contribution to our joint venture partnership and for the pivotal role they have played in the Auto Trader story."
Strong digital growth, but not advertising led
Even before the gains from the Trader Media disposal, the Guardian Media Group's underlying business was known to be performing strongly in a highly competitive and fluctuating media environment.

As Media Week reported last month, leaders at the publisher are confident annual losses will fall significantly from the £30.9 million posted the previous year to nearer to £20 million.
Miller added today that GMG is forecasting an increase of more than 20 per cent in its 2013/14 digital revenues – up from last year's £56 million, to around £70 million.
Already many media reporters have started to compare the Guardian's £70m digital revenues with the £60 million forecast over at MailOnline this year (which has an online audience more than twice its size). But such comparisons are misleading.
MailOnline is being propelled by digital advertising. My understanding is that the Guardian's digital revenues are being primarily (60%+) propelled by subscriptions, encompassing everything from its dating service, Guardian Soulmates, to its tablet and smartphone apps.
Of course, there's absolutely nothing wrong with that – digital revenues are digital revenues, and the diverse mix of new revenue streams is something all companies in transition would welcome.
Expanding beyond the UK's ad market
The Financial Times reported a similar journey away from its traditional print ads in its financial report for 2013 last week. 'Digital and services' revenues accounted for 55% of FT Group revenues, up from just 31% in 2008. Content revenues, which include print and digital subscriptions, comprised 63% of revenues – compared to 48% in 2008, while advertising accounted for 37% of FT Group revenues, down from 52% in 2008.
Speaking at the Mediabriefing's Digital Media Strategies today, the FT's chief executive John Ridding said the group had taken the view early on that digital advertising was not going to be the cavalry to the rescue of the structural decline in print.
The FT's transition appears to be working, with Ridding reporting that last year marked the first time in its 125 year history that the business brand made more money from its content (subscriptions) than advertising.
The story's not too dissimiliar over at broadcaster ITV either, where last year's 8.8% increase in revenue to £2.39 billion was led by growth in non-spot revenues. A key plank of ITV's five year transformation strategy has always been to expand its revenue streams.
Chief executive Adam Crozier said on a conference call last week that the broadcaster remains committed to the strategy for rebalancing the business, with growth increasingly coming from Online, Pay & Interactive and from ITV Studios internationally.
It seems one of the over-riding legacies of the financial collapse of 2008/9 will be the move away from companies being overly reliant on the UK's volatile advertising business.
Guardian looks forward to 'an era of editorial innovation'
The Scott Trust, the sole shareholder of GMG, welcomed the improving business outlook today, and reiterated its commitment to use the Trader Media proceeds to safeguard the editorial and financial independence of the Guardian.
Dame Liz Forgan DBE, chair of the Scott Trust, said: "We can look forward to an era of editorial innovation from the Guardian titles, which are proven pioneers of both journalism and digital distribution. The unique contribution made by the Guardian to national and international debate is now secure for generations to come."
GMG will issue its full financial results for the 12-months ending 31 March 2014, later this year.