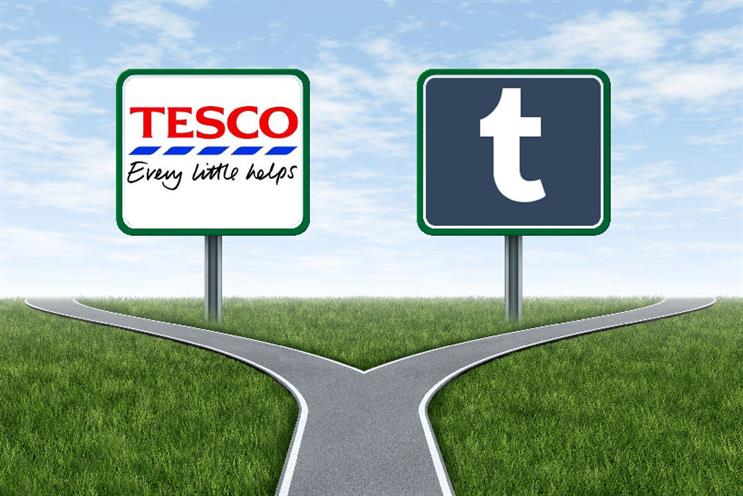 The sometimes difficult symbiosis between retailer and brand owner was brought into sharp relief again by the recent news that Schweppes and Kingsmill bread would no longer on the shelves of Britain's biggest grocer, Tesco.
The Facebook audience of Tesco and Asda is equal to a high profile Friday night ad slot on Channel 4
We all know that times are changing and commercial pressures are greater than ever. But in the quest for shareholder and shopper value, the real win is not in eating more of each other's pie, it's in having constructive conversations. Ones in which brands and retailers work together to deliver compelling reasons for shoppers to go to specific stores and ultimately drive sales.
In considering this conundrum, I've had something of an epiphany. It turns out the answer lies in branded content, not the sort that's cast out into the ether in hope of a viral hit, but created specifically for retailers' social channels.
Tailored content
A cornerstone of good FMCG marketing is creating compelling reasons for retailers to give brands the strongest possible support. Of course, this is often based on commercial rudiments – both parties trying to protect working margins while selling product at compelling price points to shoppers.
Perhaps more now than at any point in a generation, the rules of the game are changing. Not just the well documented rise of new, value-led retailers reshaping where people shop, but the growth of small stores and online platforms contributing to a change in how people shop. The effect this has had on the sales, growth and market share of the big four has been well documented.
However, talks of any demise are incredibly premature. The grocers can look to big media owners for inspiration on how to weather the storm and evolve their offering. Just a few years ago companies like ITV and the Daily Mail were, according to some, staring into the abyss of obsolescence due to changes in traditional advertising spend. But they were able to evolve their own businesses to become relevant, modern platforms for brands.
There is a direct parallel here. Savvy FMCG brands have regarded retailers as a media 'channel' for some time. We often frame the weekly footfall of Asda or Tesco as bigger than the audience of the X Factor final.
The impact of point of sale packages is even being sold into brands versus headline TV investment. But now we can look at their social channels as having equal impact. The combined Facebook audience of Tesco and Asda is equal to a high profile Friday night ad slot on Channel 4.
As the grocery marketplace undergoes change, so should a brand's understanding of how it 'activates' this channel, tailoring whole campaigns to flex across all aspects of retailer-owned media. Their businesses are fragmenting, just like the media landscape. As retailers, they look to brand owners to bring creativity and excitement to shopper audiences wherever they interact.
The big four grocers have a combined 4.6m followers on Facebook
Dogmatic social strategies
While so many brands and agencies are jumping on the 'content' bandwagon, without a real understanding of how and where it should really live online, there is a clear logic that suggests for some brands a content strategy should ultimately now be pointed at Tesco, not Tumblr.
Not only are the big four grocers huge in-store media channels, between them they have a combined 4.6m followers on Facebook, and 1m followers on Twitter. Importantly, this is an audience primed to buy your brand, engaging with the retailers on their platforms, not surfing the wider web for entertainment or inspiration. For brands without the media clout to ensure online reach (ah, the myth of viral), these channels are a fantastic focal point for a campaign.
The trend is clear. The grocery channel will continue to fragment, and the retailers' owned media will become increasingly diverse – driven by consumer and shopper behaviour. And this is the real opportunity for FMCG brands to focus their content and engagement strategy. Rather than shouting out into the void, help your key retail customers deliver meaningful online experiences and you will both reap the rewards.
---
Recommended