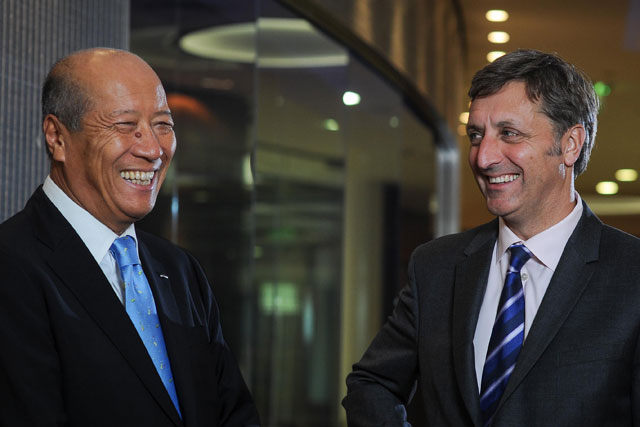 Earlier this week, anyone could have bought a share in the world's fastest growing international marketing services group for just over £1.60. And they could have banked a near 50% profit, thanks to the Aegis board laying out the welcome mat to a deep-pocketed foreign suitor yesterday.
The deal values the marketing group at a multiple of 12 times earnings and 19 times estimated future profits, prompting many to ask, has Dentsu overpaid?
For despite years of speculation about a tie-up with France's Havas, it turns out that a larger, eastern fish summoned the appetite to swallow the media and digital specialist. Not WPP, not Omnicom, not Publicis, nor Interpublic, an entirely less familiar name, at least in Europe.
Dentsu is the world's fifth largest marketing services company but you would be forgiven for not knowing this as its dominance lies in Asia-Pacific, and Japan in particular, the world's second largest advertising market after the US.
It has struggled to project itself on to the global stage, as evidenced by the fact that less than 20% of its revenues come from outside its home country, despite attempts to build an international creative agency network. So what does Dentsu hope to get from its biggest ever acquisition?
Bob Willott, editor, Marketing Services Financial Intelligence
"By Dentsu's standards this is an incredibly bold move and I think this could really change them. But bold move as it is, if they have ambitions to be in the same league as the big boys this is the only deal they could contemplate doing.
"I think they've been quite worried for quite a while about how they can expand [outside Japan]. They invested in Leo Burnett and Bcom3 [in 2000] which I think was a sensible deal strategically but they sold out to Publicis [in 2002] and they haven't had any serious global presence.
"They have on a number of occasions lived to regret deals they have done overseas and withdrawn again. This move suggests they may well have taken a view that buying relatively modest sized businesses in countries they don't really understand hasn't worked out but if you buy something big enough that's global then arguably that's a safer bet.
"Paying £3.16bn for Aegis' revenues of £1.16bn in 2011 is quite a high multiple of revenue. A typical valuation is 1.5 times. Aegis made a profit of £147.8m before interest and tax in 2011. So on the face of it Dentsu will be paying a generous multiple of 20 times that figure.
"But Dentsu aren't stupid and because they've burned their fingers before this is a really major decision for them and I think they'll have tried to do their homework. You could argue they need global coverage and therefore it's worth paying a premium to get the serious global network which they never had before.
"It has major implications for them and indeed for the competition as well because they will now be up against the WPPs and Omnicoms and all the rest of them. One question is will Dentsu be so dependent on Aegis' management that if anything goes wrong they won't find out until it's too late?"
Alex DeGroote, media analyst, Panmure Gordon
"Crucially Dentsu's offer is recommended [by the Aegis board], which means there is a low probability of a counter bid emerging.
"Two other factors are also relevant: One, major shareholder Vincent Bollore, is selling around 15% of his own Aegis shareholding to Dentsu. Two, most other would-be acquirors have been active on other dealflow in recent weeks, so may not have the balance sheet capability now to get involved with Aegis.

"At first glance, there is sound strategic and complementary logic to a Dentsu combination with Aegis, which is particularly strong in Europe and digital disciplines in general.

"It seems as though most Aegis management will be staying in the enlarged group, which in turn implies the deal is not really motivated by synergies or cost cutting. This should be taken well by Aegis employees. We think the 240p offer is a fair price, and is at a small premium to our own previous target price of 225p.
"Recent sector deals (AKQA and the mooted LBi deal) have shown the appetite for industry deals, particularly for companies with strong digital exposure."
Andy Collins, senior partner, Results International
"With a valuation that that represents a 48% premium on the share price, Aegis was never going to decline such an offer.
"Money really does talk. There's no doubt that Dentsu has paid a full price for the business. However all credit to CEO Jerry Buhlmann who divested Aegis of Synovate at a decent price, streamlined the business and gave it direction."
"Shareholders must be delighted. We'll be watching with interest how the integration process unfolds. It's generally thought that Aegis will be the powerhouse outside of Asia, playing a significant role running the non-Asian part of Dentsu."
"Other parts of Dentsu that are sub-scale will likely be merged into Aegis. Dentsu has always struggled outside of its Asian heartland as it has attempted to globalise its culture."
"Its investment in the legendary CDP, which subsequently fell apart, illustrates this. And while they have a capable management team in the US and Europe, they've not really managed to build critical mass."
"However, at a stroke, this deal puts them on the world stage as a group that can hold its own against a WPP or Omnicom. There's no little irony in the fact that a number of the big networks are looking to move into Asia while the power of the east is moving into mature markets."
"The deal and the size of the valuation is likely to be good for the sector as a whole. We may well see an increase in the share valuations of the other big networks which is good for everyone."
"It also begs a rather more radical question. If Aegis has been bought on an almost 12 x multiple, might some of the wealthier groups, if they are trading below that multiple see a re-rating?"
"Even more radically, might some of the big groups find themselves vulnerable to a takeover by a player such as Google, Apple or Microsoft?"
"No one is earning much interest on cash reserves sitting in the bank. There may well be a strong business case to be made for investing this cash in the marcoms sector."
Steve Liechti, analyst, Investec Securities
"This looks a very rich and knockout price in our view and we think rival agencies are unlikely to counter bid. It reflects Aegis' position as one of the last remaining mid-size agency groups, but with enough critical mass to make a difference to the likes of Dentsu. It also reflects Aegis' strong business momentum, simplified structure and digital assets.
"Regulatory scrutiny is unlikely to be an issue in our view given Dentsu has 86% of sales in Japan and limited material overlap."