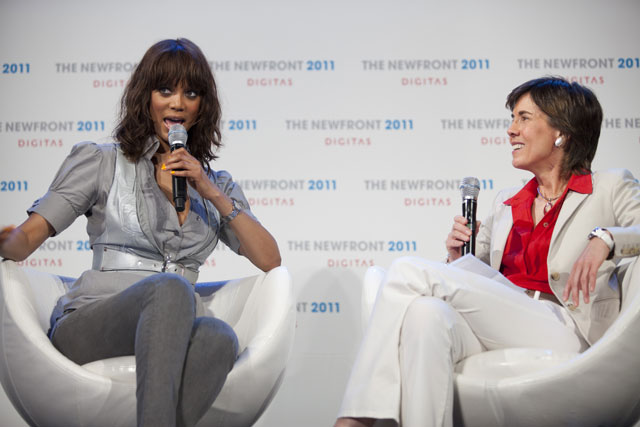 Internet Week in New York City. In a word: hot. Temperatures soared to 32 degrees as the festival celebrated hot ideas, hot talent and hot technology, adding a little hot spice in the form of award galas and Hollywood talent.
This annual week-long celebration includes nearly 300 events across New York City, where digital players come together to share stuff and spur each other on to still greater creativity, ambition and action. This year, one theme seemed to echo through almost every session: seize the moment. Change has happened. Future is bunk. Do it now. Opportunity abounds.
Or at least it does if we remember to put people first, before naked technology.
A big theme of the week was the convergence of our online and offline lives. No more: "Don't make a phone call, honey, I'm going to go online." The web is no longer virtual. It inhabits our real lives. And mobile makes this even more so.
In a session moderated by Hunch's Chris Dixon, a panel discussed the secret sauce behind successful online/offline business models and the abundance of new start-ups hanging a digital shingle. They agreed that the magic ingredients for a new business idea are a combination of social, mobile and global. David Lee, of SV Angel, claimed everyone should be given a chance to start a business: mobile has unleashed so many visionary ideas that should be explored, tested and funded. He admitted that lots won't work, but nothing comes of nothing.
Make it Personal
Digital platforms offer a publishing bonanza for brands. But there is one big problem: getting found in an ever-noisier mishmash of sites, apps and services. The answer? Data, of course.
To get personal with customers, create value and build relationships, you need data. Jeremie Miller of Singly showed us one way: by giving users greater control. Miller's company creates "lockers" that pull in your Tweets, photos, e-mail, contacts, purchase history and all your social relationships. This data helps brands build valuable and relevant stuff for the locker's owner. But, before a company is permitted access to you, it must demonstrate the value it brings and build trust, while all the time showing total transparency.
Miller says transparency is his company's golden rule of data. If you can build a transparent "data relationship" with people, you gain the key to their locker and a world of data opportunities. Or, to put it another way, consumer data belongs to the consumers, not to us marketers. And consumers now have so much control, our best strategy - no, our only strategy - is to give them even more control.
Getting Mobile
Following later in the week was a session by OMMA Mobile, which confirmed to us that the question is no longer whether or not to do mobile - it's "what to do with mobile". This day-long session set out to arm everyone with everything we need to know and consider to "do" mobile. Let me sum it up:
- Every marketing effort should now start with mobile.
- We should create useful, valuable experiences.
- We should learn from the user.
- Mobile marketing is its own specific skillset and strategy.
Mmm. I guess the alternative is: don't start with mobile, don't be useful, don't learn from the user and don't treat mobile as any different from a TV spot.
A New Front
If OMMA Mobile was long and not very practical, the New Front seminar was one of the most anticipated social media events of the week. OK. I have to declare my bias here. Digitas founded the New Front, now in its fourth year.
It is an annual gathering where Fortune 100 brands meet talented content creators - both big Hollywood hitters and rising digital natives - to seize and shape together exciting new opportunities for brand content now that digital has made anything possible. What will be the next big digital hits? There is no other organised marketplace for this sort of collaboration to happen, beyond interruption advertising and old TV models.
This year's key theme was audience power and the media of mass participation. If social media and citizen journalism can bring down President Mubarak, think what they can do to your brand. Or for that matter, what it can do for it, providing we learn to love - and work - with our audiences better. To give up some control, in order to gain a voice and social influence.
More content workshop than talking shop, live content ideas were pitched on stage along with showcases of the hottest current digital programming. Parked outside in the heart of Tribeca was a convoy of mobile screening rooms where scores of live work sessions took place between the more than 200 brand owners in attendance and an army of talent, who included the digitally savvy Ashton Kutcher with his wife, Demi Moore, the TV star Tyra Banks and the timelessly cool Isabella Rossellini. The temperature was now sky-high.
Mark Beeching is the chief creative officer of Digitas.