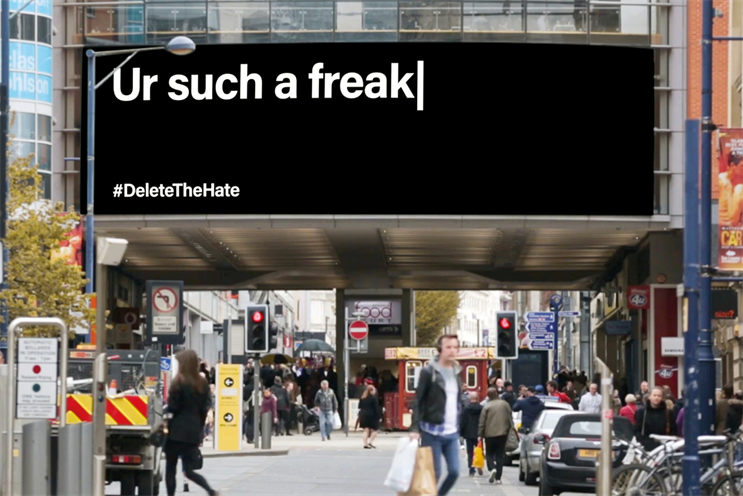 These are the concept ads which have triumphed among 150 entries in the 2018 Ocean Digital Creative Competition, held in association with Campaign. Their creators will share a £650,000 prize pot and now have the chance for their work to be brought to life and showcased across Ocean's UK locations. More than 500 people gathered at London's Waterloo IMAX for the presentation ceremony and to hear how digital out of home is providing an increasingly dynamic, efficient and creative playground for brands.
Daniela Gallo, global marketing director at Stella McCartney, joined Ocean CEO Tim Bleakley on stage to talk about the fashion house's first foray into outdoor with Landsec's Piccadilly Lights. Then the challenge of creating an ad for outdoor which competes not just with other outdoor ads but "with Instagram, Netflix, Nintendo Switch, the next big mobile game, FaceTime, and so on", was outlined by McCann London's senior creative Jim Nilsson. "At a time when screens are everywhere, how do you make an ad that is as compelling as what's on everyone's screen?". Cat Morgan, Ocean Labs' head of creative solutions, laid out the scale of Ocean's technology, which is now part of cities' infrastructure.
Entrepreneur Deborah Meaden, ambassador for the Marine Conservation Society, praised the "Ocean for Oceans" initiative against plastic polluting the seas and presented prizes to the winners in this category. All the 2018 winners, said Bleakley, "are striking for their visual impact and the innovative use of DOOH technology to meet business objectives". Noting that the awards have produced four Cannes Lions wins, Claire Beale, Campaign's global editor-in chief, said they "unite the creative and media industries behind a shared ambition and have become a barometer for what excellence in digital outdoor advertising looks like".
Brand winners
GOLD: SWOON – "OBSESSED COMPETITION" BY BBH
Swoon is a furniture company for the home obsessed. Using Ocean's eyetracking technology, different pieces of furniture are displayed on Ocean screens. Whoever stops and stares at a particular item the longest, proving they are the most obsessed, wins that piece. The judges said: "It's very simple and we see it working well on big formats. Staring at the screen….it's absolutely right for the brand and will look beautiful on out-of-home."
SILVER: MICROSOFT XBOX – "XBOX GAMING TOURISM" BY MCCANN LONDON
Xbox turns DOOH screens into portals between real and virtual worlds to promote its be er-looking Enhanced games. Live-streamed tours hosted by a guide use Ocean's LookOut technology, allowing people to explore virtual landscapes and control the camera. The judges said: "It's a window into a world that moves with you. If gaming surpasses movies in terms of the immersive experience, the idea of entering imaginary worlds is cool. It will be spectacular."
BRONZE: ŠKODA – "RALLY SPORT LIVE" BY DRUM – OMNICOM MEDIA GROUP
Škoda dominates the world rally championship but few people associate the brand with performance. Using Ocean's live stream and sound shower technology, the drama of the Dayinsure Wales Rally GB is streamed to an Ocean screen, paired with a Škoda Motorsport bucket seat rigged to respond to every twist and turn of the Fabia as it competes. The judges said: "This realises the experience of being in an actual rally. Watching someone being chucked about is very entertaining. It is simple and very sticky."
Charity winners
GOLD THE NATIONAL AIDS TRUST – "ROCK THE RIBBON" BY ST LUKE'S
The National AIDS Trust uses motion gesture technology to transform people into virtual red ribbons on Ocean screens on World AIDS Day. The ribbons dance on the screens, mirroring the participants' gestures and moves, bringing a sense of positivity and modernity to the cause. The judges said: "It's so simple, people will do it and get involved. The ribbon is doing something fresh, interesting and cool. It's very shareable as well."
SILVER THE CYBERSMILE FOUNDATION – "#DELETETHEHATE" BY ALLGOOD
On Stop Cyberbullying Day, messages of hate appear on Ocean screens in real-time, with facial detection cameras grabbing snapshots of passers-by whose 'profile pictures' appear in the messages as if they are aimed at them personally. The screen then changes to explain the cyberbullying message and invite everyone to #DeleteTheHate by spreading awareness. The judges said: "This campaign has the potential to do something really brave. It uses the medium to all its strengths and the fact that it includes people makes it even more powerful."
BRONZE SPINAL INJURIES ASSOCIATION – "DONATE TO ACCELERATE" BY PARTNERS ANDREWS ALDRIDGE
In an advertising first, people can fast-forward full motion ads on Ocean's Loop network. Shot from a first person perspective, the ads immerse us in how arduous everyday tasks like making a cup of tea are for people with spinal injuries. Donations can trigger the ad to speed to a successful conclusion. The judges said: "It's subtle, clever and very imaginative. The less obvious it first looks on the screen, the more it will a ract attention. The ability to tap and donate to fast-forward is nice and simple."
'OCEAN FOR OCEANS' WINNERS
BRAND WINNER BRAND: SEA CHANGE – "THE SEA IS THE SKY" BY GLIMPSE
This campaign promotes the European Commission's Sea Change initiative which is looking to improve ocean literacy across the UK and Europe. This ambitious project aims to mobilise schools, citizens, industry and decision makers to think blue and protect the planet's oceans.
CHARITY WINNER CHARITY: "CITY TO SEA – HYDRATION STATION" BY 23RED
Selected Ocean screens are turned into hydration stations where people can either refill their water bottles or find one of the nearest 12,000 refill locations using the Refill app. Each time the water fountain is used, one of the discarded plastic bottles littering the actual screen disappears and the user is thanked. A totaliser shows how many plastic bottles have been saved by switching to a cheaper, refillable bottle. The judges said: "This is a great. It turns a poster into something useful."