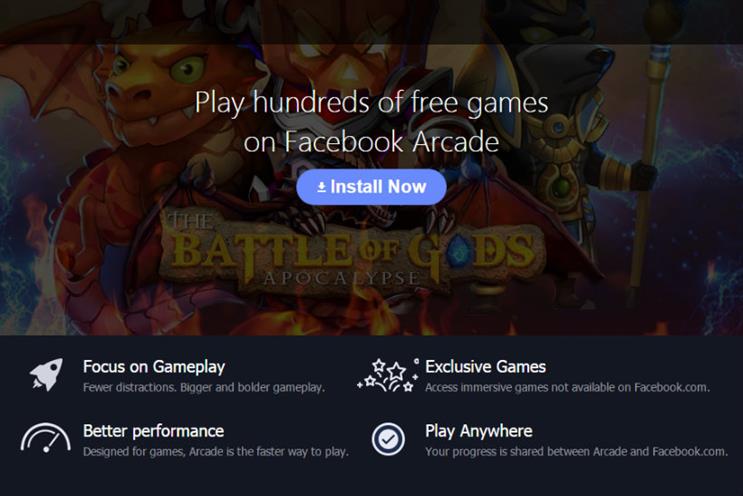 The partnership sees Facebook – after years of being associated with Candy Crush and FarmVille – trying to position itself as a serious gaming platform, just as the Oculus Rift goes on sale to consumers.
The partnership makes it easier for developers who have built games on Unity, a game engine that powers PC, mobile, web and console games, to push them out on Facebook's site and a dedicated desktop app.
It's likely these will be distributed through Facebook Arcade, a desktop app currently in beta, which lets users play games on Facebook without having to actually access the Facebook.com site. In short, the move allows Facebook to target more casual mobile gamers, as well as offer more serious games on desktop.
What does this mean for the Oculus Rift?
Unity is a popular games engine that is increasingly being used to build virtual reality and 3D applications. While Facebook's announcement does not mention Oculus or the Oculus Rift, industry observers believe the social network is attempting to build out a wider gaming ecosystem that might eventually include virtual reality.
"That would be my assumption," says Karl Woolley, head of VR, London at Framestore VR Studio.
But he notes that Oculus already has its own game store, Oculus Home, and there is little connection as yet to Facebook's desktop gaming efforts.
Sol Rogers, founder and chief executive at Rewind, adds he is "doubtful" that Facebook would overwrite Oculus Home.
Going after gamers
Instead, Oculus might remain for hardcore gamers, while Facebook targets mid-market gamers. Rogers notes that the number of VR gamers is still "tiny".
But the wider gaming market is huge – and driven by PC gaming, despite hype around mobile and casual games.
According to SuperData, the wider market is worth $61bn, with PC gaming accounting for $32bn, versus $25bn from mobile. While desktop PC sales have long been on the wane, Intel, perhaps optimistically, has predicted that sales will rise again, driven by gamers.
"If that's the case, then that will be a market Facebook wants to investigate," says Woolley.
Indeed, Facebook's existing install base is so massive at 1.17 billion monthly users that its gaming platform might outgun competitors by default. The apparent rival to Facebook's gaming platform, Steam, last year claimed it had 125 million active accounts.
Rogers believes there will be a "gold rush" around Facebook's platform, as developers will be attracted to such a huge potential user base.
Where Facebook is likely to make its money will be taking a cut from in-game purchases and, to a lesser degree, advertising.
What is clear that Facebook users can expect much better games than FarmVille, whose spamminess dented the company's reputation is a gaming platform.
"The games you can create with Unity are considerably more complex, look better and have more interactivity than traditional Facebook games," says Rogers. "The transition from casual gamers to more serious gamers, with Unity being based normally around longer games, will be an interesting collision."