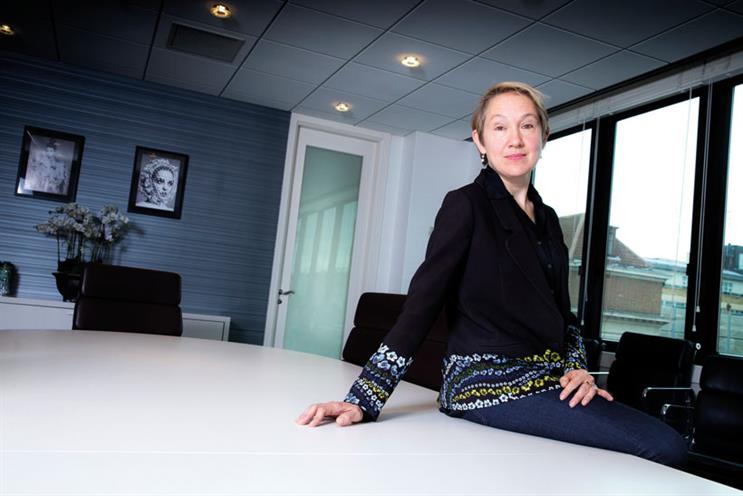 In 1867, the National Society for Women's Suffrage was formed. Women did not have a vote. It was the year before the Thirteenth Amendment abolishing slavery in the US was passed. Harper's Bazaar launched against this backdrop – a time when women were campaigning against slavery and as suffragettes.
It is a humbling thought as Justine Picardie paints this picture of her 150-year-old title, sitting in her office in Hearst Magazines UK's headquarters.
She is a rare breed among fashion editors. Of course, she sits in the front row at every fashion show, but she is a far cry from Miranda Priestly, the fictional fearsome editrix in The Devil Wears Prada.
As well as being editor-in-chief of Harper's and the quarterly Town & Country, Picardie is an author of six books, including If The Spirit Moves You (which she wrote after her sister died of cancer aged 33) and the more recent Sunday Times bestselling biography Coco Chanel: The Legend and the Life. But Picardie insists she is "better known as Jamie's mum". Her son Jamie MacColl is Bombay Bicycle Club's guitarist.
Some will remember Harper's in the UK as society title Harpers & Queen, with its famous Jennifer's Diary column that included gossip about the lives of notable families. Jennifer's Diary was put out to pasture more than a decade ago and the magazine renamed itself Harper's Bazaar, after its counterpart in the US, in 2006.
Commercially, Picardie and Euwe claim they are closing in on Vogue, even if it's not the only rival they worry about
Reminiscing about the "incredible history" of the title, Picardie points to Harper's legendary female editors including Carmel Snow, Diana Vreeland and Liz Tilberis, as well as contributors such as Virginia Woolfe, WH Auden and Tom Wolfe – all these names have ensured that Harper's is read by "the intelligent and sophisticated reader who's as interested in a David Hockney show as the latest ready-to-wear collections".
At a time when magazine print sales continue to fall and digital fails to offset that decline, it is tempting to think that the glory days of the glossies lie in the past. But Picardie disagrees: "Last year was our best year ever commercially. And when I speak to luxury houses including Chanel, Dior and Vuitton, they are finding different ways to reach their audience and, for them, digital versus print is not an either/or choice. Being an author has taught me how to pursue both creative and commercial ambition. Also, there has been an extraordinary and unexpected return to print, with both brands and readers turning to print as this safe space."
Magazines such as Harper's and its Condé Nast rival Vogue are trusted places for advertisers at a time when online is facing a brand-safety crisis, according to Dominic Williams, the outgoing Amplifi chief trading officer who is about to join the Daily Mail.
"A hundred and fifty years is a great testament to the strength of a brand," Williams says. "Remember, Vogue celebrated its centenary last year. Harper's is older and it is as enjoyable now as it was 20 years ago. The magazine is in rude health."
Picardie, who marks five years at the helm of Harper's later this year, started her career in journalism when she was 21 at The Sunday Times and went on to be a contributing editor at Harper's in both the UK and the US. She has also been a features director at British Vogue, editor of The Observer Magazine, an editor at The Independent and The Independent on Sunday, as well as a writer and columnist.
Her long career has seen the role of editor change enormously from the analogue to the digital age. Now, social media allows everyone, including brands, to be a publisher and broadcaster 24/7. The appointment of Edward Enninful – a fashion stylist and creative director rather than a writer and editor – as the new editor of British Vogue is, Picardie agrees, a nod to that change. What matters, she says, is that editors are brand custodians who appreciate the importance of creating a distinct identity for their audiences.
Picardie and group publishing director Jacqueline Euwe believe Harper's has been setting the agenda and delivering for both readers and advertisers.
Editorially, they can point to a series of "diverse" covers, including one with 71-year-old actor Charlotte Rampling and another from last summer that featured ethnically diverse models – mirroring Picardie's belief in "sisterhood and sorority". Picardie has also persuaded several leading writers, including Margaret Atwood and Jeanette Winterson, to write for Harper's.
Then there have been commercial partnerships with the likes of the Victoria and Albert Museum, which has become the magazine's second-biggest retail stockist.
Commercially, Picardie and Euwe claim they are closing in on Vogue, even if it's not the only rival they worry about. There is still a circulation gap but, according to the most recent ABCs, the Condé Nast title was flat year on year at 195,000 while Harper's posted a 1% increase to 111,000.
Euwe also claims to have gained a total of 3% advertising share compared with its competitive set in the first quarter of this year. Total pagination in the period – for February, March and April issues – was 898 pages, compared with 854 pages for Vogue during the same period.
Harper's digital revenues rose 48% year on year in the first quarter too, Euwe adds.
A recent readership survey by Harper's revealed that, with an average age of 40 (and slightly younger online), 20% of its readers are on boards of directors and read the Financial Times and The Economist, and almost all of them describe themselves as feminists.
"We are unlike any other magazine," Euwe says. "Justine has repositioned the brand. It has become more luxury, more targeted and more intelligent, and now occupies a very unique position.
"We are not in the race to be everything to everyone but continue to innovate and be brave with our covers, our content and our writers to make sure we are around for the next 150 years."
Picardie believes privately owned Hearst is a supportive owner because it is mindful of its august past. "As an editor, I've been given the creative freedom to innovate in how and where I engage with my audience," she says, sounding as much like a writer as an editor.
The lowdown
Age 55
Lives Highgate, London (and weekends in the Scottish Highlands when possible).
Family Husband and two sons (who are now 23 and 27).
Interests Fashion, politics, gardening.
Favourite media Everything from Instagram to The Archers – and, of course, I am head over heels in love with the magazines that I edit.
Last book read Andrew O'Hagan's The Secret Life, about the relationship between individual identity, technology, the state and the darkest realms of the deep web.
Car A Land Rover in Scotland; Tube and taxis in London.
One thing you don't know about me I was a singer in a band called The Jellies when I was 18: we released one vinyl single, Jive Baby on a Saturday Night, which now has a cult following.