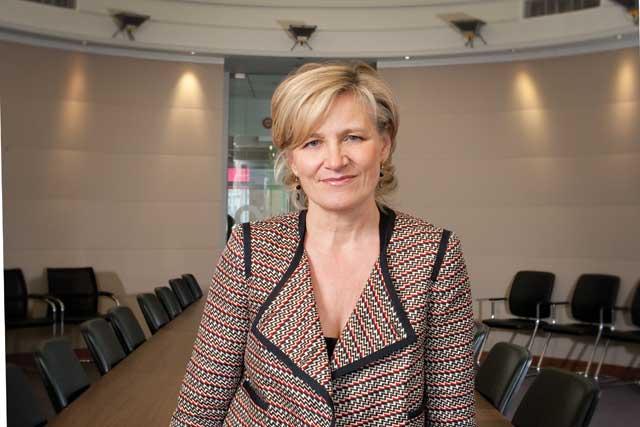 It's a big thrill to be asked to chair an organisation. It has happened three times in my career and each time I said yes, instantly. Partly due to the fact that the three people doing the asking (Andrew Robertson, Tim Davie and Gavin Patterson) all operate at 90 miles an hour and only trade in fast decision-making. Partly due to the organisations in each case (Abbott Mead Vickers BBDO, the Marketing Group of Great Britain and the Advertising Association) requiring little due diligence from me, as I was already working in or with them. But mainly because each organisation - and the people in them - represented such massive quality and potential. That's why the three decisions were so speedy and easy.
So here I am now, chairing the AMV Group, MGGB term completed and AA new girl. And, suddenly, I find myself in a different spotlight. From a focus on agency to a vision for the industry totality. From an agency mindset to "tripartite" accountability: to agencies, clients and media owners.
Two chairs, then, and two very different roles. Because the AA isn't a business. Nor is it a trade association. Nor is it the sum of the dozen or so people who walk into its Westminster office on a Monday morning.
It's an instrument, a tool for all of us who work in and with advertising. It's there to promote and to protect. To make sure that our value to society and to the economy is understood. To push the value of advertising up the business and political agenda. To keep us mindful of our responsibilities. To be the first mover when our act needs cleaning up. And to speak up when others seek to curtail our freedoms, deride us or shut us down.
This purpose has been clear since the day the AA was incorporated in 1926 and it's worth reminding ourselves that it still matters, very directly, to our bottom lines today. That's why, whether you plan and create advertising, carry it or rely on it to drive your brands and businesses, I want advertising to be closer to its association.
It's a journey already started. Over the past three years, Tim Lefroy and my predecessor, Andrew McGuinness, have made the AA more modern, more collaborative and more relevant. Through its new Council, led by our president, Gavin Patterson, the AA has become more practitioner-led and so better able to address the here-and-now issues facing the advertising business. In February, 250 agency, client and media leaders attended Lead 2012, a show of unity and confidence that said a lot about our industry and plenty, too, about how effective the AA is becoming.
So, the job at hand is one of evolution, not revolution. Same direction, time to pick up the pace. Which begs the question at the end of my three-year term, when I follow Andrew into the mists of chairmen past: where do we want our industry to be?
Ambition 1
Leadership through the AA, not by the AA
Let's start with that for which the AA is, perhaps, best known - promoting the effectiveness of self-regulation and defending our freedom to advertise. It's a tough brief: advertising has more than its fair share of detractors - and curbs on advertising can appear both politically attractive and cheap.
So when advertising is accused of being irresponsible and reckless by a government calling for a third review in five years, it's worth remembering how far that debate had to be moved. When Reg Bailey finally made his recommendations to Number 10, the conversation had changed. Advertising had some issues to address but was recognised as listening, responsive and, crucially, playing an active and positive role in young people's lives.
It is not in the nature or the interests of the AA and its trade association stakeholders to make a great show of such achievements, but they are of immense value and should not be forgotten.
But the Bailey Review was more than a case well made. It's an example of a "new" AA in action.
The response to government was led by a Children's Panel, chaired by Mark Lund, involving business leaders across agencies, media and brands. This leadership group injected pace and authority into the industry's response and is exactly how we, as practitioners, should be using our association.
Ambition 2
Get the industry back on the front foot. More practitioners, like our Children's Panel, stepping forward to help own and manage the big issues
Second on the agenda? How we use the AA to pull us together.
Advertising is a diverse and often fragmented world that struggles to offer a consistent, compelling vision of why and how it contributes to a modern, progressive, prosperous society.
It's why AMV agreed to be a founding member of Front Foot - a network of industry leaders who have put their minds, and money, to work collaboratively in support of a new case for advertising. Two years later, we have more than 60 organisations involved, advertising has its own think-tank (Credos) and the group has become a force to be reckoned with. The project is opening up new thinking, new evidence and new routes to influencing policy-makers and opinion formers. The conversation is turning - less about what advertising is doing to people and more about what it can do for them.
Ambition 3
Articulate our growth agenda
When the Front Foot group met earlier this week, we agreed an agenda for growth to make policy-makers sit up and take notice.
Collectively, we already contribute some £16 billion of value to the UK and, according to McKinsey, account for some 15 per cent of all GDP growth. Yet advertising is remarkably quiet about what we might demand of ourselves, government and others to unlock an even greater contribution.
Think of the potential of the UK as a magnet for advertising, media and brand-driven business. Think of the opportunity to exploit the global explosion in creativity, digital marketing, content and commerce. From fashion and film-makers to bankers and brickies, other industries have a clear message as to how growth can be encouraged. We need the same.
Ambition 4
An industry demonstrably in touch with its responsibilities and recognised for it
Good things come in threes and perhaps I should finish there? But there's a final step I would like us to take - to back our association not just as a promoter but, when the occasion demands, as our conscience too. It's a little-known fact that before the Advertising Standards Authority came into being - 50 years ago this year - its job was handled by the "Diligence Committee" of the AA. These days, we leave the rule-writing and enforcement to others, but in a world where expectations of ethics in business are ever-rising, it's vital that advertising is recognised as an industry in touch with its responsibilities. Sometimes, that will require us to be tougher on ourselves and accept that actions speak louder than words.
Leadership of the industry, by the industry. Practitioners taking charge and banging on the door to help. A new story and a fresh agenda for advertising-driven growth. An industry that has earned the confidence and trust of the society it serves.
It sounds simple enough and the building blocks are in place: the people, the plan, the motivation. Whether we succeed will depend on whether the AA, having caught the industry's attention, can hold it and grow it. And that's up to all of us.
Cilla Snowball is the group chairman and group chief executive of Abbott Mead Vickers BBDO, and the chairman of the Advertising Association.