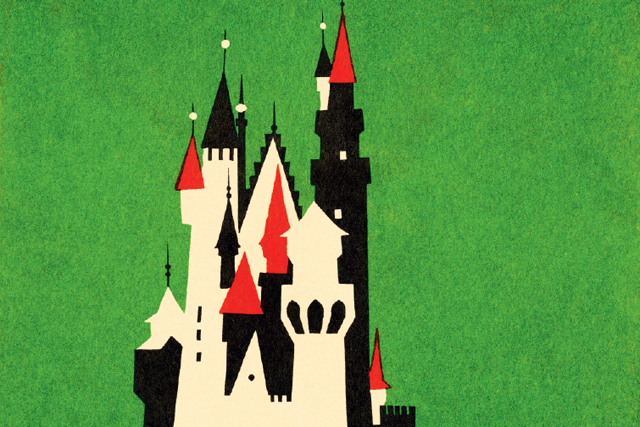 Toby is one of my best, but newish, friends. We met only a couple of years ago when our wives had dragged us to a local fundraiser, and we were both thrust headlong into the buttock-clenching, forced bonhomie routine. We discovered quite quickly that neither of us wanted to talk about our kids, where we lived, even where we worked. We were united in our discomfort of small talk and sought companionship in the bar.
Toby is a master storyteller. Not in a pompous way, you understand; he's no formal orator, is quite shy in company and prefers small groups. But he tells magnificent stories, which hold your attention from start to end, and always pay off with a punch line or conclusion that leaves you howling with amusement or rocking with amazement. I can remember almost line for line, twist for twist, the story he told me that night, about one of his fellow soldiers from his Army days, a meek and mild character who, with that unique humour found in the British Army, was universally known as Warface.
Warface had been ordered by his CO to persecute an obnoxious junior officer, and had taken to hiding in his wardrobe and jumping out when the victim returned from a particularly long and late mess dinner. The idea, of course, was that, despite his placid and generous demeanour, Warface had to startle the victim. The story ran on, through twists and turns, false summits and narrative dead ends, each more amusing than the last. I was captivated right up to the point where Warface shut himself in the boot of the aforementioned officer's car, expecting to surprise him once he had driven home and opened it to retrieve his gym kit. How could he have known the officer was going to drive 100 miles to Stansted Airport, and then spend the weekend in Italy with his girlfriend, leaving Warface locked in the boot facing a charge of being AWOL?
The raconteur's gift
I can't tell stories like that. People usually drift off midway through the second third, or start laughing at the wrong point. I'm more a one-line man. I'm sure you have your own Toby, someone who can just hold a crowd or a table. Among our parents' generation they were called raconteurs, a word that seems to have fallen from use with the passing of Peter Ustinov, who made a living out of it.
A few enlightened institutions have worked hard to preserve and celebrate the art of storytelling against the din of 140 characters.
What's great about storytelling is that it's a gift, something that people are born with, regardless of looks, social standing or physical ability. It's rarely the brawny kid who tells the jokes in the playground. This love of a story harks back to our earliest days before TV, smartphones and newspapers, when it was the principal source of amusement. A few enlightened institutions have worked hard to preserve and celebrate the art against the din of 140 characters.
There's a fantastic US initiative called Story Corps, which I came to within a whisker of bringing to the UK with Nokia. It's a public organisation that provides sound booths in New York and on tour across the country, in which stories are told and captured for posterity. I came across it 10 years or so ago, listening to a teenager interview her elderly grandmother about her life growing up in Birmingham, Alabama, during the race riots of the 1960s. Somehow the poignancy of young interviewing old, preserving a hateful period of yesterday, before it passed into history, moved me. The dignity and eloquence of the old lady and the story she told is available to anyone with an internet connection.
Create a compelling story
Then there are chief executives, the greatest of whom are storytellers par excellence. If you are trying to lead a body of people who have a choice about being there, then the heart plays stronger than the head. We've all done things that we know weren't right for us, but we wanted to do in any case. Jobs, marriages, dares, nights out, bets, races, meals ... it's what makes life worth living. So create a compelling story about why something has to be done, and people will do it. The CEO as storyteller is such an obvious and well-worn path, where you know what happens next, that I'll not trouble you with it further. Half the skill of telling a good story is knowing when to stop.
Social media gives storytelling a whole new life and scale.
The lessons for marketers here are writ large, but it's perhaps with brands that the greatest opportunity lies. We all know the fabled tales of how brands began. Fruit juices and festivals, tech companies and garages, clothes retailers and summer jobs ... so essential for early-stage word of mouth and later credibility, but quickly worn into cliche unless they are re-spun and renewed. "Stop me if you've heard it before" is fine round a dinner table, but it's brand death if your special story is common knowledge. In that context, it's odd, perhaps, that the day of the eponymous brand owner seems to be passing. Brand owners have real lives that can embellish and distinguish their brands in a way no agency can. The marketer's gift of social media gives storytelling a whole new life and a scale not dreamt of 10 years ago.
It's tempting to write off modern technology and the audience delusion of Twitter and Facebook as incompatible with storytelling. Tempting, but wrong. Someone once told me a story about Ernest Hemingway having a bet with a man in a bar who didn't believe that he could tell a story in eight words. Hemingway won the wager with the following: "FOR SALE. ONE PAIR BABY SHOES. NEVER WORN." It's a lovely story, with an added poignancy for me because the woman who told me the tale desperately wanted to find someone to marry and have kids with, before age caught up with her.
So much of the story is in the telling.