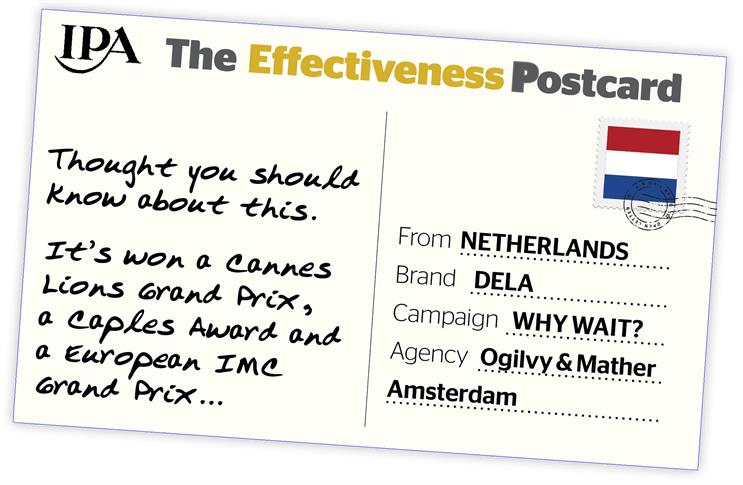 Why should you care about it?
Sometimes, brands succeed by getting out of consumers' way. Having suffered collateral damage to its reputation from the financial crisis and an industry regulator's claim that insurers did not have consumers' best interests at heart, DELA, a Dutch non-profit co-operative providing funeral insurance, needed to distance its brand from rivals. It did so by putting consumers' stories centre stage in its ads.
Told in individuals' own words, and with unvarnished production values, the stories redefined the traditional funeral eulogy. Instead of something said in a private setting, these were spoken to the living, and delivered in public venues to add to the emotional charge.
The campaign's full strapline was "Why wait until it's too late? Say something wonderful today."
Outwardly, it was an invitation to share sincere, positive sentiments – in a sector hit by fears over insincere, negative ones. Indirectly, it was also a prompt against prevaricating over difficult, even embarrassing, tasks (such as planning financially for a funeral), and leaving someone with an unpaid debt as a result.
In this respect, the campaign found a convincing emotional analogy of the brand's functional benefit, while keeping DELA product messaging out of sight. It also put the emphasis back on the co-op element of the DELA brand, by showing how it could enable demonstrations of feeling and support between people.
What makes this example rarer is how the campaign has developed over time. For work that reminds its audience of finite time and mortality, it has shown surprising longevity.
What did the brand do?
In 2012, it aired three hidden-camera TV spots of people publicly telling loved ones what they meant to them.
Different channels amplified a call for people to write and share their own tributes. DELA ran newspaper ads with the word 'Dear' followed by a space, inviting readers to add their own words. Posters of people displaying their written tributes were placed in the areas where the eulogised individuals lived. Digital equivalents of the idea were created for Facebook and the campaign microsite.
For Christmas 2013, free postcards inviting consumers' messages were distributed, with these words later shown in a large-scale laser projection, and in TV broadcasts on New Year's Eve.
The 2014 iteration used online documentaries to tell the stories behind the people in the ads, and explain why they wanted to share their sentiments.
The idea entered popular culture, with TV and radio stations calling good-news items 'DELA moments'.
Did it work?

Visits to the brand's website grew by 66%.

The brand's RepTrak reputation score, below 66 in early 2012, never dipped below 70 in two years, peaking at 72.

Consumers' perceptions of DELA as innovative improved.

Insured capital grew by 25.6%, from €1.7bn to €£2.2bn.

Market share grew by at least 1% each year.
What else should we know?
DELA has been upfront about the limitations of its campaign measurement. It did not measure the lifetime value of customers out of principle, nor did it track the number of new policies signed before the campaign started, to give it a baseline against which to assess the campaign.
However, with the potential for this case to be entered into the recently launched 2016 IPA Effectiveness Awards, it would be good to understand more about how and why this idea worked.
Which channels were most effective at driving participation, and were people who came to the campaign from particular channels more likely to sign up as policyholders? Did the growth in DELA's business come entirely from taking share, or was there growth in the sector, too, as consumers came back to the market or took out first policies? Was there an improvement after the campaign in the churn rate of consumers failing to keep up premiums? And, as an innovative idea, has this positioning provided a base from which DELA could launch products?
In the 2016 Awards, entries will be judged above all on how well they have proven the link between communications activity and the financial value created for the client. And if you have the proof, to borrow a phrase, why wait?
Learnings unpacked
Make the brand a platform for consumers' stories.

Position yourself in the moments before your brand is needed.

Find an emotional analogy for a product benefit.

Exploit individual channels' storytelling properties.
By Carlos Grande (carlos@ipa.co.uk), IPA effectiveness editor, formerly of the Financial Times and Warc.