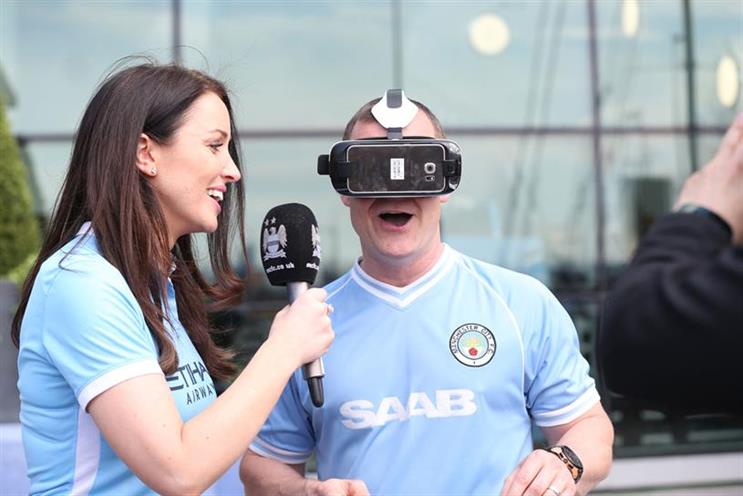 It has just launched a new responsive site – "co-created" with fans – to coincide with its new home kit, badge and manager Pep Guardiola.
The club is also the first to launch a chatbot on Facebook Messenger. Other innovations on the roster include an Androidwear app, a live VR experiment with Sky and launching on Asian chat apps WeChat and Line.
An innovation remit
Innovation is central to club owner City Football Group's philosophy, according to Diego Gigliani, senior vice president for media and innovation.
Gigliani oversees the group's content strategy, and the clubs are a media powerhouse, firing out articles, tweets and videos to populate their various digital channels. "It's like a digital media organisation within the football club," says Gigliani, speaking to Campaign. And most of the technical innovation comes from the digital media team.
At a high level, Gigliani also ensures the clubs are innovating more generally, including on player performance. That does not mean going around and telling the in-house sports scientists what to do, but, for example, picking out best practices from successful teams.
Technology to strengthen the fan relationship
Man City has often been a first-mover brand in tech. Is there a risk that some of these innovations are a little gimmicky? How many people wear an Android-based smartwatch?
"It comes down to how impactful we think those platforms or products are or could be," says Gigliani. "We use digital media to strengthen our relationship with fans around the world."
He adds: "We're still being very selective on opportunities."
Not every tech project needs to be expensive or long-term either. Manchester City teamed up with LiveLikeVR and Sky to trial live viewing a match in virtual reality. The sheer processing power required means this is not ready for the mainstream yet, but, says Gigiliani, the club learnt some valuable lessons.
"VR was a very low investment to conduct some trials and work with other parties to experiment and capture some learnings," he says.
Rise of the bots
More long-term might be Man City's investment in messenger apps and chatbots. The club's bot pushes out news about transfers, Pep Guardiola and fan commentary, but Gigliani sees scope for much more.
Facebook Messenger recorded 900 million users in April this year. While it is mostly just a chat service for now, Gigliani notes how WeChat has become a kind of miniature internet, allowing users not only to communicate, but to pay bills.
"We know that's a trend and a big market," he says. "It's not a mooonshot. There's a large audience there, spending lots of time on these platforms, so [a Messenger bot] was an easier decision to take."
The bot was only released last week, but activations number in the "thousands", he says.
There's a raging debate in tech circles as to whether bots might mean the end of apps. Why bother launching, or even downloading, Uber when you can order a taxi without leaving Messenger?
"What we're finding is that, rather than one or the other, it's one and the other," says Gigliani. "There continues to be a fragmentation of the audience across many more [platforms], but there's a big enough audience on any one of them. App numbers are increasing, not decreasing, site traffic is not decreasing."
The emerging casual fan
While Manchester City is targeting its 21 million Facebook fans with its new Messenger bot, clearly there are not 21 million viewers tuning in to every City match.
"We have known as a football fan for a long time is, in some ways, changing. A fan doesn't need to be the fan that has grown up with the club at the beginning, and is only a fan of that club," says Gigliani. "We're seeing a new type of fan, who is a fan of ours and other football clubs."
He notes that Man City's own analysis has found that its Facebook fans often tend to have 'liked' rival clubs.
Is that an issue for loyalty?
Not if you think about fans across a broad spectrum, says Gigliani, as opposed to being wedded to the idea of the 'hardcore' fan. "Different fan segments engage with you in different ways," he says.
He adds that the addition of newer, more casual fans does not seem to be denting the club's "super loyal" following. All segments are growing.
What's next?
Manchester City has already dabbled with wearables, releasing its CityMatchday Wear app for Android smartwatches in February last year. But the app is an information service, pushing out scores and stats to fans who can not watch the match on the day. Gigliani believes Man City could do something in the connected fitness space, along the lines of a training app.
"We will look at opportunities around wearable devices to see what could exist in that space, both for the person who practices football and the person who wants to get fit," he says.
Interestingly, Gigliani does not deny that Man City could explore releasing its own hardware such as a fitness band, but says it is "less likely". An exploration of wearables would be more about "getting our hands dirty" in the space, and most likely sticking to software.