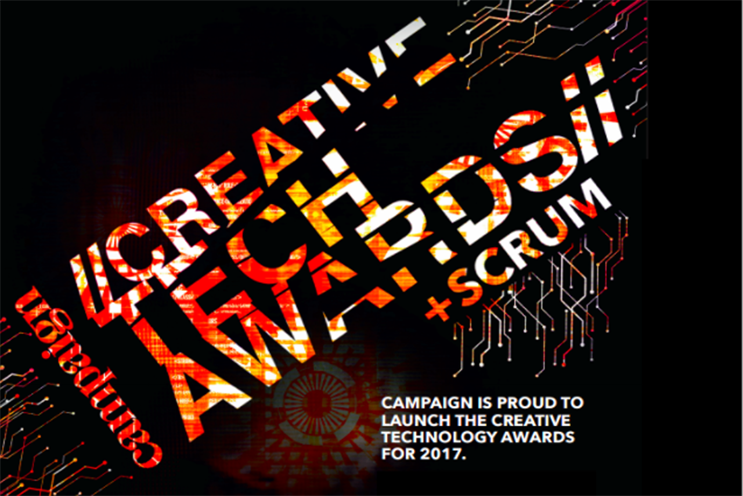 Campaign's Creative Technology Awards entry deadline is looming. It's on 13 April. Enter here and enter now >>>
But why should you enter? And what are the awards?
Brave clients, smart creative thinkers and game-changing tech are revolutionising the industry. The Creative Technology Awards honour the successful collaborators, celebrate their amazing work and inspire more ingenious thinking.
Are you a creative technology pioneer? We need your story. In return, the awards promise to…
… celebrate and reward
The Campaign Technology Awards exist to champion collaboration between brands and the creative and technology communities, and to celebrate the outstanding work that this collaboration produces. These awards reward the disrupters and pioneers, those people reshaping the industry.
… educate
As well as celebrating outstanding work, the awards educate the whole industry about the success of brave pioneering partnerships. We present a deep analysis of strategy behind each winning campaign through a live half-day event shortly after the awards evening, where brands, agencies and tech partners behind the winning work take to the stage. Editorial content throughout the year also highlights and examines the best partnerships and strategies.
… be transparent
Our judging process is open and honest with judges on stage during the awards evening to discuss decisions thoughts on the entire body of work they reviewed.
… give you joy not duty
The evening is not a chore! There are only 14 categories and we've structured the event to allow for interaction with new technology and much more networking.
… champion collaboration
At the heart of the Campaign Technology Awards lies a desire to really showcase how technology can drive outstanding creativity – when brands, creatives and tech companies join forces. The future lies in these partnerships.
So why enter? (Enter here >>>)
Here are five reasons
1 Winning gives you the chance to really showcase your work, influence clients and position your company at the sharp end of the revolution. We invite all winners to discuss their work at a live event in front of their peers. And yes, the trophy will look lovely in your reception area.
2 If you're a tech company, this is your chance – finally – to share in creative glory. Steal the limelight back!
3 Thinking of entering from an agency? Our categories focus on the stuff that really matters to your present – and future – clients.
4 It's a transparent judging process with judges' feedback passed on. If it's not your, at least you won't be left in the dark as to why.
5 Our entry process is simple and entering won't tie up your entire organisation for weeks.
ENTER NOW, DEADLINE IS UPON US. TIME WON'T STOP. DAMN YOU TIME.
Enter here >>>