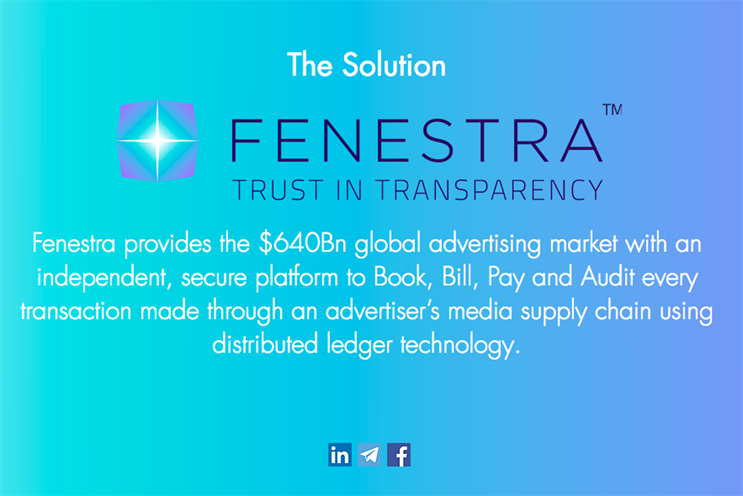 On Monday, Fenestra announced its launch with a capital of $1.5m (£1.1m) in equity investment to create a blockchain-based media transaction platform.
Helmed by Base79 founder, Ashley Mackenzie, the start-up promises to build a blockchain-based platform that will allow advertisers to book, bill and pay for advertising from media owners.
Also on the founding and management team are Kevin Deeley, former chief operating and finance officer of Brave Bison; and Richard Mansell, a director on numerous digital content startups.
Now funding has been raised, the team at Fenestra will be building the tech solution on which the company will run. Mackenzie anticipates it will be ready to launch at the end of the second quarter of the year.
This launch follows closely on the heels of the announcement that TMG's blockchain-based media agency Truth is competing against ad giants for the government's media contract.
Not an agency
Mackenzie believes that for a new, fully transparent, way of buying and selling media to work it has to be via a wholly independent and neutral tech platform.
"Blockchain is slow and expensive tech. It's not an IT decision to use it to support your own tech needs – you need to use it to address the ecosystem at large," he explained. "So you need to be an independent tech vendor with no skin in the game, and no corporate parent to appease."
This high cost, as well as the current low speeds at which blockchain platforms can handle transactions, are among the barriers to adoption Zenith UK chief executive, Mark Howley, pointed to in his response to the question, "Does blockchain offer a solution to media's transparency problem?"
The team at Fenestra does not think that the solution to media transparency can come from the industry itself.
"We think there are too many legacy issues. In the end, if you try and solve the problem from your current position it feels inevitable that you will try and create a competitive advantage for your current product," Mackenzie said.
So the idea for Fenestra is not to replace agencies, or be an agency, but to be a transactional platform that solves the trust issue between clients, agencies and media owners.
"Either an advertiser will choose to use us and the agency will administer, or, and we very much hope, that agencies will choose our platform," he said.
Commenting on the launch, Geoff Seeley, director, global connections and media activation at Airbnb and adviser to Fenestra, said: "I've been in media and advertising for more than 20 years and I've never known the market to be as opaque as it is today. Blockchain has the ability to solve so many of the challenges."
How Fenestra's platform will work
Using distributed ledger technology (i.e. blockchain), Fenestra will create a "decentralised, immutable platform unable to be manipulated by an intermediary".
This should create an audit trail that will give advertisers greater control and detailed oversight of their own media supply chain.
At present, Fenestra is only focusing on the "traditional" media market because blockchain technology is currently too slow to handle the volume and speed needed by online digital media auctions.
"We do intend to, eventually, but currently underlying blockchain tech such as Ethereum and Neo are unable to resolve at a high-enough frequency. Ethereum, for example, can resolve about 1,500 transactions per minute. It won't cope with an online marketplace transaction," Mackenzie explained.
The team is also not ready to disclose how the platform will provide revenue for Fenestra.
"We haven't announced anything on our core business model…but clearly, income will come somehow out of the advertiser budget," Mackenzie said. "Critically, those fees will be transparent to the advertiser. We are not a company that will layer fees somewhere down the tech stack."