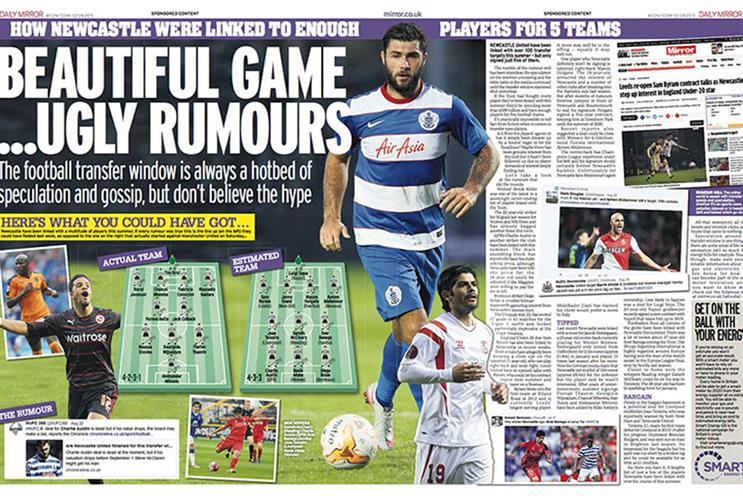 We have already seen the traditional model of news being gathered by specialists move to one where citizen journalism rules and, in turn, the distribution of news has also shifted from a high-cost, fixed-time, labour-intensive print business to one that's multi-channel, 24-7, targeted and with relatively low costs.
Our industry has seen a total rebirth as a result of a society that has embraced digital and, while we've been relatively late to the party at our company, Trinity Mirror, we've been making up for lost time.
Digital, mobile and social in particular has grown our audience by 70 per cent in the last year; we now reach half of the people with internet access in the UK – 26 million people – across a wider portfolio that includes Local World as well as Trinity Mirror titles.
Our reaction to this disruption and the way we've embraced change is probably a result of the very nature of news publishing – quality editorial at speed, with our finger on the pulse of breaking news, and constantly listening to our customer. It's the heart of what's needed to be relevant on a digital platform.
Even so, I was flattered to be invited to open the IAB's Digital Britain conference in Manchester recently. That's right, a newsbrand bloke opening a digital conference – 18 months ago I don't think Trinity Mirror Solutions would have had an invite, let alone be on stage kicking it off. Looks like there's life in the old dogs of Fleet Street after all.
It's not been an easy ride though and the modern mass-market, or Modal Britain as we call it, has certainly given us a few headaches. The average person brands want to reach no longer reads a single newspaper over breakfast in the morning. They're influenced by many different sources throughout the course of the day – whether that's a physical paper, a digital news aggregator, citizen journalists on Twitter or media owners that have signed up to publish directly to Facebook's news feed.
Despite such an upheaval newsbrands do still command a great deal of respect and influence – you only have to look at the way we got behind the recent refugee crisis, as my colleague Zoe Harris wrote recently. But, with people taking news and views from so many disparate sources, it can be a challenge for brands to maintain consistency in their messaging across traditional and digital platforms.
As an industry, we need to realise that we can't always fulfil this requirement alone. In order to deliver a consistent message for brands to a greater number of people across a greater number of channels, newsbrands must be prepared to collaborate with one another.
Putting aside the staunchly competitive nature of editorial teams at any newspaper worth its salt, commercial departments can deliver something really special by working together.
Telegraph Spark, Guardian Labs and our own Invention team all exist because we create content that matters to and inspires our audience, but through collaboration we are tearing up the rulebook in the way we respond to client briefs.
We've just joined forces with the Spark team to deliver a campaign for Smart Energy, the lovely people who will by 2020 ensure that we all have smart meters in our houses, helping us save both our pennies and the planet.
We knew we'd both been approached with the brief, so we approached Spark to suggest a partnership and worked from start to finish sharing insight, creative teams and project management, all around one central strategic idea. The way we deliver Smart Energy's message to our audiences is of course different, and is based on the data we have about what makes them tick, but the overarching idea is the same and was developed in collaboration.
It was an important brief for the client, but by combining the reach of our national and regional titles with that of the Daily and Sunday Telegraph we can help Smart Energy communicate with a very broad demographic. That's a barrier that was a lot easier to overcome than many would have thought.
While it's not the first time anyone's heard the "C" word shouted across the newsroom, this collaborative approach extends to the editorial teams.
The native content we produce for brands must maintain editorial integrity, so anything that goes in the paper has to be something our readers will enjoy and want to spend time with – commercial ideas must be aligned with the editorial agenda.
Collaboration with clients, agencies and other media owners will be the key to ensuring newsbrands maintain their position at the front of planners' and buyers' minds for many years to come.
Mark Field is the director of invention at Trinity Mirror Solutions