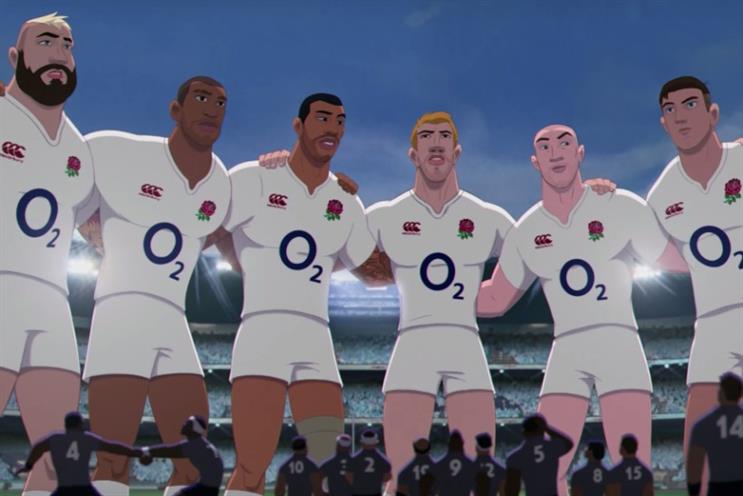 The idea is that support from fans can help boost the England team during the tournament. The ad is directed by Elliott Dear, the illustrator behind John Lewis' 'Bear and the Hare' Christmas animation.
O2's chief marketing officer, Nina Bibby, noted that the brand's previous rugby ads have had something of a masculine feel, as below.
Asked by Marketing whether a cartoon style risked putting off die-hard rugby fans, Bibby said: "We think the opposite. Those who really know rugby will recognise the players, and they will get it.
"The animation broadens the appeal [and] makes sure we're touching a broader audience, women and children, those who aren't the die-hard fans. As opposed to alienating, it will have more of an inclusive effect."
The trouble with the "blood, guts, glory" style of advertising is that it alienates non-rugby fans, added marketing communications chief Ian Cafferky. There's also the fact most athletes can't act.
He said: "The big dilemma is talent access. There's limited access, and they're not singers or performers. Don't expect them to be Beyonce, walking through and doing a music ad, it's not what they're able to do.
"We put that down as a challenge [in the brief to agency VCCP] – limited access, and the capability of the players."
Preparing for England's defeat
While O2, along with fans, will be hoping for a better England performance than in the 2011 World Cup, the brand is preparing reactive content for injuries and even defeat.
O2 has shorter animated clips to respond to specific moments in matches, and to keep up public support. Cafferky added that he's "banned" content reacting to an overall England win of the tournament for fear of cursing it.
He said: "We haven't done that one, deliberately. I've banned it. I learned in football never to do that. You manage the bad news – it's easy when you win.
"We're still able to do reactive TV. We have 40-second versions of this ad that will come off the back of it, celebrating the conversation."