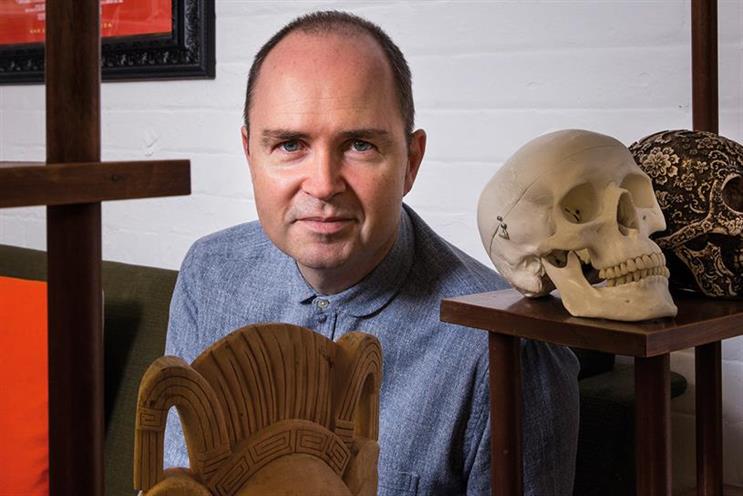 MediaCom's new chief executive in Australia, Sean Seamer, ruffled a few feathers on Twitter recently by claiming he "wouldn't want to be running a creative agency these days."

It's fair to say that, as someone who is attempting to do just this, I was somewhat alarmed by this statement. In fact, I felt a little bit like I do when I see headlines telling me that "Scottish males die earlier" or that "Misery peaks at age 46." So putting my deep-fried Mars bar and mindfulness book to one side for a minute, I decided to read on.
The thrust of Seamer's article (first published on BandT.com) was that: "The TV commercials that [creative agencies] have built their agency on the back of, are becoming less important to consumers and to clients and it's become an extremely low margin business, they simply don't have scale. Scale is going to become so much more important, particularly as content becomes more and more short form. Creative agencies have no scale, they have no data, they have no tech strategy… and if you're looking at where the industry is going in the next five years it is these agencies who will need to ask themselves, 'Well, what have I got?'"
Well, as you can imagine, this all came as a great relief to me. Why? Because, frankly, the argument for my impending commercial demise didn't make much sense – or at least it didn't chime with my experience running a creative agency in the UK.

For starters, our agency isn't biased to TV advertising (although neither are we prejudiced against it – in fact we believe that, in its many forms, it remains a really powerful weapon in the marketing armoury and find it very strange when industry experts state an active preference against it).
Similarly, we're not too worried about scale, other than scale of effect. To be honest, we encounter far more clients asking for big ideas and exponential growth, than those seeking massive structures or enormous systems. And as for attracting the best talent, we've yet to meet a candidate who tells us: "Guys I love your work but I just wish you were 10 times the size."

Finally, when it comes to technology and data, well, given I was once introduced at a marketing conference with a picture of Mr Logic from Viz, I feel pretty comfortable on that front too. Admittedly, other companies might have access to bigger spreadsheets or control heftier databases, but as we all know, it's not how many terabytes you own, but what you do with them that counts.
Now, I'm conscious that this might come across as defensive, so let me assure you that nothing could be further from the truth. I don't know Sean, but if he's anything like the smart people that run MediaCom in the UK, he will be a lovely, intelligent guy. Likewise, I can't speak for every creative agency, but I know that the experience I've outlined above is not unique (a shame, because it would be a lot easier for us if it were).
So I'm not trying to be combative. In fact, quite the opposite, I wish that we would all stop the point-scoring in the industry that we share. Media agencies slating creative shops. "Digital" experts slamming "traditional" channels. Networks slating independents. And all of these, vice versa.
These artificial divisions aren't relevant in today's increasingly nuanced world.
And these squabbles don't reflect well on any of us. The simple truth is that good companies – of all sorts, shapes and sizes – will prosper in future and bad ones – no matter how big, data-rich or tech-heavy – will fail. Creativity (in the broadest sense) will be the only strategy for success and anything that distracts us from this is unhelpful.
Anyway, talking of distractions, I must run: I've just spotted a disturbing headline saying that, "Bald men don't make better lovers, after all."
Andy Nairn is the founding partner of Lucky Generals