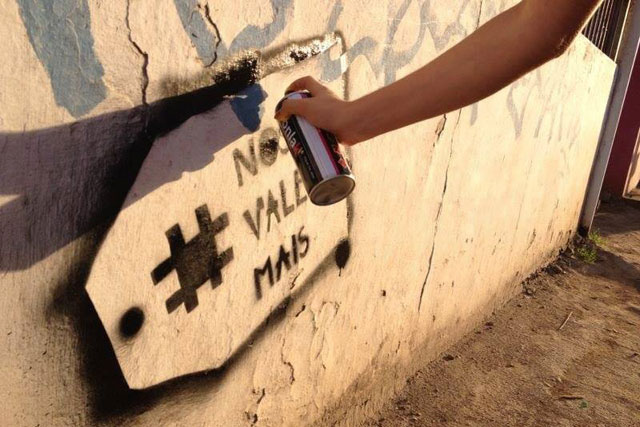 "So, what is it that you do?"
It's the dinner party question dreaded by marketers the world over. Guaranteed to be posed by some worthy goody-two-shoes, and inevitably followed by a thinly-disguised intake of breath when you sheepishly admit to your part in the murky world of global consumerism.
We've all mounted spirited defences of our profession, and tried to explain that we're not just one step removed from Satan, or Fred Goodwin. Still, it's hard to get away from the niggling feeling that re-positioning different variants of toothpaste probably isn't making as big a contribution to the proverbial greater good as many of us would like.
"We're better at PowerPoint than digging wells"
And yet, very few of us are willing (or able) to give up the day job. We're marketing professionals and our skills lie in communications. We're better at PowerPoint than digging wells.
Or are we?
I am a researcher for Millward Brown, and I have just returned from working with a group of NGOs in Brazil to raise awareness of some of the corruption and human rights atrocities that are being committed in the name of "preparations" for the coming World Cup.
I was in Brazil this year because of The International Exchange (TIE), an organisation that exists to help bridge the gap between the industry's PowerPoint presentations and, well, going out and digging wells. The brainchild of ex-BBH and Leo Burnett suit Philippa White, TIE pairs communications professionals from all disciplines (agency folk, researchers, strategists, clients) with NGOs in the developing world who are in need of communications help. Participants are given 30 days, a campaign budget (that they've raised themselves), and a team from a local agency to manage.
It's good for the NGOs, of course – giving access to marketing expertise they could never afford. But the programme provides a big helping of old "best of both worlds" mantra too; marketers are placed into alien environments and are challenged to push their skills and have a real impact on a whole project. Not to mention the benefits this experience holds for those marketers' companies either, who get back employees with enhanced management skills and far broader horizons as a result.
As White puts it: "The people who take part in these projects learn to deal with ambiguity in communications briefs more effectively; and to think and act more sustainably. And at the end of the work they come back with an ability to be a force for change in their companies."
I can testify to that. I was based in Recife, one of the world's fastest-growing cities and a hub for the 2014 World Cup. With all the excitement that comes with the world's biggest soccer tournament, there is real risk and injustice too. Working with a coalition of NGOs, I was briefed to develop a campaign to bring attention to the scandal of the local government demolishing homes to make way for the World Cup stadium, without paying adequate compensation to the vulnerable people and families who lived in them. The campaign we developed – 'Nos Valemos Mais', or in English 'We're worth more' – aimed to persuade the government to re-open compensation negotiations with the NGOs after months of hostile silence.
I was working with an experimental agency staffed by advertising students, and a group of clients that had absolutely no experience of communications, or how they worked, or the kind of problems they could (and couldn't) solve. We had four weeks to plan, create and implement a campaign, with a budget of little more than £1000, in a media environment largely controlled by the government.
It was one of the most enjoyable – and intense - learning experiences I have ever had.
Different culture, different language, different skills
Obviously there are certain things you expect to learn from living and working in different cultures, and I definitely have a much better understanding of what Brazil as a "developing" nation is really like, and how Brazilian culture is changing and adapting to its newfound status. But I also learned things that I never expected to, things that I can already feel making a real difference to my day job now I'm back.
I was prepared to find working in Portuguese hard. No matter how much effort I put in, two months of lessons were never going to be enough to make me fluent in Government policy-speak and charity jargon. But I wasn't prepared for having to think so hard when I spoke in English. You don't realise how unnecessarily flowery your language is until you have to try to concentrate on making it easy to translate, and you begin to recognise what non-native English speaking colleagues have to deal with every time you speak. When you work with offices around the world it is easy to get frustrated with some of the difficulties in communication, so understanding my role in contributing to them and what I could do to help is quite a big thing in my job.
Within weeks of the campaign launch, FIFA picked up the phone and asked to meet with the committee.
Not being able to interject when I wanted to, and having to trust other members of my team to give the right response is a strange situation to be in, too. I had to accept that things that I thought to be skills of mine, such as presenting ideas, I suddenly couldn't do in a foreign language. Having to trust the delivery of my intricately thought-out arguments to the unknown presenting abilities of an 18 year old student definitely forced me to find a level of trust that I would struggle to manage at home. And she did it brilliantly, in case you're wondering, which proved another good lesson in not underestimating people just because they're young.
You find out that you know more than you thought about some aspects of communications – but less than you thought about others. Dealing with client hesitancy was a new experience for me, just as having to work out production plans for branding a sailboat and acting as a creative director for graffiti art presented their own learning curves. And whilst I may not use any of these skills directly in my day job, I certainly know a lot more now about the kind of challenges they involve.
Instant, satisfying results
Within a week of the campaign launching, we had reached over 50,000 young people in Recife with the We're Worth More message on Facebook – and had over 1000 people sign up to our page to receive further news from the campaign within the first few days. We staged activations that drove higher reach and fame for the campaign, including a protest on one of the city's busiest beachfronts, and persuading one of the competitors in Recife's annual (televised) ocean race to bear the campaign's logo on the sail of his yacht.
All that reach and buzz was designed to persuade the regional government and the World Cup authorities that continuing to ignore the NGOs was not an option. Within weeks of the campaign launch, FIFA picked up the phone and asked to meet with the committee. The campaign was only a part of the effort, but it gave the issue an identity and a focal point, and carried the issue to a wider audience so it could less easily be ignored by those in power.
If you get the chance to do this, or something like this, then do it – no matter if you're a client, a researcher or an art director. If you want to push yourself further whilst making a positive contribution then I can't recommend the experience highly enough. The toothpaste variants will still be there when you get back.
Sarah Walker is the director of R&D at Millward Brown's global neuroscience practice.