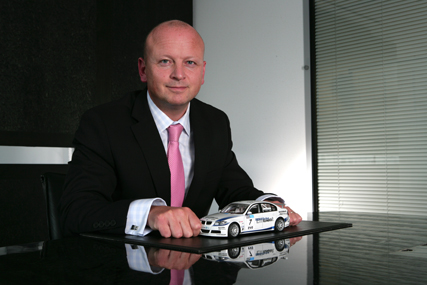 Richard Hudson wasn't best pleased about the print ad that had dropped on to his desk just before Campaign's arrival at his Bracknell office.
Such was the displeasure of BMW's UK marketing director that he promised he'd be on the phone to its perpetrator for some "constructive discussions" as soon as we were out the door.
Whether or not this was diplomatic speak for a good old-fashioned bollocking, only Hudson and an unfortunate BMW dealer - one of 150 operating across the UK - will know.
What's certain is Hudson's determination to clamp down on what he sees as any form of BMW advertising that is overtly price-led.
It's not that he favours idealism over pragmatism. Hudson knows better than most how tough and competitive the UK car market is, that metal has to be shifted and that dealers must have sufficient negotiating wriggle-room to match the deals of rivals such as Audi, Mercedes-Benz and Jaguar.
But he is equally emphatic that this will never be reflected in BMW's advertising, where much money, time and effort has been devoted to building a brand now promoting itself under the "Efficient Dynamics" banner.
"There are flexible deals to be had from our dealers, but those deals shouldn't be part of our message," he warns.
Fighting Talk
It's hard to argue with Hudson's unequivocal stance - BMW's UK sales rose by 12.5 per cent in August. The car-maker's performance is, Hudson claims, reward for a clear strategy in hard times. "We were very clear from the outset about the importance of managing customer satisfaction during the recession," he explains. "That meant making sure our dealers knew what our plans were, that we were solidly supportive of them and that they could see where we were going. The same went for our employees."
Hudson was so determined to ensure that everything was being done to see BMW through the downturn that he became the first marketing chief in the company's history to call a review on WCRS, threatening to end a relationship of more than 30 years.
In the end, WCRS not only retained the account but its Engine group stable mate, Partners Andrews Aldridge, took the direct marketing business, while Dare, which pitched with Engine, held on to the digital brief. The Aegis-owned Vizeum continues to handle media planning and buying.
So was this particular action really necessary? Hudson insists that it was. He questions whether WCRS should be treated any differently to any other BMW supplier, all of which are subjected to regular reviews. What's more, he says, the process allowed the company to look at what the market had to offer at a time when so many communications disciplines were blending.
"We needed reassuring," he asserts. "People thought that because we appointed Engine, it couldn't have been a true competitive pitch. In fact, Engine gave us the best and most compelling presentation I've seen. It was a real tribute to the relentless enthusiasm that (the Engine president) Robin Wight and (the joint chief executive) Debbie Klein have for the brand."
Nor, it seems, was BMW, which has its own procurement specialists, looking to drive down costs. "I set out the business requirements and our procurement people work with me to make sure we have the most appropriate arrangement for BMW," Hudson explains. "That doesn't necessarily mean it's the cheapest."
The immediate task to which the new agency line-up must apply itself is in helping BMW extend its appeal beyond its core business customers, without endangering its premium positioning.
"It's a difficult task to perform," Hudson acknowledges. "But you mustn't confuse exclusivity with rarity, which isn't what customers want. What they want is a premium ownership experience."
He compares that experience to walking into a chic bar wearing a designer shirt complete with logo. "If you see other people wearing similar shirts and you know them to be successful, you'll be happy with that."
New Beginnings
BMW's answer has been to bring a more bespoke approach to its production. If the car-maker now sells fewer of its original 3 Series model than it did seven years ago, it's because it sells more coupe and convertible versions. Meanwhile, it has been extending its presence into the 4x4 market with offerings such as the X1, a "crossover SUV".
Hudson says: "We're coming up with product solutions (cars) that will appeal to specific groups because they're relevant."
Now BMW's hope is that it can reconcile the seemingly irreconcilable - a car-maker committed to environmental protection. As a sponsor of the 2012 Olympic Games, the company will be providing 4,000 cars to whisk athletes around London. Hudson reckons this dovetails perfectly with the "Efficient Dynamics" mantra, pointing out that BMW can produce cars that go from 0 to 60mph in eight seconds while still doing 69 miles per gallon. "This really is having your cake and eating it," he claims. "London 2012 gives us the chance to tell our story - and to tell it to a much wider audience."
Meanwhile, Hudson admits that the company is being compelled to engage more with customers via Facebook. "Gone are the days when a new car was launched with just a press and TV campaign and the job was done," he says. And if using social media means relinquishing some control of the message, he considers it a price worth paying. "A new car launch will always provoke discussion - so let's help those discussions along," he says. "There's a lot that we, as marketers, can learn from them."
Back to the topic of recession, Hudson declares himself optimistic about BMW's future performance and believes it has actually benefited from the downturn. "If we'd had two years of boom, people would not have challenged themselves," he argues. "We're all the better for the experience."
THE HUDSON LOWDOWN
All the right specifications
You might say that Richard Hudson was well geared up for the top marketing role at BMW, where he has worked for the past ten years.
He's been a motorsport journalist and also spent a decade in agencies, including a spell as an account man on a major car brand.
Beginning the journey
Born in the Midlands - the one-time home of UK car manufacturing - Hudson began writing about motorsport when he was just 14. By 18, he had made up his mind to be a motoring journalist only to have his father put the brakes on that idea and tell him to get a proper job.
He went to Leeds University to read geography - for no better reason than the course syllabus included "some smashing trips" - and emerged with a combined geography and business degree.
A diversion into adland
A marketing internship fired up his enthusiasm for the agency world. His career includes spells at JWT, EHS Brann and Collett Dickenson Pearce, where he was briefly a member of the Honda account team.
BMW trumps the accountants
A burgeoning interest in below-the-line communications and customer relationship marketing led to a job offer as a CRM specialist at Ernst & Young. However, BMW, where Hudson had helped set up a CRM and e-commerce operation, stepped in with an offer of its own. He was appointed UK marketing director in May 2008.