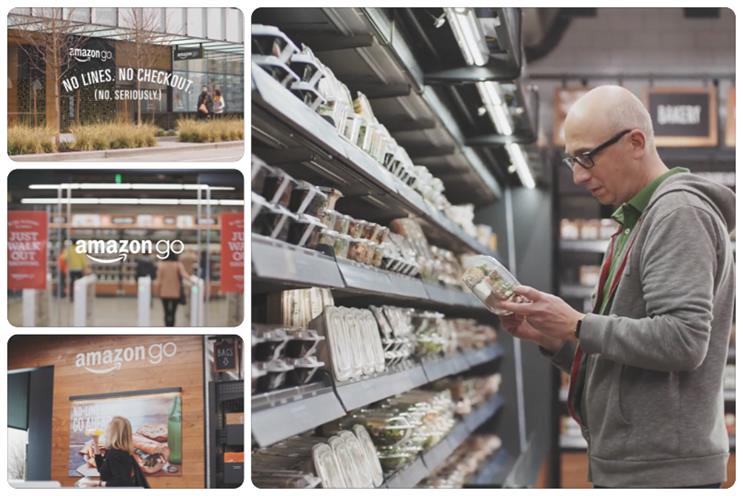 If retailers want consumers to keep using their physical stores, they will have to work hard to make paying as frictionless as possible, while giving shoppers a reason to visit.
Today's customer wants brands to be fully geared up with chatbots, messaging apps and mobile payments. A study by Mindshare on the "Future of retail customer experience" found that 65% of customers expect retailers to use mobile technology to make their in-store experience better.
"Put bluntly, loyalty is not what it used to be," Sophie Harding, trends and insights director at Mindshare UK, notes. "Consumers will turn to whichever brand meets their needs the best at that point in time. The right technology can help [do that], simplifying choice and providing more seamless experiences for shoppers."
The customer is definitely holding all the cards when it comes to choice, so if a retailer cannot deliver the experience that is expected, then the customer will just go elsewhere



Once again, Amazon is redefining this space with the launch of its first physical store, Amazon Go. Still in beta mode, the store, located in Seattle, allows customers to check in with an app as they arrive, pick up anything they want and simply walk out. The store uses computer vision, sensor fusion and deep learning to automatically detect when products are taken from or returned to the shelves. After leaving the store, Amazon will charge your account accordingly and send you a receipt.
"Using tech to eliminate friction points is essential in the highly competitive and squeezed market that is the UK," Kate Jones, a brand consultant and former Co-op marketer, says. "The customer is definitely holding all the cards when it comes to choice, so if a retailer cannot deliver the experience that is expected, then the customer will just go elsewhere."
With online shopping so prevalent, the offline experience has to match it for efficiency and be enjoyable, or customers may not bother going into a store. Moreover, Jones says, assuming that this level of tech investment is only for premium brands is a myth. One need look no further than supermarket Sainsbury's for proof (see panel, below.).
But when customers are no longer spending time in store queuing to pay, how will retailers entice them to linger and browse? Being interesting and different works, according to Mindshare's findings, particularly for customers under the age of 34.
"Store formats are changing. It is not necessarily about stocking large ranges of product – think collection centres or pop-ups, and experience centres like Samsung's in New York," Harding says. "There is also an increased focus on interaction and immersion to capture attention and keep people engaged in-store. To facilitate this, brands are starting to use touch screens and AR."
Tommy Hilfiger is a brand that has embraced everything that tech has to offer. From letting customers order outfits straight from the catwalk to their doorstep, to creating an in-app chatbot. The brand's "store-of-the-future" (see panel, below) combines retail with digital interaction and a social environment.
Apple, as always, is leading the way, Jones adds. "Apple stores have no tills, but they do have lecture theatres, free Wi-Fi and space for people to congregate and hang out. It's an example of tech used to great advantage."
---
The sales pitch
Sainsbury's jumps the queue
Sainsbury's is experimenting with an app that will allow customers to scan and pay for items with their mobiles. The app, being developed in-house, will enable customers to skip the checkout queues. It's currently being tested live at Sainsbury's London Euston Station store.
Tommy Hilfiger's mirror image
Tommy Hilfiger's refurbished store on London's Regent Street is heaving with technology. This includes smart mirrors in the fitting rooms that recognise the clothes brought in by shoppers to try on, thanks to RFID tags, and suggest outfits based on this. In addition, the shop has digital "denim fit guides" to help customers find the "perfect pair" of jeans, and interactive windows that feature fruit-machine-like games that offer prizes. There are also terminals that allow product options not available in the store to be viewed and ordered for collection.
Tesco uncorks wine-choosing app
Tesco Labs has partnered design and development studio Ribot to help customers find the perfect bottle of wine. A prototype app narrows down their options based on what the customer plans to have for dinner. It works with an interactive shelf that uses LED lights to highlight the selected wine. Eventually, Tesco hopes to personalise the app to work with its Clubcard.
---