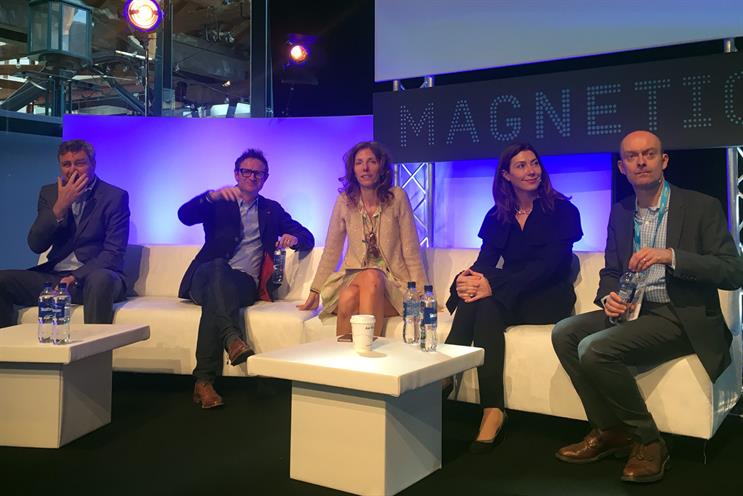 This was the conclusion of a study by Magnetic and Enders Analytics, as well as a panel held today at the festival in East London.
"The study shows that brands have gone from the traditional ratio of 40% activation and 60% branding to 50:50," Douglas McCabe, chief executive of Enders Analytics, said. "But direct-advertising alone won't allow brands to retain market share."
While the shift is represented by a ten-point percentage difference, it affects billions of pounds, fellow panellist Lindsay Pattison, global chief executive of Maxus, pointed out.
Pattison likened marketers to being on a kind of crack; characterising their preference to short-termism to an addiction. She said: "They're all under pressure to deliver in the short-term and when you have people without a marketer expertise, they'll go to last-click wins and direct. And they'll follow the magic fairy dust of Google and Facebook. They lack the experience to understand the long-term goals of branding."
The panel, organised by Magnetic, also included David Golding, co-founder of Adam & Eve/DDB and Marcus Rich, chief executive of Time Inc. The panel was moderated by Campaign's global editor-in-chief, Claire Beale.
However, most people in the industry know better, according to McCabe: "They understand that the consumer funnel is more complicated than the last click, that there are multiple touchpoints, and that brand building is a subtle and long-term game."
The problem, McCabe explained, is that marketers are being held to quarterly results, their tenures only average around four years, and they just do not have much to gain from the big bet on long-term brand building.
Compounding the problem, Golding said, is that when a strong brand marketer leaves a company they are often replaced by someone who does not have a background in branding. "The people doing the hiring think oh we've got the branding thing, we need someone who's strong in CRM, or digital!"
"The people doing the hiring think 'Oh, we've got the branding thing, we need someone who's strong in CRM, or digital!'" he said.
For Golding, the heart of the issue though is that brand building is a big, expensive, public risk to take: "It's far more tempting to stick to smaller, short-term target executions with quick returns and limited risk.
"If marketers are aware of all this why are they not getting the boardroom on board?" Beale asked the panel.
"Each quarter, marketers tell the boardroom that they've succeeded by buying media for less, getting in clicks and here's the attribution… they're not talking about the effectiveness of the advertising," Rich said. "Shareholders benefit when the share price improves. And share price improves when brands are differentiated. This is a message we should tackle."
Speaking from experience and research, Golding said there are two ways to win the boardroom over and marketers have to be adept at both: "The first is to wow them. Have something they genuinely love even if they can't say why. Then the second is to give them numbers they can't ignore. To say, if we stick to our knitting, and do this over a period of time, it will, commercially, be the right thing to do."
Time to go to rehab?
Weaning marketers off the addiction to short-term marketing will be an industry-wide effort, the panellists agreed.
"We have to commit to changing the direction we look at everything in. We have to ask what is the best way to achieve things like awareness, likes and conversions, rather than ask, 'What can we do for a quick win?' We're looking from the bottom up," Golding said.
From a publisher standpoint, the disaggregation of the media from full-service has not been positive for the industry. Rich said: "Because value-add doesn't start at price, it starts at value. We have to work together to shift the perception of the boardrooms to value premium inventory and long-term values."
"No one company, or part of the value chain, can fix this," McCabe warned. "We need to get to a stage where the industry agrees that these are the terms for discussion, these are the key issues, this is what we need to do to solve it."