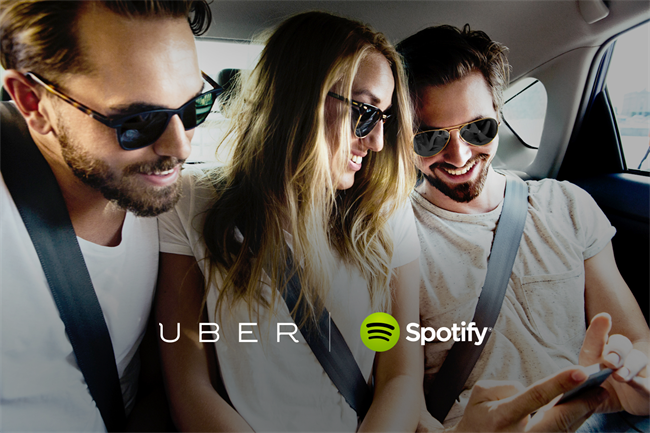 As a brand's application of technology becomes more effective, the technology itself tends to become more invisible or disappear completely.
It is the natural order and process which has existed for decades and if you look carefully you can witness it happen around you. It is why nobody will mention the word smartphone in about five years. It just becomes part of our world, of humankind. This humanising of technology is the sweet spot for brands right now who are keen to create positive emotional resonance with us, the savvy consumer.
The partnership between Spotify and Uber is precisely the kind of small yet significant development which will lead the charge making our society more seamless, and our everyday lives more convenient or comfortable. I love it.
When you get technology-oriented brands coming together, there is a far greater opportunity for natural fit with both component parts interacting for the mutual benefit of themselves and the consumer. Here, driven by technology-enabled utility we're witnessing the new value exchange in full effect.
Blurred marketing
This is where marketing starts to blur and become more opaque. It no longer feels like advertising as such, and that's a brilliant turn of events we need to applaud and pursue. Brands are becoming increasingly like tools and services and as such they demand something different. Rather than beating us over the head and trying to flog their product in an age old interruptive manner, consumers are instead being offered proper value in return for data, time, and money that they might have invested.
In this instance, listening to your own personal music choices while being merrily driven around the capital in the back of an Uber car makes so much sense that it feels like we should have been doing it for years. This is a quality only the best ideas have.
There is also obvious PR value to brands such as Uber who've long been fighting their own battles with rivals or arresting any consumer negativity about their product. Such a deal helps this cause hugely. They're surprising their loyal customers while delivering a best-in-class augmented experience to everyone else. Positive PR and great emotional take out of their experience, and after all, music and car journeys have always gone hand in hand.
Is there a fantastical future version of the deal where your musical preferences and moods can help inform driving style or even the choice of route taken? Like a strangely futuristic car version of Nike+. Imagine breakbeats or grime lending itself to the car adopting a more urban scenic path. This versus
We may see a future where collaborations and partnerships just like this one, lead directly to the crafting and creating of new products
say more sunny, wistful vocals playing particularly well for passengers who witness long parks and rolling countryside along their way. It could certainly be a feature of the driverless cars expected to arrive on our roads within a decade.
So perhaps even more excitingly, we may see a future where collaborations and partnerships just like this one, lead directly to the crafting and creating of new products. New IP. Whole new services for us to take advantage of.
The deal points the way towards a personal, luxury experience for the 'masscierge' demands of the modern consumer. There is a learning for brands who might collaborate in the manner of Spotify and Uber; this is about a logical brand extension, not just a frivolous one-off coming together on a whim. Part of this process is going to be about sharing each other's data sets to further increase efficiencies.
But Spotify and Uber are also lifting the lift on a melting pot of ideas in our very near future, where partnerships routed in technology are for the benefit of all of us. This can't come quickly enough.
Read next