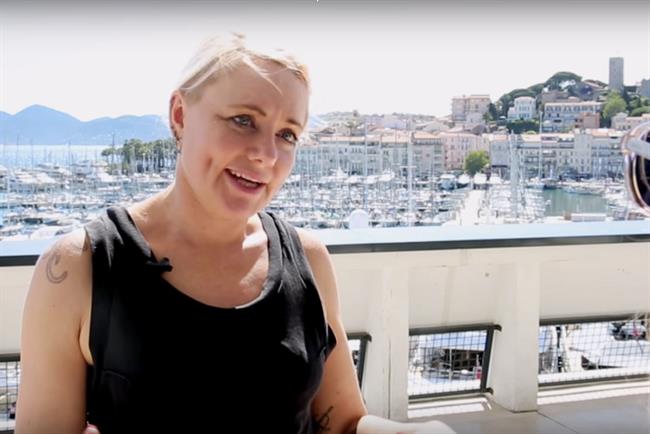 Cannes may be awash with celebrities but the true show ponies of the industries remain the creative's themselves. The 'creative rockstar' has long been a lynchpin of the creative industry, and perhaps rightly so in an creative industry. Yet is the myth of the creative rockstar holding creative women back. Close your eyes and picture him; for it is most likely a 'him' you are thinking of.
Laura Jordan Bambach (pictured), the chief creative officer of Mr President, says the construct of the "creative rockstar" presents a stumbling block for female talent. "The terminology is not right," explains Jordan Bambach. "We need to recognise the role of women, the interesting ideas they create, the great creative leaders they can be and how they enable companies to grow."
Today Jordan Bambach will be doing just that, with the VOWSS, which screens selection of the best short films - commercials, branded content, dramas, documentaries, art and experimental films and music created by women.
Stuck in the middle
According to Jordan Bambach, the point of the VOWSS is to give creative women's work more visibility and elevate them to a global audience. She explains: "What I see is that a lot of female creatives – middle management and creative directors – they get stuck in the middle."
She continues: "The fact is that as well as being a great creative it is also about being a show pony. All of us have spoken about the lack of women at the top of our industry but there is incredible work being created by women, they just need to get the credit for it."
Jordan Bambach believes that, by showcasing women and changing the lens through which we view creative leadership, a more inclusive creative culture can be built. Pointing to the example of Vicki Maguire and the outgoing Caroline Pay at Grey London, she says they "lead differently." Such female leaders also allow the industry to dismantle the male stereotype of the 'creative rockstar' more effectively.
She adds: "It is a big challenge because of how girls are conditioned. We are brought up to be quiet when we are looked over. We are awarded for delivering, not dropping everything to raise our own profile."
According to Jordan Bambach, there is a "real cultural problem" surrounding female leadership. "There is a much bigger conversation happening about women and creativity with organisations such as She Says and Creative Equals."
She adds: "Creative Equals is making a difference because Ali Hanan (the founder and chief executive of Creative Equals), is so action-orientated and is also raising the visibility of senior women in the business."
Moving beyond incremental change
Jordan Bambach believes that embracing flexibility is crucial to driving change in the industry. She explains: "Yes there are certain times you will need to be here at 2am on a pitch but there will also be plenty of times when you can be in completely different places. I think there are still people in the industry who would still be so surprised at how open and accepting clients are to these ways of working."
Diversity and inclusivity remain a key theme in Cannes this year. Ogilvy, which has 500 offices in 126 countries, yesterday pledged to hire 20 senior creative women globally by the end of 2020 and has promised a new pipeline of senior women of colour across the next two years.
"What we are seeing now is small amounts of change. I would like to see some more really senior women appointed. I would like to see paid parental leave for men and women. We have real challenges to face but we've got to get over it," she added.
If we don't, the danger is that in 10 years' time, an agency pledge to hire 30 creative women by 2030, will still see this as a proxy for meaningful progress.