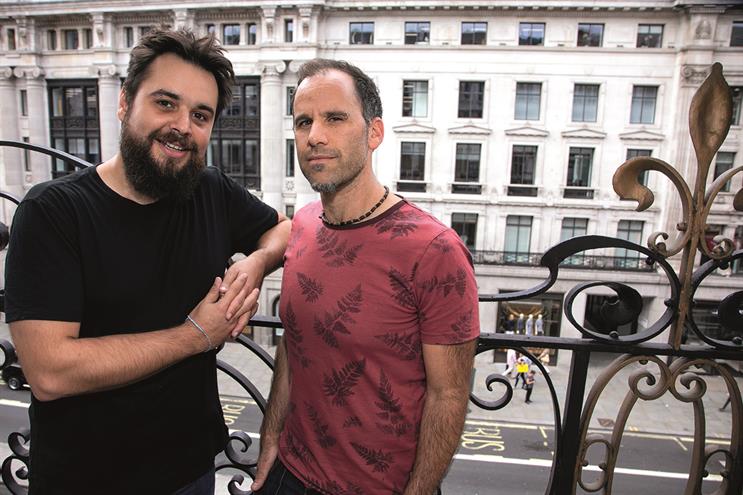 Winners: Adrien Raphoz (left) and Grant Codron (right), associate creative directors, BBH London (above) for Trainline's "Telepathic Rant"

Robinson: I chose this ad because...
I find it genuinely entertaining and it's really well crafted. It's a great insight from the creatives, who have obviously had this inner rant themselves many a time. It ties up the concept well and I get a clear message of what the ad wants me to do, as opposed to many radio ads where I get to the end and feel generally confused about life.
As soon as I heard David Mitchell's voice – and I hope it isn't that I'm just a bit "poshist" – I wasn't thrilled. I find his voice pretty grating. Despite that, I really enjoyed his delivery on this. He seems the perfect casting to encompass that uptight, London feeling.
Obviously, with radio, the visual aids that are your usual shortcuts are disabled. To create something like this, a brilliant script that doesn't feel rushed at all, can be supremely difficult.
How would you encourage creatives to 'See radio differently'?
Think about the beginning
Catch the audience straight away. It's got to engage quickly to make people listen and to avoid them switching off.
Keep it simple and direct
Consider what people are doing while listening to the radio. If you over-complicate, it tends to sound like a high-pitch buzz. You've got to engage and stop them in their tracks.
Use radio's personal power
The relationship with radio is very personal, in the same way that a good book invades your perceptions. Use this. Orson Welles' War of the Worlds radio hoax alien invasion, in 1938, had people running down the road screaming for their lives. Radio is powerful.
Winning ad: Trainline 'Telpathic Rant'
SFX (Railway station sounds.)
VO 1 Take your time mate, it's not like my train's leaving in four minutes or anything. That's right, punch in your reference code wrong; no probs! Oh look, here come your 27,000 train tickets! You win!… (Voice continues then fades out.) VO 2 You could have a telepathic rant at the guy in front, or you could get train tickets straight to your phone and skip the queue. Available on the Trainline app. Download today. Trainline. Wonderfully predictable.
VO 1 Obviously! (edited for length)
Credits

Creative agency BBH London
Client Sheridan Snellgrove, head of brand UK
Creative team Grant Codron and Adrien Raphoz
ECD Tom Skinner
Producers Charlotte Lipsius and Zaf Choudhury
Studio Grand Central
Sound designer George Castle
Voices David Mitchell and Louise Ford
Could you do better? Enter your work at aerials.co.uk
The Aerials are awarded monthly by Radiocentre to the creative team behind the best work entered at aerials.co.uk and chosen by an invited creative-director judge.