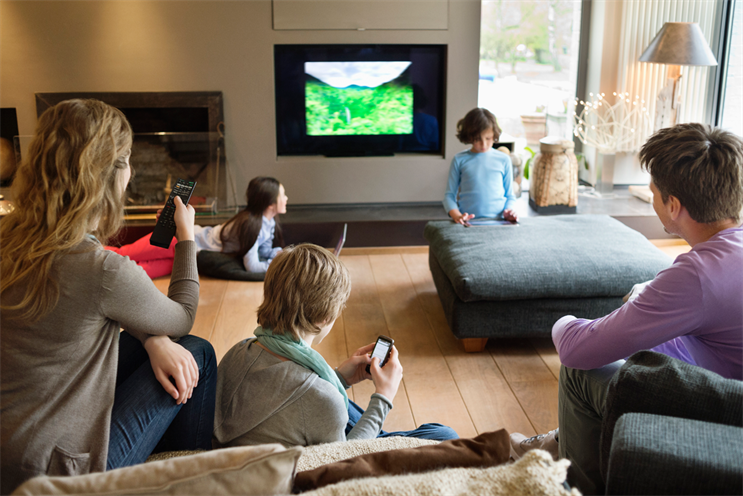 Every industry should revel in the phenomenal growth of the mobile screen, TV especially. Mobile screens are helping people watch more TV, in and out of the home. Early estimates suggest they add about 2 per cent extra TV viewing.
Then there's the powerful relationship between the TV screen and the mobile screen. Multiscreening is a well-documented, arguably overhyped phenomenon – it's something a lot of people do a bit and very few do a lot – but there's no doubt that it is great news for TV. Mobiles have turned TV advertising into a point-of-sale medium, with viewers able to search, compare and buy the products they see in an ad break before it's over. So, I can say unequivocally: TV loves mobile.
However, if time spent with a screen is a meaningful indication of popularity, then TV sets are at least twice as popular as all mobile screens combined. The highest number I could find for mobile device usage, 119 minutes daily, was from an O2/Samsung survey (so not quite impartial). This is well over the official UK Online Measurement Company's figure of 76 minutes. Watching TV on a TV set at home, measured by Barb, takes up about four hours a day. Plus more TV sets are watched in offices and pubs that Barb doesn't count.
So why don't TV bodies go around claiming that TV screens are the nation's favourite? We don't because it would be utterly meaningless. Favourite for what? Real people make sensible choices to optimise different screens for different tasks. You could use a smart TV to update Facebook, but only weirdos would prefer that to a mobile device. You could do a spreadsheet on a tablet, but it doesn't half make you yearn for a PC. I wonder how your kids' excitement levels would change if you told them they were going to see The Hobbit or Frozen, but then said they had to watch it on a smartphone.
You could use a smart TV to update Facebook, but only weirdos would prefer that to a mobile
Some mobile evangelists make much of mobiles' multiple functionality. But the one with the most functions isn't necessarily the favourite. If you ask people which screen they would choose if they could only have one, it's perfectly reasonable to choose a mobile one, much as the Swiss Army knife might be chosen for a desert island, but it hardly ranks as a favourite gadget in normal circumstances.
Mobile experts think it's important that the first thing some people do on waking up is look at their mobile. The rest of us probably have a pee, presumably making the lavatory our "favourite" bowl. And how relevant is it that people carry their mobiles with them and reach for them several times a day? I could say the same for my hanky.
My biggest problem with the motion is that it's yet another utterly irrelevant claim that sheds no light on mobile advertising and gives no insight to the average marketer. Supporting the motion would have encouraged the mobile industry to continue its obsession with hierarchy, trying to win a race that only it is running in, rather than doing some proper research that is genuinely helpful to advertisers. The mobile industry should not be pursuing supremacy but integration, collaboration and effectiveness.
Fast-growing, versatile, personal, portable, connected – there are many positive adjectives that can be applied fairly to mobile devices. But "favourite" isn't one of them.

Tess Alps is the chair of Thinkbox