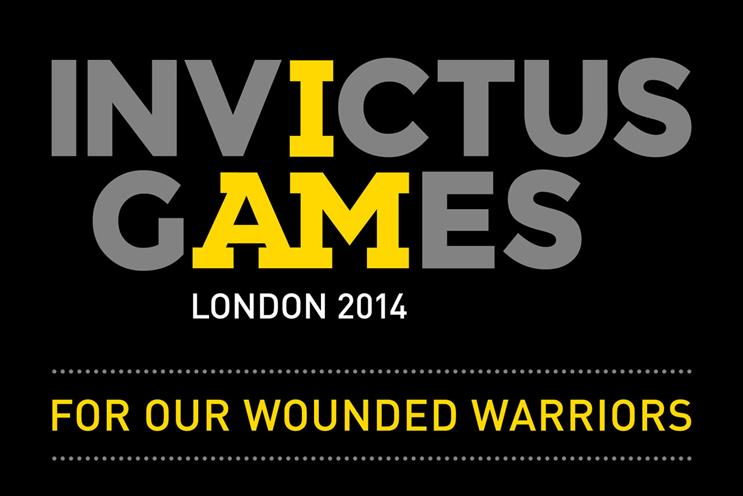 Tell us about the project. The Invictus Games is taking place in September in London. Four hundred competitors from 14 nations will compete across ten disciplines. We became involved via WPP, which was approached by The Royal Foundation.

How did you come up with the concept? Projects like this don't come along every day; it's an opportunity to bring an important and meaningful event to life. Design is often about realising the opportunities in what already exists and, fortunately for us, the answer was staring at us in the face.
Invictus is Latin for "unconquered". The inspiration for the "I am" idea came from the final two lines of Invictus by William Ernest Henley, which proclaims the speaker's strength in the face of adversity: "I am the master of my fate, I am the captain of my soul."
All of the great sports brands have self-belief at their heart: Nike's slogan is "just do it"; Adidas' is "all in"; and, now, Invictus' is "I am".
"I am" not only captures the spirit of Henley's poem but, as an idea, it reflects the Games' core purpose: to provide a platform for personal achievement, to compete not just against each other but against yourself.

What event are you most looking forward to watching? The wheelchair basketball has a pretty ferocious reputation. I'm hoping to blag an invitation to see Foo Fighters at the closing ceremony.

What was Prince Harry like to work with? Bringing the competition to Britain was Prince Harry's idea. It was clear from the beginning that he was totally engaged with the project. His comments were considered and thoughtful, and his passion was infectious. The project was never about him, but about those he was endeavouring to help.

What inspires you? I'm fortunate that every day at Lambie-Nairn is different. Each new day comes with a fresh set of challenges.

What's your next project? The list is endless. But we're very fortunate to be having a good year. We're famous for the work we do in telecommunications, broadcast and sport – all of which keep us busy with new and existing clients both locally and globally.