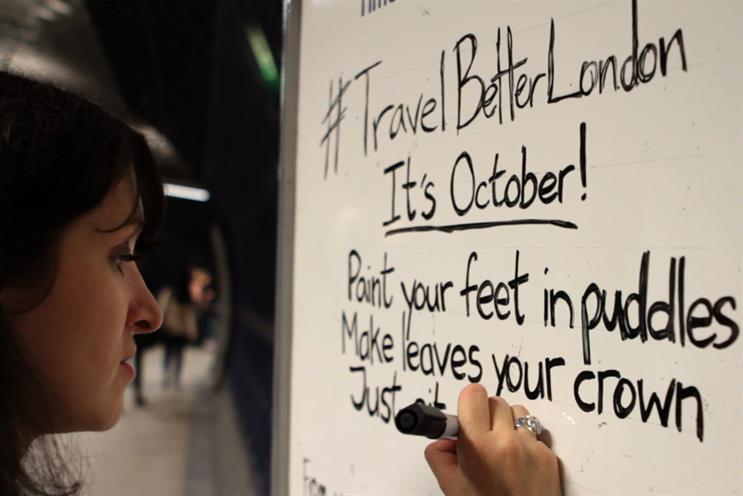 Tell us about this project. #TravelBetterLondon was created to break Londoners out of their eyes-down, headphones-in routine and help them take more joy in their daily journeys.
The creatives at M&C Saatchi wrote posters and a short film, and launched the campaign with a week of guerrilla poetry. We spent the week (including National Poetry Day) bringing poetry to Tube stations and trams. We wrote daily messages on station whiteboards, gave live performances, wrote poems for passers-by, inspired people to contribute their own writing and made videos, shared on tfl.gov.uk/travelbetterlondon.

How did people react? The best bit of this project was how deeply and enthusiastically people engaged (not to mention that we had three million Twitter impressions).
People would stick around for 20 minutes or more. Some came back every day, and some e-mailed to say how much they loved it.
When you mention "poetry", a lot of people switch off or reach for preconceptions formed at school. This project gave them a chance to see poetry for what it is and relate to it – perhaps for the first time.
How did you become a poet? It's difficult to refer to yourself as a poet and not feel pretentious. I think you just become it by doing it.
You can put your work out there by performing at "open mics" and submitting work for publication. It's an exciting, diverse scene. Getting involved provides opportunities to be inspired, make connections and develop as a writer. The more you do that, the more your writing will be recognised and then it becomes easier to get paid for it, but I don't think it makes you any more of a poet than somebody who writes purely for their own enjoyment.

What inspires you? Everything.

Who is your favourite poet? My favourite writers are the ones who make me think: "I wish I'd written that." So they're very annoying, but also very inspiring.
A small selection would include all the poets who worked on this project, plus Shane Koyczan, Luke Kennard, Kate Tempest, Matthew Dickman, all of Aisle 16, Salena Godden, Sylvia Plath, EE Cummings, Indigo Williams, Charli 2na, Sage Francis and Anna Le.

What are you working on next? My first collection, currently being edited and hopefully out next year.