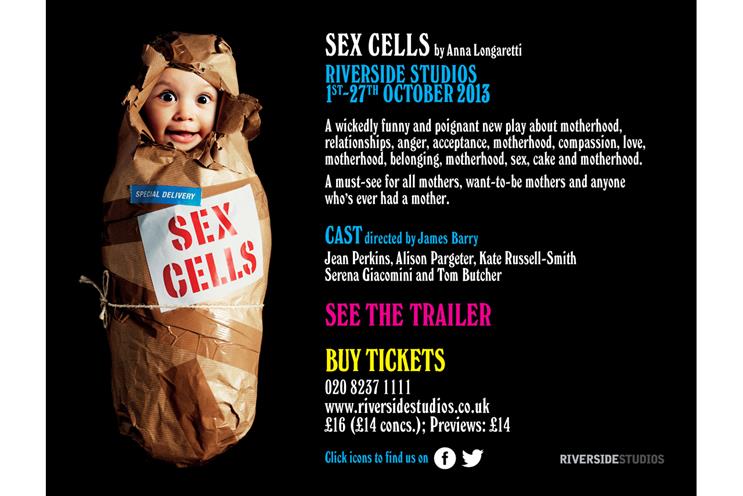 Tell us something about this project. It's a play about four women with very different views on motherhood working in a call centre that sells sex toys. It's both funny and sad and may sound like it's aimed at women, but that's not the case. Like the blurb says, it's a must-see for all mothers, want-to-be mothers and anyone who has ever had a mother.

What is Denton's involvement? He said: "Why wait for someone else to buy it – we've got no experience of doing anything like this, so let's put it on ourselves." Then he designed the image, poster, e-flyer and best theatre programme ever, wrote the trailer and enrolled a lot of other talented people to help him. All in less than three weeks.

How did you get into playwriting? I started out writing film scripts, but not many people get those made. I've got three gathering dust as we speak. I'm in my fifties – I wanted to see my work produced before I popped my clogs. Writing for the theatre seemed an achievable way to do it. This feels like an adventure.

Where do you find inspiration? I got into a filthy taxi a few years back. The driver, a 70ish-year-old Jewish man, was complaining that his wife had divorced him, his children no longer spoke to him and he was lonely. He continued to moan for the duration of the journey, then said: "I suppose you have a husband?" I found him fascinating. Didn't he know that he should clean his cab, have a shave (a wash, even) and maybe try being a little cheerful before chatting up a woman 30 years (all right, 20 years) his junior? But I liked his chutzpah and I couldn't help imagining his life. So I wrote a TV drama based on him. The difference being I love my protagonist – I couldn't expect the audience to engage with him if I didn't. It's called Mishpucha – it means "family" in Yiddish.

What is your favourite play? 'Night, Mother by Marsha Norman. A daughter tries to prepare her mother for the fact that she will commit suicide that night because she has nothing left to live for. It makes me cry when I read it. I've never seen it performed. I couldn't write anything like it. Writing is such a lonely pursuit, so I like to make myself laugh while I'm at it.

What are you working on next? I fancy trying my hand at a farce. I'm told they are one of the hardest things to write.