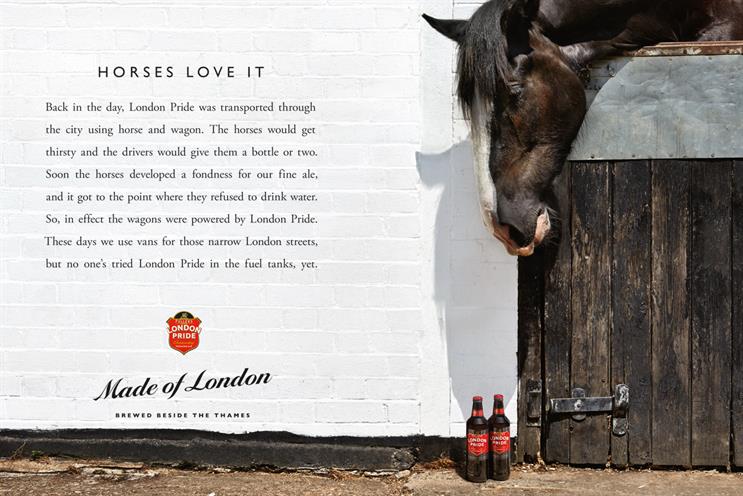 Tell us about this project. The London Pride campaign I've been working on with The Corner is about telling the true stories behind this world-famous London beer. The Fuller's brewery has been in Chiswick since 1875, and its relationship with London and its culture is rich and diverse. My role has been to capture the essence of these stories in an honest, charming way. The great thing about this project is that Tom Ewart, the founding partner at The Corner, trusted my ideas, and the result is more like I was following my instincts rather than a strict brief.
How did you get into photography? I've been taking pictures since I was 12 years old. I used to take my dad's Pentax K1000 to school with me while he was at work. He only used the camera for special occasions, whereas I would photograph everything to and from school and mates in the playground. For a while, I developed the film at the local chemist, then, by the time I was 14 years old, I had persuaded the science teacher to set up a darkroom behind a black curtain in the corner of the science lab. I've never stopped since – in fact, I left school early to take an apprenticeship with a commercial photographer in Salford. From Salford, I went to New York, which was unknown and exciting. I was 18 years old when I arrived there with just enough money for a hotel room for a couple of weeks. I was lucky enough to assist some great photographers including Richard Avedon and Bruce Weber.

What other ads have you worked on? I've worked on campaigns for Rapha, Adidas and Asics.

What type of camera do you use? I use a medium-format and 35mm rangefinder camera. I find these offer the simplest and best way of recording images.

What do you enjoy photographing most? Whatever surprises me, especially unfamiliar cities and transitory people.

Which photographers do you admire the most? Joel Meyerowitz, Gary Winogrand, Mary Ellen Mark and John Gossage.

What are you working on next? My next commission will be in the Southern Alps in New Zealand for Rapha, the cycling sportswear company I have been working with for ten years. I am also compiling a book of photographs that I have taken in Los Angeles over the past four years.