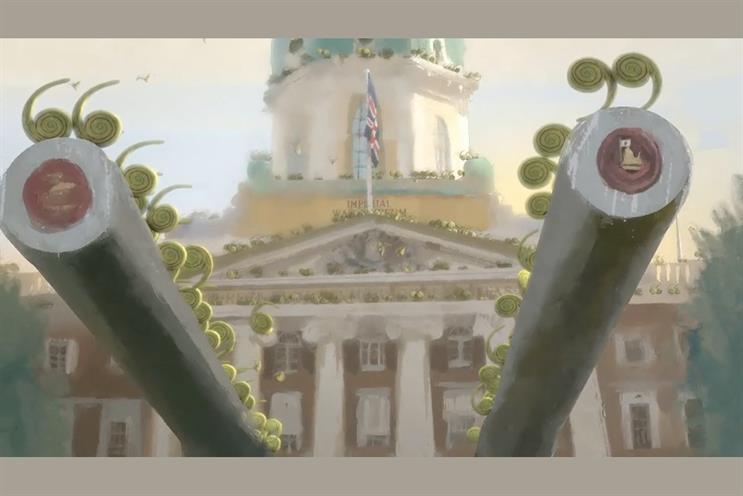 At what stage did you get involved with 'flight of the stories'? At the very rough animatic stage. The – very succinct – brief from the creative Paul Domenet was: "Each letter should have its own voice." So that's what I did.
I was in the unusual position of having access to the Imperial War Museum's rich stock of original World War I files, letters and stories. I set about finding letters written by soldiers on the battlefields.
Many of the team here at GCRS and other volunteers were auditioned to provide the voices and actual archive recordings were digitally enhanced to create layers of stories. Each speech mark has its own story and, as we move around the shots, the different parts of the stories are heard.
The aim of the sound design was to create the feeling that we're hearing the letters as they were written. We didn't want it to sound like archive recordings but real-time events, with battle sounds from other soldiers and weapons.

What was your inspiration? Being able to see the way the picture was being animated by Aardman gave me the feel of the sound and the blending. I love the opening titles of the film Contact, which has an audio journey, from Earth, outwards into space. So that inspired me.

Who has had the biggest influence on your work? My peers have always been a huge influence – sound design on UK TV ads is second to none.

What's the most unusual project you've been involved in? One of the most ambitious sound design projects I was involved in was the iconic T-Mobile "welcome back" spot from Saatchi & Saatchi. We were involved from the start and could see it was going to be like nothing we had worked on before: a huge sound project, culminating in 250 recordings and with all the instruments made by voices. We auditioned everyone from beat-boxers, a capella groups and cabaret artists to people who do impressions of instruments.
Very recently, remixing the 1964 original separate audio tracks of Let's Go Fly A Kite from Mary Poppins for VCCP's Avis ad was an unusual delight.

What are you working on next? My tan. Well, I'll be trying to – it's not easy when you go on holiday with three kids.