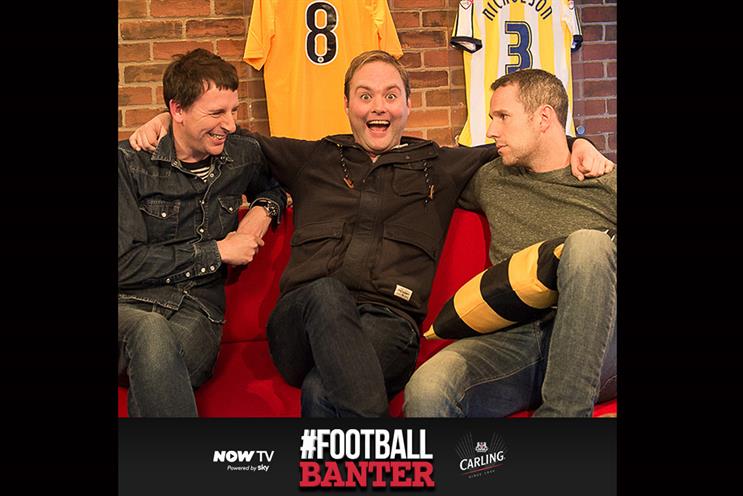 Tell us about #FootballBanter. The campaign is aimed at reaching football fans on Twitter using well-known Sky Sports personalities and asking them to Tweet their best football banter. We're then using Promoted Tweets to target users who have engaged with the campaign to tell them about the promotion – the objective being to engage with and market to this audience in real time.

What is the aim of the project? We wanted to raise awareness of the on-pack promotion between Now TV and Carling, and highlight the relationship both brands have with the football audience in a fun and light-hearted way. The aim was to utilise Twitter, which we know is a hugely popular platform for football conversation, along with relevant Sky Sports talent to bring this promotion front of mind in the lead-up to big weekends of football on Sky Sports.
What inspired you to come up with the initiative? Watching football and having a beer are both very sociable activities, which is what we wanted to play on. Most football fans can relate to having some banter with their friends while watching the football, so the idea was to team up with the Sky Sports presenters Max Rushden, John Fendley and Peter "Tubes" Dale to help bring this conversation to life.

Were you and the client pleased with the results? We've been really pleased with what we've seen so far. Getting Rushden, Tubes and Fenners on board has given us great organic reach among a key audience, and targeting Promoted Tweets to people who have engaged with the campaign has resulted in much higher levels of engagement than interest-targeting alone. Plus we've seen some hilarious Tweets come in, so people are really getting on board with using the #FootballBanter hashtag.

What has been your favourite bit of football banter so far? Sir Alex Ferguson's autobiography was released at around the same time as the first phase of this campaign, which proved to be a fertile ground for generating some funny Tweets. I think my favourite so far is from @MrJamesyD, who Tweeted: "I read Fergie's autobiography today and, every time I got to the end, Howard Webb added six more pages."

What are you working on next? The best thing about working on Now TV is that the varied content offering means that, at any one time, I'll be working on creative campaigns spanning movies, sports and entertainment, which is great. At the moment, we're working on the new entertainment offering, which was released in October, as well as planning for the first part of next year, when we'll be looking to work with various established and emerging platforms with a focus on harnessing the power of real-time marketing. It is a really exciting area for us and Now TV.