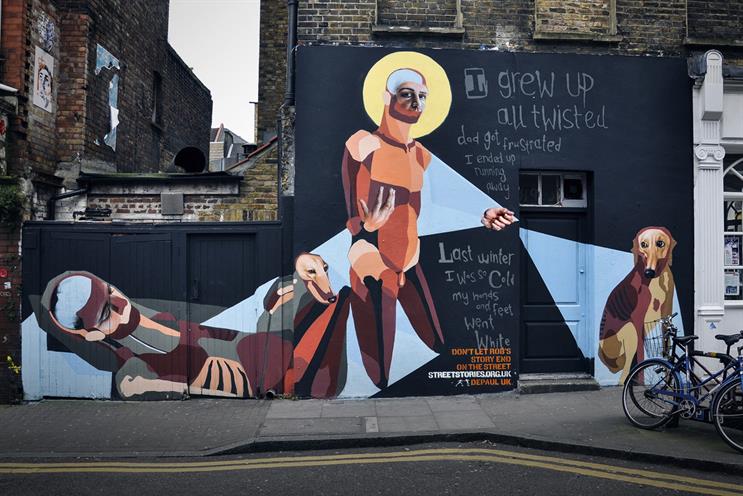 Tell us about the project. Depaul is a charitable organisation that helps disadvantaged young people across the UK affected by homelessness. We were approached to be a part of "street stories", in which four artists – curated by Ben Slow – were asked to produce a mural inspired by and highlighting a real-life account from a young person helped by the charity. We felt that the brief really fitted the subject matter of our work and it was great to be able to draw attention to an often-overlooked cause.
How did you get into street art? We've both drawn and painted our whole lives and, for many years, we were involved in painting graffiti on the south coast. The motivation for painting illegal graffiti became less important as we got older, but the desire to create work on a larger scale remained, and so it just seemed like a logical progression.

Describe your style and influences. Our style mixes abstracted anatomical forms with detailed realistic areas. Stylistically, our influences include a range of people – Gustav Klimt, Egon Schiele, Francis Bacon and Hans Bellmer, to name a few. In the last few large-scale pieces, we've drawn influence from the Cubists.
How do you choose the location for your work? If a choice is available, we choose spaces based on scale and suitability for our chosen composition. Generally speaking, larger walls are far more rewarding to paint. Texture and existing colour also play a role.

Do you have to get permission to paint? It depends on where the surface is located, how ballsy you feel and how quickly you can paint.

Why do you paint in the street rather than on canvas? We paint both, but walls will always be our focus. Painting on a large scale is so much more pleasurable and offers much more compositionally.

Does it upset you that your work can be easily destroyed? Not in the slightest. Growing up painting graffiti teaches you not to be precious about your work. In fact, the transient nature of painting in public spaces is one of the things we enjoy most because it forces you to relinquish any artistic ego.

What is your next project? We have an extremely busy year. Hopefully, we'll be travelling back to the Gambia to paint, and we have a number of massive walls lined up in Ireland, Scotland, London and Paris.