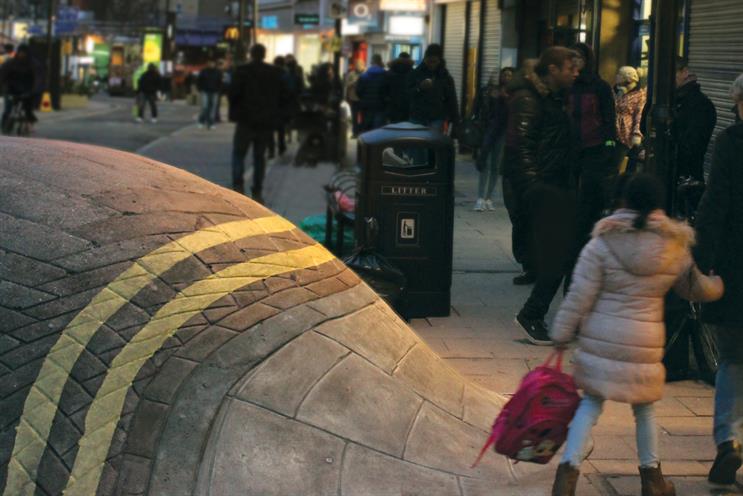 How did you come up with the idea? Cancer Research UK wanted to highlight the importance of early diagnosis in the fight against cancer. One of the best ways to beat it is to spot it early. But, as a nation, we don't pay enough attention to our health. We knew it was going to be hard to talk to people about cancer and, even worse, tell them what to do. So we thought it was more powerful to simply show people their own behaviour and let the message sink in on its own accord.
How did you make the lump? The success of the idea depended on the believability of the lump. We needed multiple sizes, all perfectly blended with the pavement. Each lump had to be light enough to be easily swapped but strong enough to withstand someone possibly walking or driving on them.
A number of model-makers said it couldn't be done. (Not to mention the councils that said no to us using their street.) Then we got Artem, the best model-maker in town. It scanned the pavement, computer-manipulated the lumps, then a robotic arm carved them from reinforced polystyrene. A team of painters then blended the surface to match the street in Hackney – chewing-gum blobs and all.
How did you increase its size? Thanks to Artem, the lumps were easy to replace from one size to the next, taking seconds to put in place. We wanted to capture the same locals walking past the lump at different sizes, which were swapped in and out over a number of days.

Did anyone notice? When we put in the largest lump, we were sure people would start to react. But people genuinely just walked straight past. We were camped out in an old judo hall opposite and it was quite fascinating to watch. Almost every single person ignored it. Everyone except little kids, that is – they couldn't walk past without first having a cheeky jump on top.

What else have you worked on? We're lucky at AMV. We have a diverse range of clients, so no two weeks are the same. We've worked on The Economist, Mars, the Metropolitan Police, Guinness – to name a few.

What's your next project? We've got some other exciting bits in the pipeline. The campaign is still live, so we're working on other ideas to test if people are taking notice of little changes out in the world. So if you see something unusual, we may well be behind it.