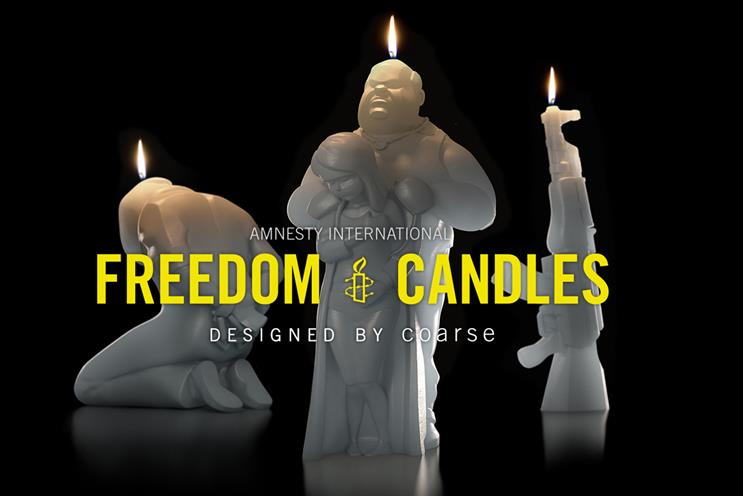 Tell us about the project. Over the years, Amnesty International has had many victories. But they normally happen in faraway places, so most people never hear the real stories about all the people Amnesty International helps. The Freedom Candles were created in partnership with the world-renowned artists Coarse.

What do the Freedom Candles symbolise? The three main efforts in Amnesty International's mission: prisoner torture, global arms trade and sexual slavery. But, inside the candles, there's another message that won't melt. Each of the three candles contains a bronze figure that shows the difference Amnesty International and its supporters make for real people. Thirty limited-edition candles were produced then auctioned in support of the charity's work.

Why choose candles? Freedom Candles beautifully combine art and activism to create a new product that is rooted in Amnesty International's brand. The candle has symbolised Amnesty International's cause since its inception, but these candles evolve that iconic image to create a lasting message that symbolises the positive change human-rights activism can help to effect.

Why were Coarse chosen as the designers? Mark Landwehr and Sven Waschk, known as Coarse, are renowned for their striking vinyl sculptures. This is the first time they have turned their attention to the subject of human rights. Coarse's attention to craft brings out the emotion of the people involved and the issues, meaning the viewer empathises with the situation. They were our first choice.

How were the candles auctioned? The Freedom Candles were auctioned across eight days. One was released every hour for 30 hours. All proceeds will go towards Amnesty International's work to defend and promote human rights.

How has the campaign performed? The candles sold for as much as $1,337 (£787) each. They generated celebrity interest from big names such as Yoko Ono, Peter Gabriel and Sting, who Tweeted, posted on Facebook and/or blogged about the campaign. It was picked up organically on nearly 100 blogs in 68 countries, earning a total of 40 million media impressions – all for no media spend.