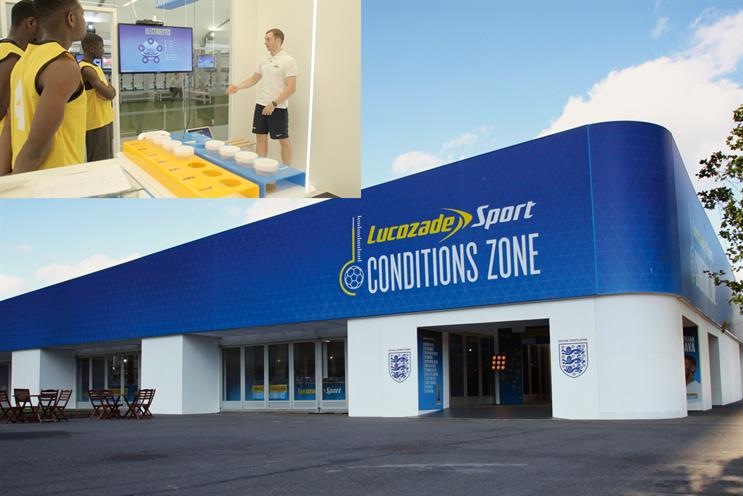 Tell us about the project. The Lucozade Sport Conditions Zone is a building where football meets science. It's a place where teams can experience what it's like to play in the conditions of Brazil, learn about the effects heat and humidity have on your body and the importance of hydration for performance.

How did you come up with the idea? It isn't just fans who get World Cup fever – brands do too. So the world gets very cluttered very quickly, and we didn't want to add to the noise by making just another ad. We wanted to make something that would cut through and become part of the conversation. With the World Cup being held in Brazil, it became apparent that the big conversation was going to be around the effects of the heat and humidity on the players: perfect for a sports drink. So, instead of thinking about how we could say it, we started to think about how we could demonstrate it. And when we started thinking about it that way, it didn't take long to get to the Conditions Zone.

How did you create it? We asked the experts. Thinking of the idea to sell it is one thing, but constructing an actual building with a state-of-the-art five-a-side pitch that could replicate the conditions of Brazil was another. Luckily, we had some great partners: TRO managed the build and infrastructure; StatSports and a team of sport scientists monitored the players; Knit made the whole thing interactive by developing the radio-frequency identification system that allowed visitors to access and advertise their stats across social networks.

How did you persuade the client to invest such a large sum of money in a temporary building? They loved the idea on paper, but it was a lot of money. So we had to do lots of feasibility studies to prove it would work. But once we showed the client how the building could be a platform to create and share content, we were off to the races.

What else have you been doing for the campaign? The building was the tip of the iceberg. To launch it and drive recruitment, we made a film with Chris Cairns in which we melted Steven Gerrard. We also made some online films with John Barnes, Wags, some England lookalikes and some chickens to help explain the science behind the conditions and hydration.

What's next? Well, the Conditions Zone ended up on BBC News – so, whatever we do next, it better be bloody good.