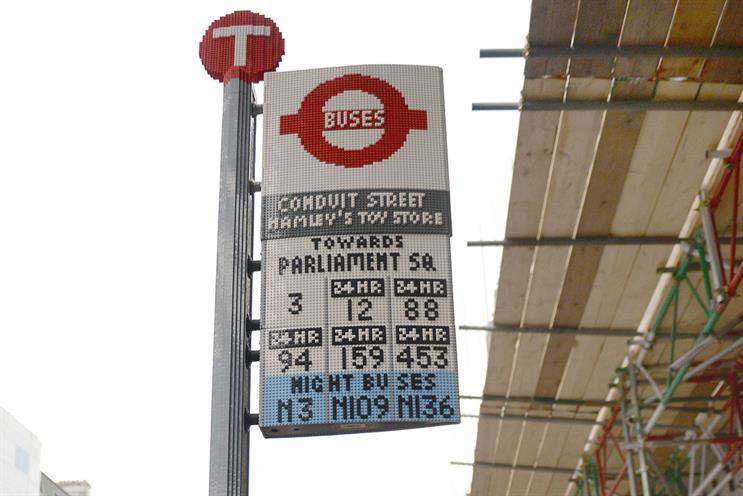 Tell us about the project. Transport for London is celebrating the "Year of the Bus" in 2014. Lego UK's PR agency, Crescendo PR, approached us to see what we could build to celebrate this occasion.

How long did it take to build? It took two months from start to finish. Three people worked on the design and liaised with TfL, Trueform (which constructs the real bus stops) and Crescendo. The bus stop and shelter were built around a steel frame to withstand the rigours of being on a busy street. The actual build took three weeks, with up to seven people working in Bright Bricks' studio in Hampshire.

What were the challenges? This was one of the more technically challenging builds we have undertaken. A lot of work went into designing lettering and logos. The bricks were glued for safety and to prevent removal.

What type of projects do you usually do? Most of our work is done for organisations and venues. We are often asked to recreate a company's product, such as a jet engine for a Rolls-Royce, or to attend an event to provide Lego-building experiences.

How do you start a Lego project? We look at dimensions, weights and location, then do test builds of the structure. We then create a final design and calculate the number of bricks we will need. When they are delivered, we get cracking.
How did you become the UK's only professional Lego builder? Like most people, I built with Lego as a child, but stopped during my teenage years. As an adult, I joined the Royal Air Force and then went on to work in the building trade. My daughters began playing with Lego and that rekindled my interest. On a trip to Legoland, I met with other adult fans and became involved with The Brickish Association. This led to a relationship with Lego. I got involved with a few projects, then formed Bright Bricks and became certified.

What did your friends and family think? They were incredibly supportive and a few of them a little envious. I had a number of friends in the Lego community, including Ed Diment, who left his job as a management consultant to become my business partner. We haven't looked back.

What is your favourite thing you have made from Lego? Probably the Lego Christmas tree at St Pancras International. It was such an epic build.

What is your next project? We have a meeting this month to discuss the big Christmas idea for 2014… watch this space.