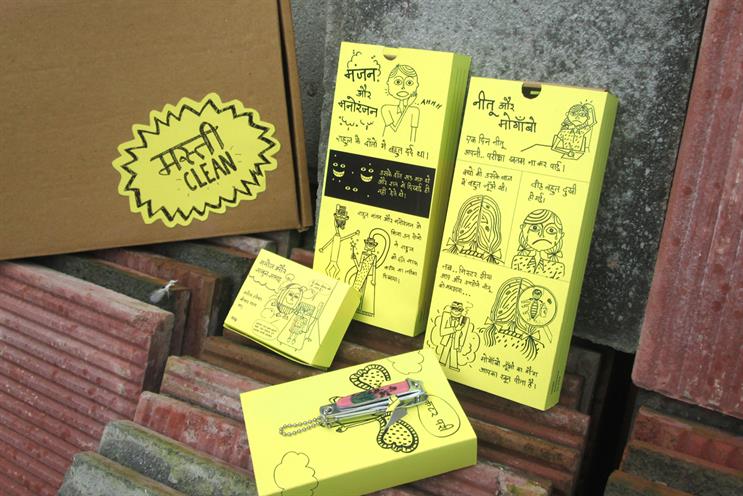 Tell us about the project. Diarrhoeal diseases account for 26 per cent of deaths of children aged between one and four in India. Armed with this harrowing fact, we created Masti Clean. The programme consists of two aspects: a curriculum intended to help kids learn the importance of hygiene and the Masti Clean kit, which costs just $1.

How did you come up with the designs? Before I worked at Landor, I helped set up the not-for-profit organisation Aashansh, which provides educational support for children from street and slum communities in Mumbai. From teaching children in the classroom, I gained a better understanding of how to design for them. For example, Indian children are incredibly influenced by Bollywood, so it was key that we tapped into this as an access point.

How did you create the kit? Housed in a box made from one piece of corrugated cardboard are toiletries, each brought to life by fun characters. There's Cutter Pari (a nail-cutter), Saboon Safai (a bar of soap), Mr Manjan (a toothbrush), Mrs Manoranjan (toothpaste) and Mr India (the anti-lice kit). Together, they fight the villain Mogambo, a giant louse inspired by a legendary Bollywood villain. Each package has an illustrated story and an engaging instructional poem. The sturdy box can also be used as a portable desk.

What inspires you? I question design at an emotional, physical and functional level. For me, design is about driving impact to create long-term systemic change. Following the project, we found an 80 per cent increase in hygiene awareness among kids and attendance in classrooms went up by 93 per cent because children didn't fall sick.

What are you working on next? Based on the results from the pilot, my focus will be to drive engagement with educational institutions. I would love to see this programme in every public school across India. We are getting requests for a curriculum designed around nutrition and sexual health, so we're looking to move into these areas next. We will continue to apply our framework of designing for enjoyment, as learning shouldn't be a chore when it comes to such important subject matters.