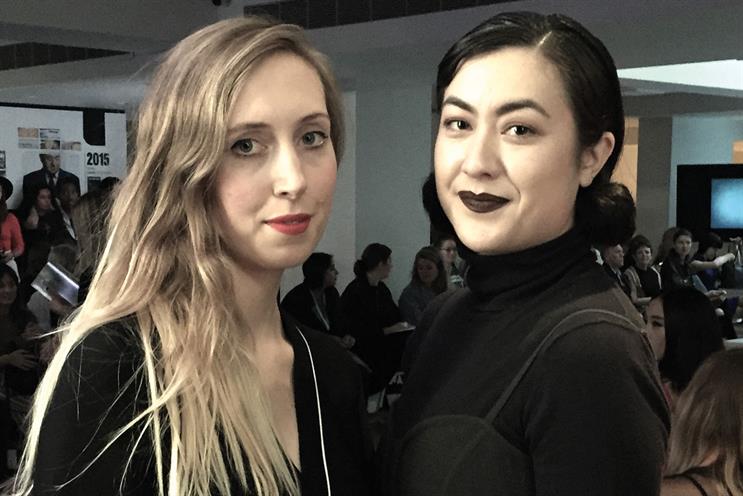 Tell us about the project. Hemyca asked us to create the film for its spring/summer 2016 show. We only knew that the collection was for "every woman" and was inspired by the space between the digital and physical world. Through a teaser film, bespoke invites, a pre-show film and the show itself, we played with this idea of "in-between" and decided to challenge the accepted norms of the fashion industry.
Explain the concept. Instead of using models, we invited the brand's creative directors – two "woman-sized" women – to feature in the teaser and catwalk film. We asked them to chainsaw a mannequin into beautiful, imperfect shapes of all sizes. Turning the deconstruction of the "one-size" mannequin into a positive experience, we made bespoke invites out of the different body parts. It filled the ground floor of M&C Saatchi with the sound of chainsaws. The monochrome jet-black and optic-white designs of the SS16 collection were then revealed through a revolving chainsaw projection.
Why did you choose to do this? We wanted to put as much craft and love into every interaction with the brand as what went into each piece of the collection. Taking on the roles of creative director, film director, producer and editor helped us capture the intimacy of the brand's creative process. It also resulted in a piece of work that truly reflects our style. Creating the materials ourselves meant we were able to explore texture, process and scale – hands-on.
Why is the fashion industry embracing the digital world so openly? It has to. Luxury fashion can no longer afford to be lofty and unreachable, and digital gives brands a bigger platform on which to play. Take Burberry – by using Snapchat to preview pieces before its London Fashion Week show, people who couldn't be there still experienced the excitement. But you only have to look at the work of design greats such as Gareth Pugh and Alexander McQueen to know that authenticity, originality and creativity are just as important.
Which other fashion brand do you like? We love Phoebe English's artistry. The clothes feel brave, as does the brand – having already published a book, launched a menswear range, opened an online store and curated a retrospective this year.
What inspires you? Stepping out of our comfort zone into chaos, exhaustion and exhilaration (apparently).
What's your next project? We're helping people quit smoking for Public Health England.