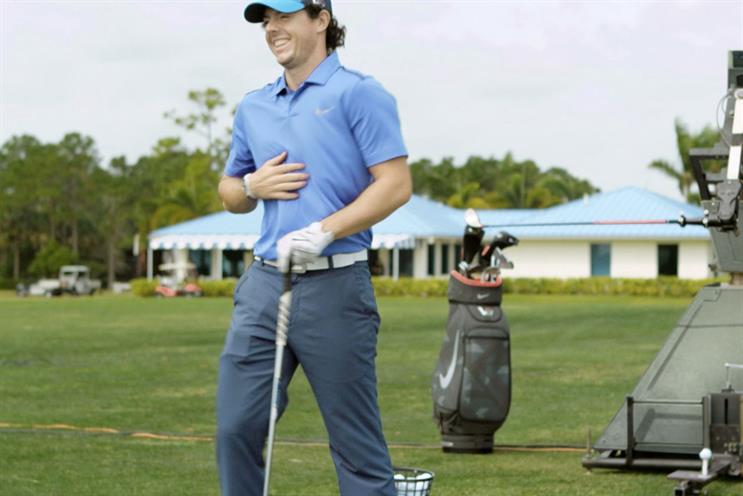 Tell us something about this project. I've done some weird things in my time (gigging in Afghanistan with rockets flying past… having to rescue Stavros Flatley with blonde wigs being lobbed at the stage) but sitting down to pretend to be a robot with the best golfer in the world is hard to top. It lived or died on whether Rory was game, and he was – a great bloke. Hats off to the Saatchi & Saatchi team as well. It was such an unusual and untested concept – they must have been bricking it on the day, but didn't project that on to me. They let me get away with murder on set. The clients were also lovely and surprisingly laid back. Maybe everybody was just drunk!
How did you move from the traffic department at Granada into stand-up comedy? We did sod-all Monday through Thursday, so the only way to pass the time was to mercilessly rip your colleagues. Running the gauntlet of that gigantic sales floor at Gray's Inn Road was as intimidating as a late-night comedy crowd, only with more chance of getting laid. I went into teaching afterwards and – inspiring though it is to be ignored by teenagers – I knew there must be easier ways to make a living.
Where do you find inspiration to create comedy? I wish I knew. So does my agent. It's simply a case of something striking me as funny. It's probably not far off the feeling when you hit a good golf shot; something in you settles and you know exactly what to do. Equally, doing a gig in Liverpool is the equivalent of shanking it into the rough and knocking yourself out with the club in the process.
What other ad campaigns are you working on? I'm currently doing another viral campaign for Redfox. The success of this one will come down to finding a Labrador that can pretend to play cards. I know it sounds odd, but pretending to be a wise-cracking robot was also weird.
What about the future? With my background in advertising and career as a stand-up, I've always wanted to do something to combine both. Creatives tend to come up with original comedy ideas. Sometimes joining up the dots of specific content and gags might benefit from collaboration with comedy professionals. I'm looking forward to a number of interesting meetings.